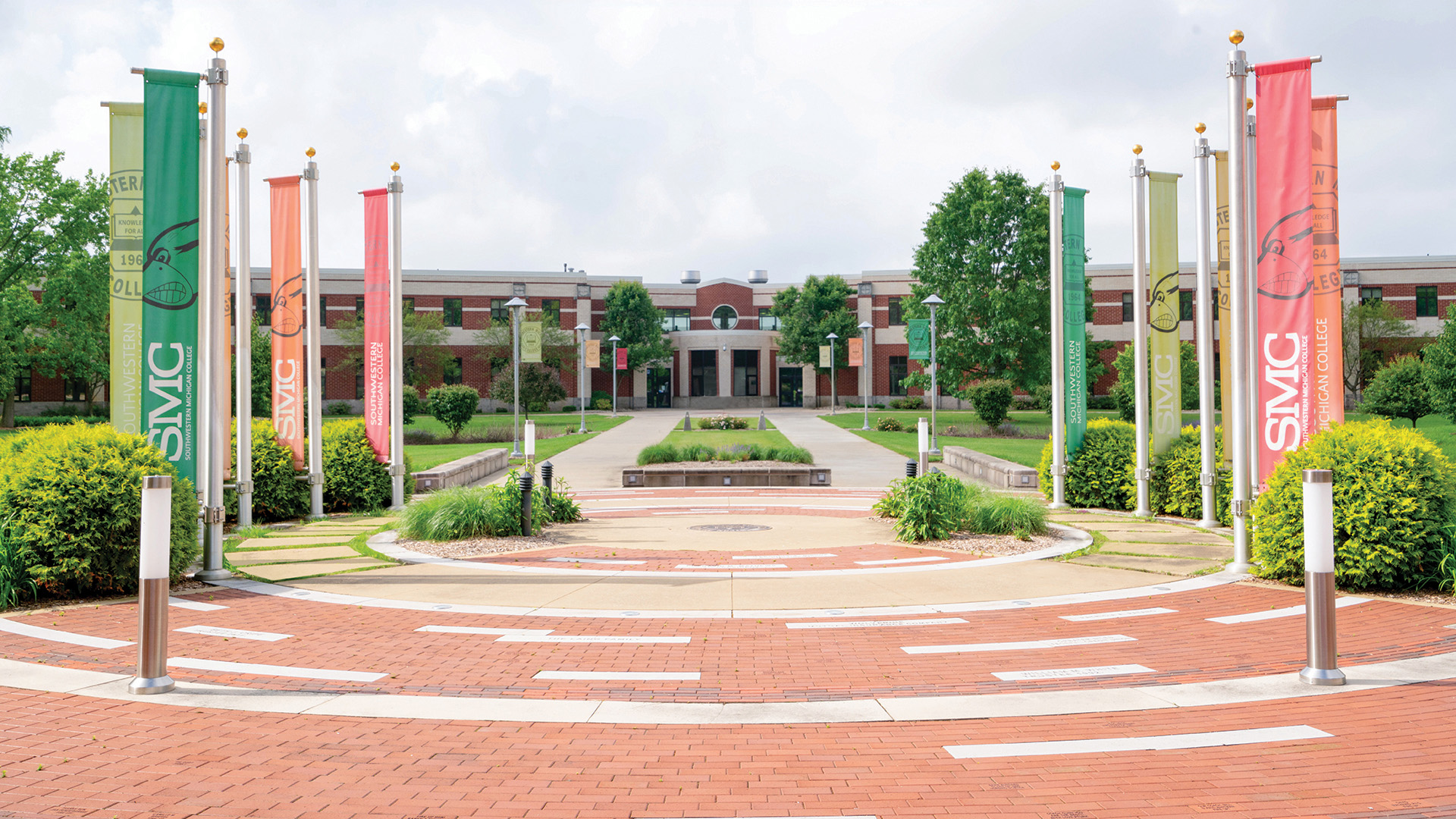 2017 Graduate A Nurse Who Works From Home
Published on May 11, 2023 - 9 a.m.
Even though she's a nurse, BaiLee Pastol works primarily from home.
Pastol, a spring 2017 Southwestern Michigan College graduate, graduated from Lawton High School in 2014.
In April 2021, after 1 ½ years as an inpatient nurse supervisor, "I decided I wanted a bit of a change from that world. This led me to apply and accept my current position as nursing supervisor for the transfer center. To put it simply, I help manage the department that handles all the admissions into Corewell Health-West.
"My current department is very interesting and not very well known by most people — even those who work in health care. It's a bit more 'behind the scenes.' Although the RNs on my team do not directly touch patients, they are still a vital role in the health care system," Pastol said. "I think that my current department is the perfect example of one of the many options you can have as a nurse."
Of Corewell's "exciting expansion all over the state," she adds, "My particular department can work from home because all of their work is done in the electronic health record and over the phone. Think a call-center setting.
"All the RNs have a home computer set-up. The RNs receive calls from any hospital that needs to admit the patient to a high level of care facility and/or for a specialty service that Corewell Health-West offers. They process that admission in the electronic health record and find the most appropriate bed for the patient based on diagnosis and health needs. We do have an office space that the staff can go to if they want or have technology issues, but it's not a designated space for just my team."
The team Pastol manages consists of about 50 people.
"Most work from home and live all over west Michigan — primarily around Grand Rapids, but some people live over an hour from the downtown campus. They do have to live near a Corewell health facility in case they do have to come onsite for whatever reason, so nobody lives out of state. Even with the change to Corewell health, my department still only manages admission and placements for the Grand Rapids facilities."
If Pastol needs to work onsite, she goes to the downtown hospital and works from an office.
Pastol "thought I wanted to be a teacher for most of my childhood."
She changed her mind in high school. "I always really enjoyed human science and anatomy classes," she said, "so I decided to take the patient care program through the Van Buren Tech Center (in Lawrence) my senior year to learn more about health care. I really fell in love with the combination of science and being able to care for people. After my first semester of taking that class, I became confident that nursing was right for me."
Large range of career options
"Nursing was also intriguing to me because of the large range of career options there are," Pastol said. "You don't have to be a bedside RN for your whole career. There are so many other avenues to explore — nurse practitioner, nursing leadership, education."
Pastol heard about SMC during high school.
"If I remember correctly, representatives came to the school and shared information regarding the programs offered, and scholarships," she said. "I was really intrigued by SMC because of the affordable tuition in comparison to a four-year university, that there was onsite housing available and that I could get my RN license in three years.
"I was never really interested in the large universities, but still wanted that campus life feel. So overall, I felt like SMC was the right option for me."
Her best memory of SMC is the "community feel. I grew up in a really small town, so the adjustment to SMC was easy," Pastol said. "It was small enough to become familiar with most of the people who lived on campus. Also, for being a smaller college, it always felt like there was something to do — intramural sports, events, gatherings."
Pastol credits SMC with helping her reach where she is today.
"SMC helped me achieve my goal of graduating with my RN degree within three years of high school," she said. "I feel that the small class sizes and the instructors really helped me through my education. I felt that there was more one-on-one ability if/when you needed to help set yourself up for success.
"I graduated when I was 20, so I was able to start my actual career younger than most. It was nice to be able to obtain that clinical/floor nursing knowledge early, helping set me up for nursing leadership positions, which was always my goal going into the nursing profession."
'I love it' in Grand Rapids
After SMC, Pastol moved to Grand Rapids and earned her bachelor's degree in nursing in August 2019.
"Western Michigan University's online RN to BSN program allowed me to work fulltime while obtaining my BSN all online. It was very helpful to be able to make an RN salary while finishing my degree."
She has worked for Spectrum Health in Grand Rapids her entire career, except Spectrum and Beaumont Health merged last year and rebranded itself Corewell, creating a health system with more than 15,000 nurses, 5,000 beds and 22 hospital facilities.
Corewell Health-West operates several hospitals, urgent care, post-acute, hospice and home health and outpatient care facilities in Kent, Ottawa, Allegan, Mecosta, Newaygo, Montcalm, Mason, Barry, Osceola and Berrien counties.
Once Pastol graduated from SMC and passed her NCLEX in June 2017, she started working on a Spectrum medical surgical unit.
"I remained on the unit as a nightshift staff nurse and charge nurse until December 2019. This was the unit that I was really able to become comfortable with my nursing skills, time management and bedside manner," Pastol said.
From December 2019 through April 2021, "I took a nightshift nursing supervisor position on a different medical surgical unit. This position was more focused on the daily operations of the unit and interactions with unit staff — staffing and scheduling, education of unit staff, helping facilitate plans of care for patients, being a resource/clinical expert person for the RNs on the floor."
"A few months after taking this job, the unit became a designated COVID unit which brought its own challenges. It was a very rewarding — but difficult — time to be an inpatient RN, but it was amazing to work alongside so many dedicated and knowledgeable people while giving patients the best possible care."
Many hospital systems have professional councils RNs can join to help promote collaboration and best practices in the profession or organization. Pastol was part of a unit-based council and an organization-based council.
She received the RN Rookie of the Year award in 2018. This is an organization recognition given to four RNs in their first years working as nurses. Team members or managers can nominate staff who they believe are deserving.