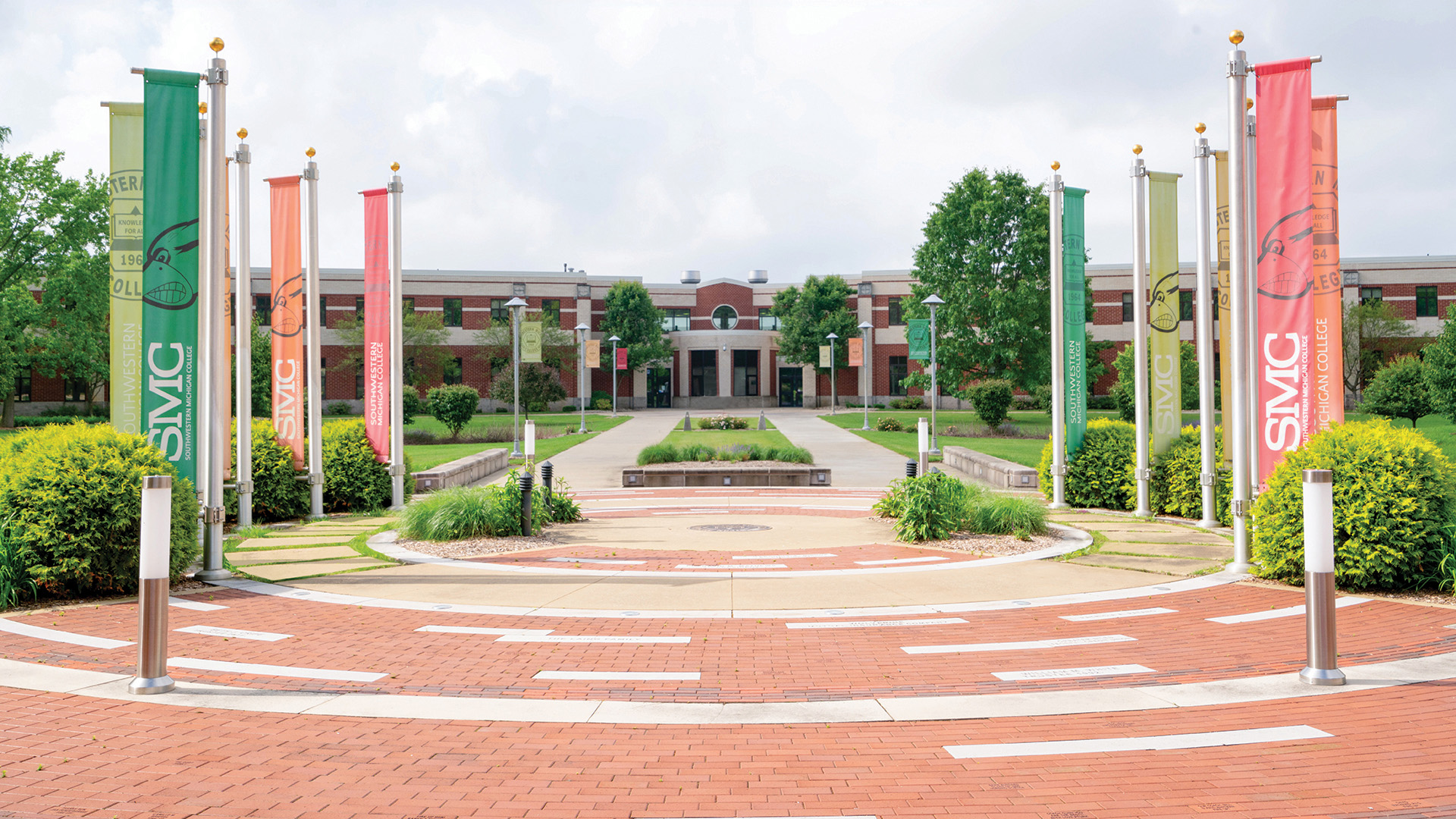 A Full-Court Press as the Roadrunners Return
Published on August 2, 2022 - 2 p.m.
On Sept. 27, 2021, the Michigan Community College Athletic Association (MCCAA) voted unanimously to readmit Southwestern Michigan College to the conference, effective with the 2022-23 season.
Since then, SMC Athletics has been firing on all cylinders to have teams ready to compete this fall...and a facility in which to do so. That's where Athletic Director Rodell Davis and his coaching staff come in. It's basically a full-court press until fall.
Davis has never started an entire program from scratch, although a couple of experiences prepared him for the task. From 2003-07, he was the head coach/athletic director at Laramie County Community College in Wyoming, winning the Region IX Central Championship in 2006. He also served as athletic director at Kennedy-King College in Chicago for six years, reaching the Region IV Championship game in 2015.
From 2016 to 2018, concurrent with his responsibilities at Kennedy-King, Davis was an assistant coach at Morgan Park High School, helping that team win two Illinois High School Association 3A Championships. Most recently, Davis served as associate head coach at Chicago State University, a member of the NCAA's Western Athletic Conference.
"When I was in Wyoming, I took over a second-year program, so they had some things in place, but there was still a lot to do," said Davis. "Kennedy-King, when I took that over, had never had a fulltime athletic director, so there was a lot of work to be done there as well. Those experiences put us in a good place now. We're going to do things the right way and build a foundation for moving forward."
True Collegiate Atmosphere
"All of our programs are thriving," said Davis. "We're bringing a product to the area that hasn't been here, and people are excited about it." Davis is especially pleased about recruits' reactions when they visit campus. The perception, he shared, is that community colleges are housed in one big building that looks like an Amazon warehouse. "When they come to campus and see everything we offer here at SMC," he said, "potential students get a totally different impression. They see a real welcoming college."
SMC's campus culture will likely become even more exciting as it welcomes 100 new student athletes this fall. "When you have home games and matches, it brings the campus together," Davis said. "It gives everybody a true college feel. I don't know many people who went to a four-year college who haven't attended athletic events. Giving SMC students and our community that opportunity here is going to be huge."
Cross Country
Following a 25-year hiatus, SMC's legendary cross-country teams returned to competition in 2021. Both the men's and women's teams were nationally-ranked, each finishing fourth at the NJCAA Region XII meet in Lansing, then competing in the NJCAA Division II National Championships in Richmond, Va., this past November. The teams are poised for a great year in the 2022-23 season as well.
Zac Sartori's harriers open in Joliet, Ill., with the University of St. Francis Sept. 2, then compete in five invitationals before the MCCAA Conference Championship and NJCAA Region XII Championship at Calvin University in Grand Rapids Oct. 29.
The Roadrunners will run at Grand Rapids Community College (Sept. 17), Kirtland Community College in Grayling (Sept. 23), Oakland Community College in Bloomfield Hills (Sept. 30) and Muskegon Community College (Oct. 15).
Volleyball
"Volleyball will be the first competition people see in the new fieldhouse," Davis said. Under Coach Jenny Nate, formerly the varsity volleyball coach at Niles High School, SMC faces Lake Michigan College Saturday, Aug. 27, at 10 a.m. at 1st Source Bank Fieldhouse.
At 6 p.m. Aug. 31 at 1st Source Bank Fieldhouse the Roadrunners host an exhibition with Kellogg Community College, Kalamazoo Valley Community College and LMC.
Men's Basketball
Davis, who played for the University of Iowa, will coach the men's basketball team. As a coach he is looking for three things: a good person, a willing student who will get up and go to class and use SMC's academic support services, and someone who can play.
"We'll play pressure defense, fast-break style, trying every possession to force the other team into turnovers or mistakes," said Davis. "Offensively, we'll push the ball and try to get a shot in the first seven seconds. If we don't, we'll be patient and work for that high-percentage shot."
Women's Basketball
Davis' hoops counterpart, Jeanine Wasielewski, is building her team, too. "She's done really well," said Davis, "and is out recruiting right now." Wasielewski is a South Bend native who played for Northwestern University, winning the Big Ten Conference while appearing in two NCAA tournaments and twice earning Academic All-Big Ten honors.
Basketball tips off with a women's/men's doubleheader at 5:30 p.m. Tuesday, Nov. 1.
Wrestling
Head Coach Todd Hesson is building his team as well. Most recently, Hesson served as head wrestling coach at Niles High School. He's actually returning to campus as he wrestled with the Roadrunners from 1983 to 1985 under Hall of Fame Coach Jim Judd and qualified for NJCAA National Championships at that time.
Hesson is working with Davis and the other head coaches to establish policies and procedures to ensure compliance with all NJCAA and MCCAA regulations.
Watch for wrestling action throughout November.
Dance
According to Davis, Southwestern Michigan College's Women's Dance Team is also falling into formation under the direction of Coach Laura Odenwald. Several recruits committed to SMC. The dance team will perform during halftime of men's and women's home basketball games and do short sideline routines during the games. They will also perform in the community and plan to compete in regional and national dance competitions.
Sports Management Program
Davis has also been "brainstorming" with Associate Professor of Sports Management Dr. Ritch Reynolds to figure out how to best integrate sports management students into the burgeoning athletics program. "We expect the participation of sports management students to be a real benefit to SMC Athletics," said Davis, "equivalent to nursing students doing their clinical rotations, providing hands-on experiences with athletes and team logistics."
1st Source Bank Fieldhouse
All of the coaches have had the opportunity to consult on the construction and modernization of 1st Source Bank Fieldhouse. Excitement is building in anticipation of the first games.
As the MCCAA splits into three conferences, the Western Conference consists of SMC, Glen Oaks Community College in Centreville, Kalamazoo Valley Community College, Kellogg Community College of Battle Creek, Lake Michigan College, Lansing Community College and Marian University Ancilla, Donaldson, Ind.
Warm Welcome
"As SMC goes from zero to 100 with no middle ground," Davis said, "all the high schools in southwest Michigan have embraced us because they are often under-recruited and overlooked."
In addition to sports teams, the college is creating a pep band to provide a complete game day experience. "We're giving students opportunities they haven't had this close to home before," Davis said. "They can participate in college athletics while getting a great education, competing in great facilities, and living in great residence halls. It's an exciting time."