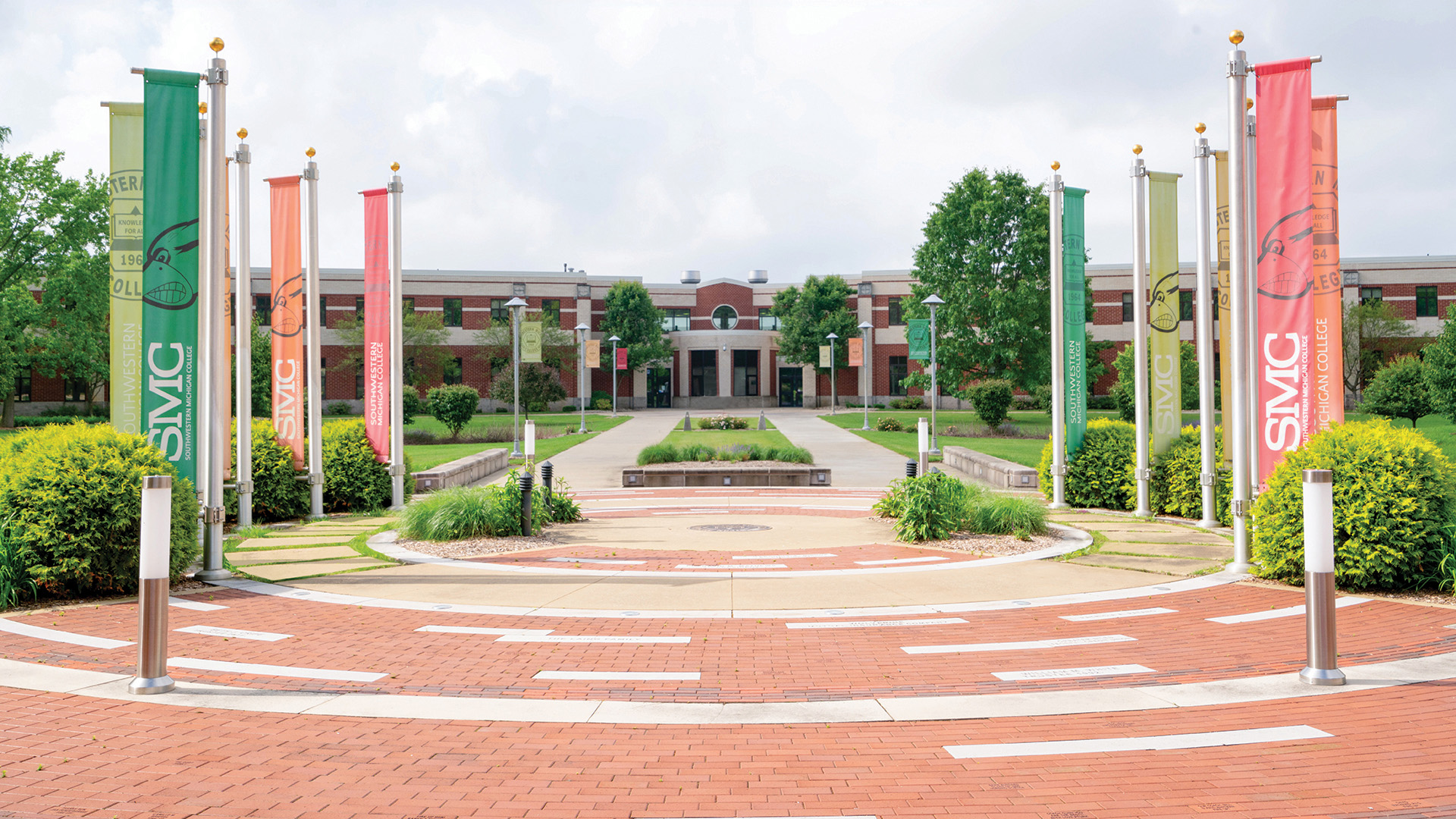 AEP Foundation Boosts Grant to Fund SMC's Grady Scholars' Second Year
Published on July 26, 2022 - 10 a.m.
Southwestern Michigan College announced today that the AEP Foundation, at the recommendation of Indiana Michigan Power, has increased its grant to $20,000 to fund the second year of scholarships for the Grady Scholars leadership-development program.
The scholarships are named for George Grady (1933-1977), a Dowagiac resident, Navy diver and Korean War veteran who served as Michigan's first African American police chief for nine years from 1965 through 1974.
"We truly appreciate the support of the AEP Foundation to establish and to continue Grady Scholars, which would not have happened without our relationship with Indiana Michigan Power," said Dr. Joe Odenwald, President of Southwestern Michigan College. "AEP Foundation has almost tripled its grant from last year to this year, and we will be able to serve 20 students in the program during the 2022-2023 academic year."
Founded in November 2020, the competitive Grady Scholars program gives first priority to in-district graduating high school seniors from populations that are historically underrepresented in college enrollment. Goals for the program include developing students' leadership abilities, helping those students become RAs and orientation leaders and building upon SMC's other student leadership initiatives. With a greater diversity represented in student leadership, prospective students coming to the campus will better identify with students serving in those roles, and current students will be more likely to complete their education, leading to more opportunities and higher lifetime earnings.
Of the first cohort in Fall 2021, the average GPA for the Grady Scholars was 3.32, vs. 2.83 for overall student body. All six persisted and reenrolled in the Spring 2022 semester. During Spring 2022, each of the Grady Scholars built a resume and engaged in a Career Development Workshop; completed a community service project to make care packages for The Timbers and Forest Glen, which are local assisted-living facilities; and completed two volunteer hours for the Career Fair and the March Open House.
"There are people within the college district who still think SMC is out of their reach. We know that's true because we still have about 46 percent of high school students graduating in the Lewis Cass ISD who aren't attending college anywhere. The idea is to associate this new program with someone from our area who was a trailblazer, and by all accounts, George Grady was," Odenwald said.
"We were honored to play a role in helping to get funding for the first class of Grady Scholars started on their college education," said Mona Livingston, Community Affairs manager for Indiana Michigan Power. "We believe that this initiative aligns well with the mission of the AEP Foundation, and it's evident from the success of the first class that it is worthy of further community support."
Classie Newbern, Biology/Medical Pre-Professional major, said that "Being in the Grady Scholarship Program didn't just help me out financially, it has helped me gain more leadership skills and showed me what being a leader is all about."
Alexander Medina is a Paw Paw business major working at Costco in Kalamazoo. He is looking to transfer into the Ferris State University partnership for his bachelor's degree, with aspirations to start his own business or to climb the corporate ladder.
Medina discovered the Grady leadership-development program on the college's web page. "I felt I could be a potential leader owning my own business, so it sounded like a good opportunity," he said. Medina's experience included an opportunity for a private meeting with the Grady family. "They gave me great advice on how to be a successful leader. I really appreciated that."
Southwestern Michigan College is a public, residential and commuter community college founded in 1964. The college delivers above-average graduation/transfer rates compared to other community colleges nationally and student college-level course success that is consistently in the top 25 percent of two-year colleges nationally. The college is accredited by The Higher Learning Commission of the North Central Association of Colleges and Schools and is a member of the American Association of Community Colleges.
Those interested in learning more about Southwestern Michigan College or applying for the next class of Grady Scholars in Fall 2022 should visit swmich.edu.
###
ABOUT THE AEP FOUNDATION: The American Electric Power Foundation is funded by American Electric Power (Nasdaq: AEP) and its utility operating units, including Indiana Michigan Power. The Foundation provides a permanent, ongoing resource for charitable initiatives involving higher dollar values and multi-year commitments in the communities served by AEP and initiatives outside of AEP's 11-state service area. The Foundation's areas of focus include special emphasis on improving lives through education from early childhood through higher education, protecting the environment, providing basic human services in the areas of hunger, housing, health and safety, and enriching life through art, music and cultural heritage. The Foundation is based in Columbus, Ohio.
ABOUT INDIANA MICHIGAN POWER: Indiana Michigan Power (I&M) is headquartered in Fort Wayne, and its approximately 2,100 employees serve more than 600,000 customers. More than 80% of its energy delivered in 2021 was emission-free. I&M has at its availability various sources of generation including 2,278 MW of nuclear generation in Michigan, 450 MW of purchased wind generation from Indiana, more than 22 MW of hydro generation in both states and approximately 35 MW of large-scale solar generation in both states. The company's generation portfolio also includes 2,620 MW of coal-fueled generation in Indiana.