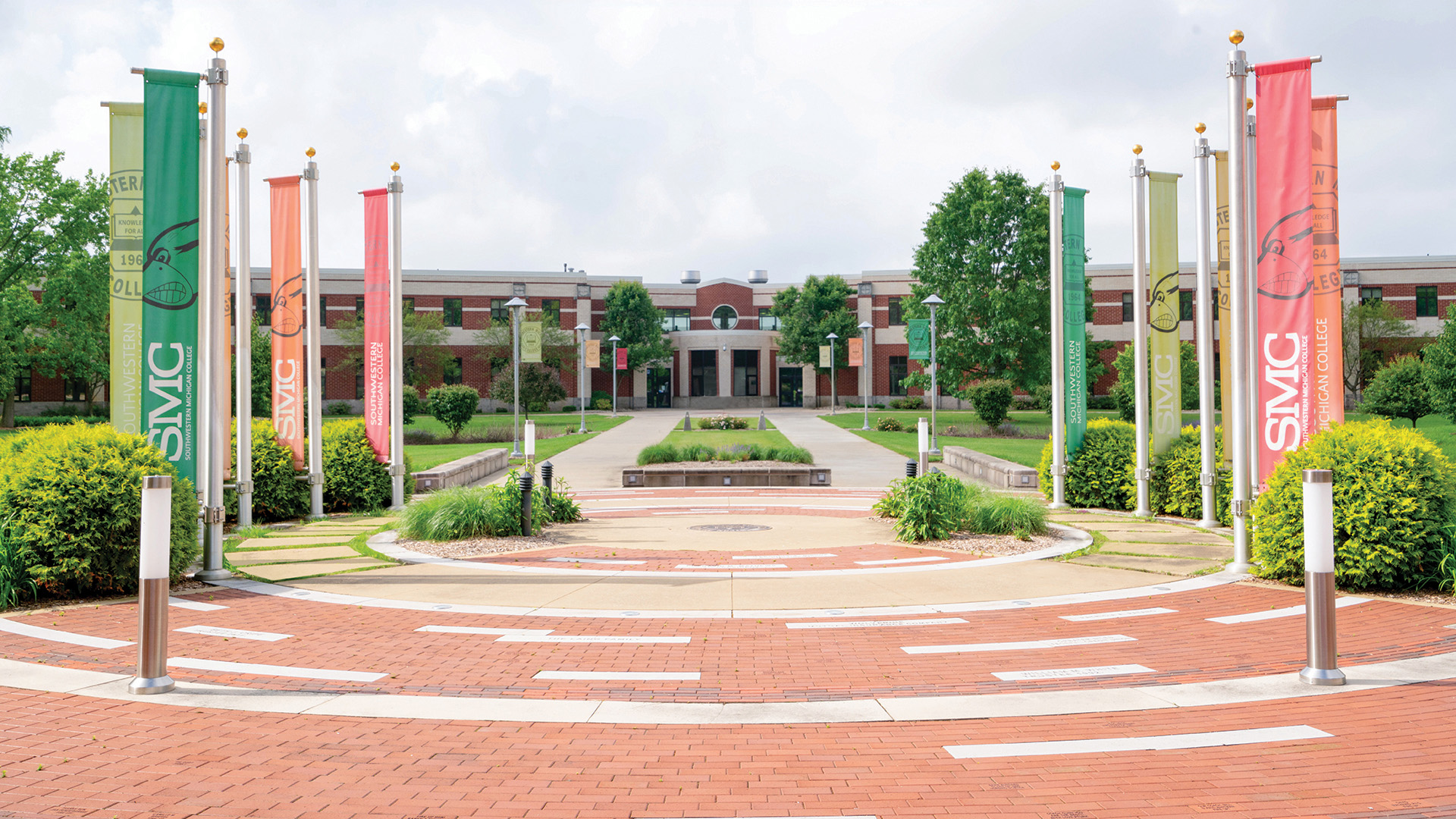 Art Appreciation Class Encourages Compassion
Published on October 29, 2020 - 11 a.m.
Nursing's former bulletin board in Southwestern Michigan College's Dale A. Lyons Building rustles as people pass because it's freshly filled with fliers aflutter with slips to tear off.
Need wisdom?
"Don't depend too much on anyone in this world. Even your shadow leaves you in darkness."
Need something fun to do?
Snag a slip suggesting pumpkin carving, making cookies, stargazing, making a bucket list or going on a picnic.
Need a free smile?
Choose from eight. Or, a rainbow.
Need motivation?
You got this! Never give up! You're here for a reason! Keep going! You're amazing! Stay focused! Keep up the good work! It's going to pay off one day!
Need a break?
Make sure you eat something. Your brain and body will thank you.
Call an old friend or relative. They probably miss you, too.
Need fruit?
Tear off an apple, an orange, grapes, a banana or a lemon.
One sheet is color coded by encouragement (You only fail when you stop trying), prayer and Bible verses applicable to worry, hurt/grief, anger, peace, evil, even gossip (Proverbs 11:13).
As pandemic impatience mounts and SMC's new acronym stands for Safety Means Compassion, Vice President of Instruction Dr. David Fleming happened upon the display Oct. 20 and posted in the employee Facebook group, "I love them!"
Assistant Professor Shannon Eakins' art appreciation class is responsible for the interactive project, which attempts to send messages to other students based on artists discussed in class, such as Jenny Holzer.
Holzer conveys messages she calls truisms by projection in public spaces. In 2006's "For 7 World Trade," she flashed text onto a glass lobby wall in Lower Manhattan. The original structure, completed in 1987 as part of the World Trade Center, was destroyed in the Sept. 11, 2001, terrorist attacks.
Holzer started investigating using words and language as an art medium unto itself while studying literature and philosophy in New York City in 1977. She began distilling big ideas from her readings into concise phrases which fit on signs. She appreciated the immediacy of signage reaching wide audiences.
Holzer kept statements brief to reach the maximum crowd possible. "You only have a few seconds to catch people, so you can't do long, reasoned arguments." Her goal was for people to see them and react.
Leigha Vinson, a psychology major from New Buffalo whose goal is to become a private-practice therapist, said, "We just had to create art with a message, silly or serious. I honestly didn't think there was going to be any reaction from people."
"In the past," Eakins said, "I've had students work together, projecting messages to other students in the Lyons building with old overhead projectors. Because close-contact group work is not possible, we had to come up with something different. Honestly, this new idea was inspired by the students themselves. In their various creative assignments they communicate to me that they are feeling isolated and sad and know that their fellow students feel the same way."
"Their projects often speak to the need for self-care, making sure people don't feel alone and encouraging each other to not lose hope," Eakins said. "With the individual paper takeaway tabs, a single student has the opportunity to reach out to a stranger with their message. The messages are compassionate — even the fruit in its own way — because that's what they are."