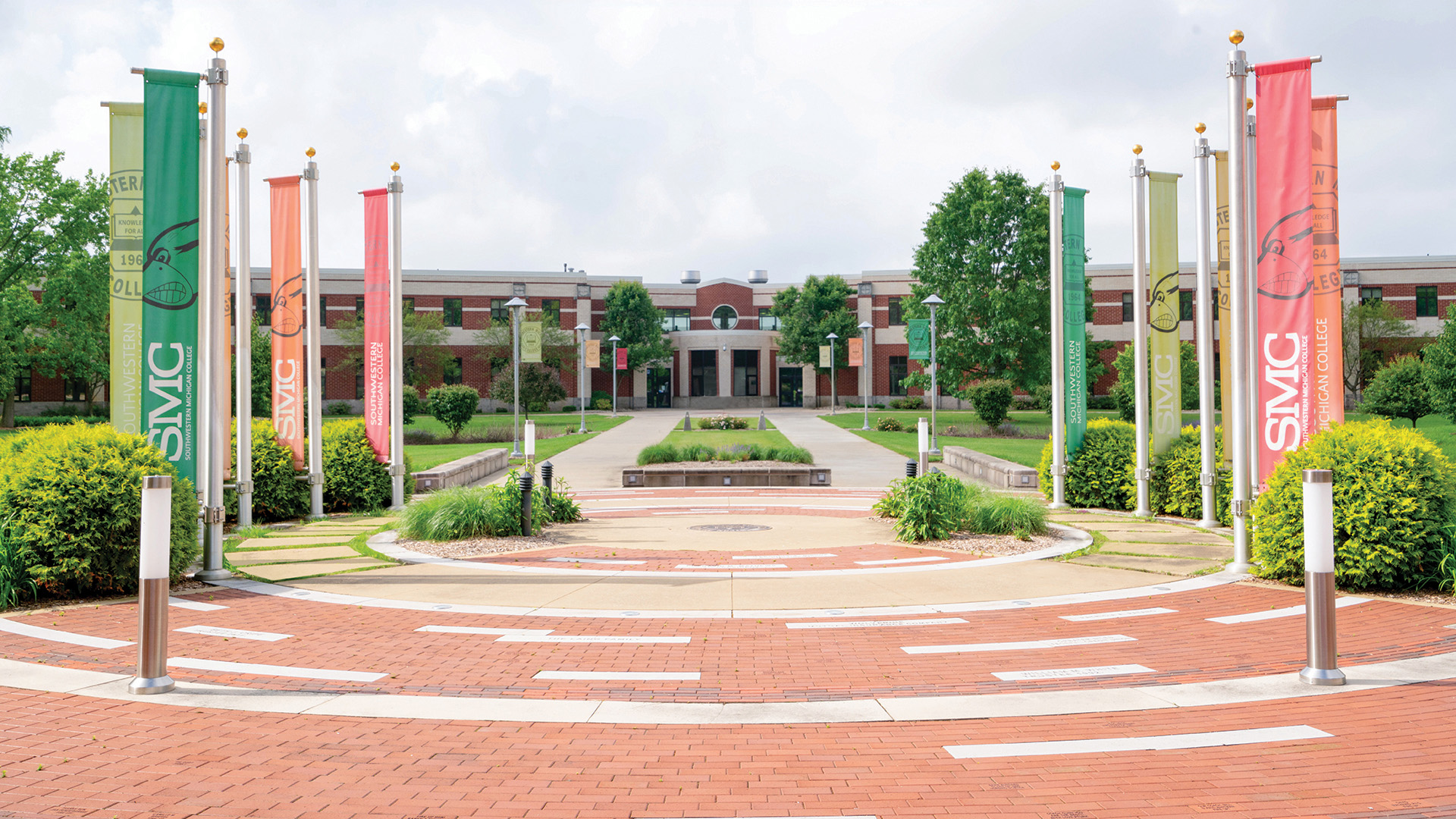 Black Business Owners Stress Perseverance
Published on February 24, 2021 - 10 a.m.
Southwestern Michigan College's series of Black History Month programs continued Feb. 22 with a panel of four Black business owners moderated by Dowagiac City Councilwoman Danielle Lucas.
Tyree Blackamore of Dowagiac attended SMC, then transferred to Michigan State University for his bachelor's degree with an emphasis in media arts. He works for WSBT in South Bend.
With Harmony in Diversity Film Productions, he and a partner just landed an investor to turn one of his four novels into a feature film shooting this summer.
"Our goal is to produce films that uplift the Black community," Blackamore said, "not to paint us in negative stereotypes and caricatures. I try to be an example for young people. I'm not going to put out a movie my mother won't be proud of."
Lucas, who is SMC's financial aid systems analyst and Black Student Union advisor, asked panelists about obstacles they surmounted.
"As a Black author, I ended up self-publishing," Blackamore said. "I tried to go the commercial route and sent out hundreds of query letters. Many African-Americans read books, but publishers still don't think we're a big market. Unless you're already known, you won't get a deal unless you self-publish. It takes a lot of research and trial-and-error. You've definitely got to believe in yourself. Don't listen to the naysayers."
Chef Cynthia Gallero-Greer is based in Niles and South Bend. She owns Katharos Catering and operates a café at Ivy Tech Community College, where she teaches as an adjunct culinary instructor.
"I mostly do weddings, which the pandemic postponed, but my calendar is booked every weekend this year," she said. "I also do special catering for anniversaries, birthdays and corporate events. I also do travel catering," which has taken her to Atlanta, California and Mississippi.
"This is my second career," Gallero-Greer said. "I came from 25 years in the retail industry as district and regional director for big-box stores. I went back to school and obtained my culinary degree from Le Cordon Bleu College of Culinary Arts in Chicago. I've worked for Ivy Tech for 3 ½ years. I started my company eight years ago, then got more knowledge for three years, working under top chefs and with great catering companies. Starting out, you have to build credibility, consistency with your brand and a reputation for integrity. It might take two to three years to see the fruit of your labor, so sometimes you'll travel a lonely road. When you stumble, you have to have the courage to get back up and persevere. Doing a lot of private, high-profile catering, I enter people's homes in gated communities. They have to be able to trust me and my staff."
Niles' Cindy McCall owns the AAA insurance agency.
McCall, who earned an SMC associate degree in business administration, "has over 41 years of experience with the AAA brand. I started in 1979 working co-op at age 17. I was in the filing department, the claims department, a travel agent for over 10 years, then in 2003 I got my state license to sell insurance. Last week was eight years since I purchased the agency in 2013."
"In the past, the insurance industry was mostly white men," McCall said. "When I was the first Black woman, there was a lot of negativity — even from my colleagues. They weren't used to seeing a Black woman in that capacity. It took a lot of patience, prayers, grace and perseverance."
Peace Temple Church of God in Christ Pastor Tracey Hatcher, who serves on the Dowagiac Board of Education, is a drywall finisher by trade. The Niles native has resided in Dowagiac for the last 25 years. He coached basketball and track "because I love dealing with young people and keeping them inspired by doing positive things."
"I have to be honest and transparent. I don't have any college education," Hatcher said. "If I could do anything in my past over, it would be to go back to school. I push education when I coach and when I'm preaching and teaching at church. Tell yourself you can make it, and don't let anybody tell you what you can't do."
"When I started, I carried 600 sheets of drywall all day. Hard work pays off in the end. After carrying it for so long, I saw the guys doing finish work and wanted to work a little bit easier, so I learned the trade. I've been doing drywall for over 25 years," Hatcher said. "(Business) has not slowed down during COVID. Many doors opened to me because somebody else spoke on my behalf because my integrity is strong. Even when there's no one around watching you, be honest and true to yourself."