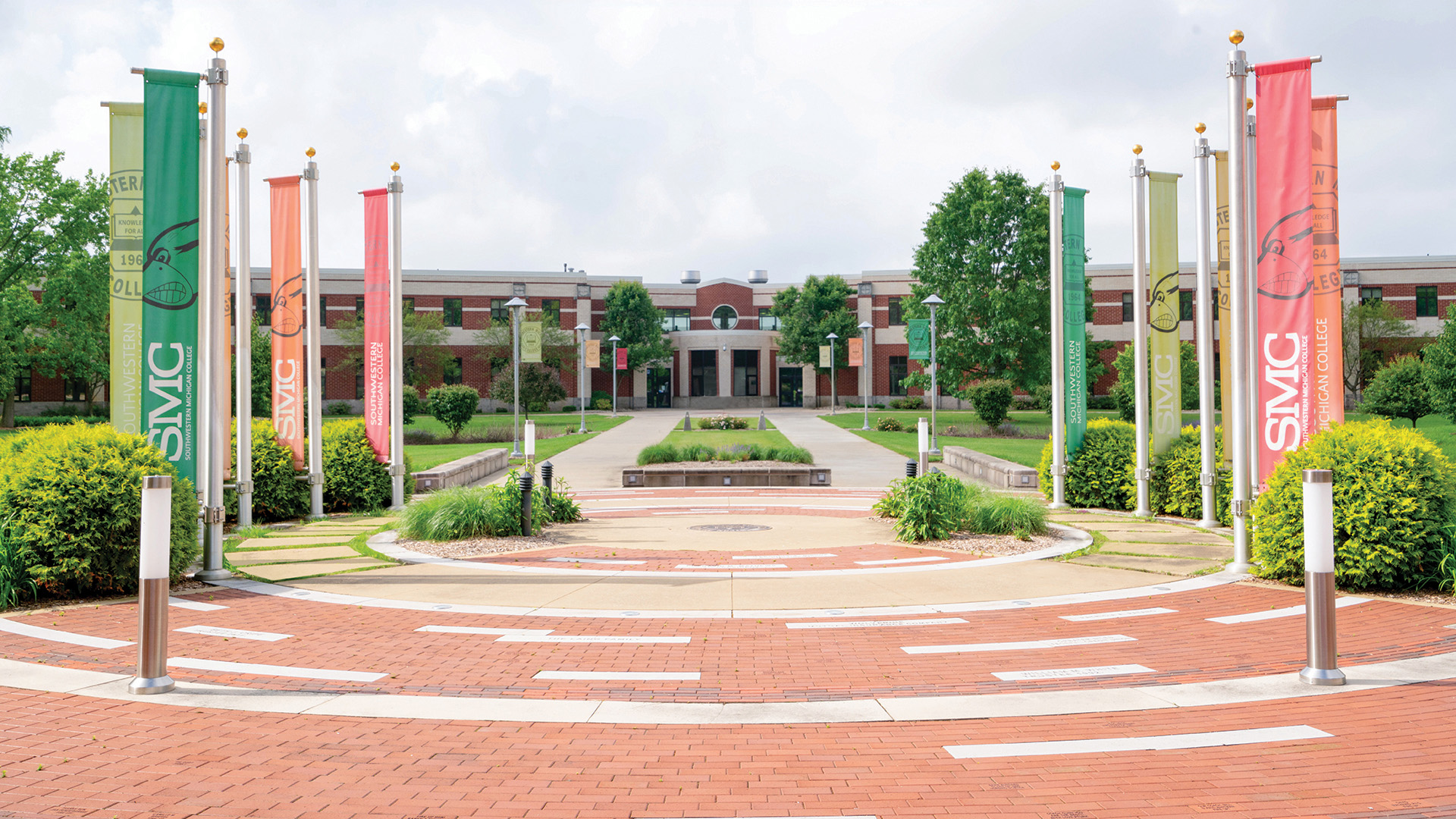 Black Poetry Gaining Attention
Published on February 18, 2021 - 4:30 p.m.
Southwestern Michigan College's continuing Black History Month series Feb. 17 featured a two-poet Zoom panel, including Indiana's 2018-19 poet laureate. They seem to share little in common.
Abdul Ali attended an All-Black elementary school in New York City whose "great teachers" reminded him of jazz musicians the way they improvised lessons, like the science teacher who taught mitosis with rap. "We didn't need permission" to learn Black history.
Conversely, Adrian Matejka attended an affluent Indianapolis high school alongside a handful of Black students. "Me out in the desert."
Their common ground is an ability to make poetry accessible, plus knowing Teaching and Learning Center Coordinator Keigh-Cee Bell, who moderated for more than 20 people.
They wonder what Black poetry will do with the resurgence boosted by National Youth Poet Laureate Amanda Gorman, 22, appearing on the cover of Time magazine after her "The Hill We Climb" unity message at the inauguration, capped by a Super Bowl appearance.
"She crushed it. I'm excited to see what comes of that," Matejka said.
"She comes from the slam world," Ali said. "That whole scene is about truth-telling, but also competition and prizes. Art can change things. I'm interested in poetry that makes us a little uncomfortable. I'm excited for Amanda and hope she becomes President one day. She has the pedigree as a Harvard alumna, and Oprah in her back pocket. It will be interesting to see if she can use her platform to bring the poetry community more into the mix."
Bell went to graduate school at American University in Washington, D.C., with Ali, author of the 2015 book Trouble Sleeping, winner of a New Issues Poetry Book Prize. His work has appeared on National Public Radio, in The Washington Post magazine, in Poet Lore magazine and in the anthology Full Moon on K Street: Poems about Washington, D.C. (2009).
Ali has a master's degree in creative writing and is program coordinator at Maryland's Community College of Baltimore County. He also taught at Johns Hopkins and Howard universities.
Born in 1984, he read "Dreaming in Plaid," about his grandfather, and "South Ozone Park," the Queens, N.Y., neighborhood where he grew up.
Bell is a former student of Matejka, whose 2013 book, The Big Smoke (Penguin), was a finalist for the National Book Award and the Pulitzer Prize. He received a master's degree from Southern Illinois University-Carbondale in 2001 and a bachelor's degree from Indiana University in 1995.
Matejka read "Battle Royale" from The Big Smoke, his collection examining the myth and history of prizefighter Jack Johnson (1878-1946). The child of emancipated slaves, Johnson overcame violent Jim Crow segregation, challenging white boxers to become the first African-American heavyweight world champion.
"I didn't read any poetry until I was in college," Matejka said. "My mom was a big fight fan. We watched the great heavyweights of the '70s, like Muhammad Ali and George Foreman." Pre-pay-per-view, boxing "was on TV and part of the larger cultural conversation in a way it's not now. If the person my mother was cheering for was losing, she'd say, 'He's no Jack Johnson.' I had no idea why she always brought him up until 30 years later. The more time I spent with his story, the more I realized it hadn't been told the way it needed to be told. I researched for two years without writing anything. The best poetry comes from surprise, discovering something we didn't know already."
Born in Nuremburg, Germany, in 1971, Matejka grew up in California and Indiana. He lives in Bloomington and teaches at IU.
Matejka is also the author of the forthcoming Somebody Else Sold the World (Penguin, July 2021), Map to the Stars (Penguin, 2017), Mixology (Penguin, 2009), which won the 2008 National Poetry Series, and The Devil's Garden (Alice James Books, 2003), which received the New York/New England Book Award.
Matejka is also a co-author of a mixed media collaboration, Standing on the Verge/Maggot Brain (Third Man Books, forthcoming in 2021) and a graphic novel, Last on His Feet (Liveright, forthcoming in 2022).
SMC's Diversity Committee is sponsoring a Black business owners virtual panel at 5 p.m. Feb. 22. Join via this Zoom link: https://swmich.zoom.us/j/93775230901#success