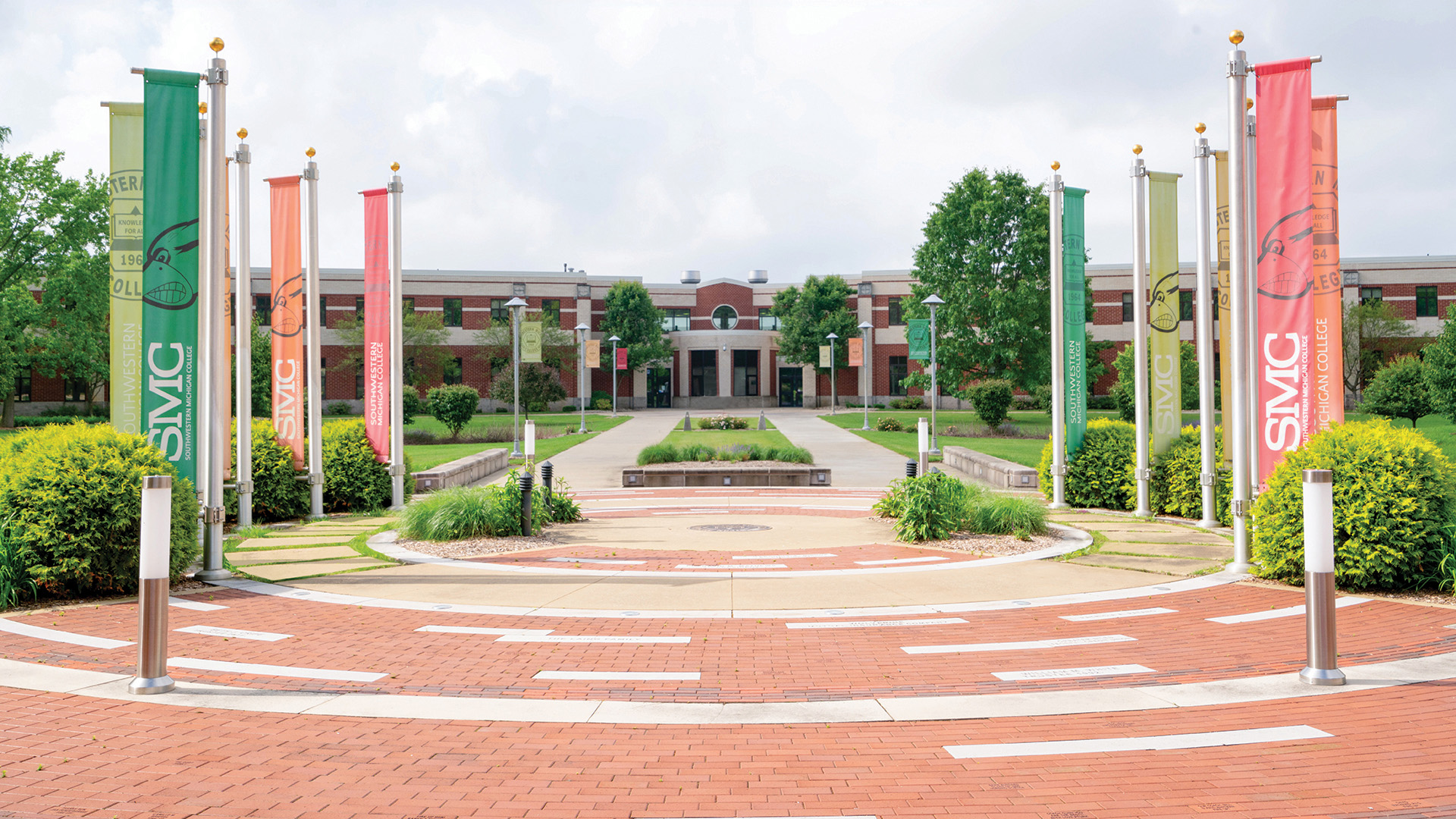 Black Police Leaders Reflect on Past, Look Ahead to New Challenges
Published on March 1, 2022 - 4 p.m.
Trailblazing Police Chief George Grady counseled his son, Dennis, "I don't care what you become in life, just be a man. Treat people fairly, the way they want to be treated."
"Looking Back and Forward: Historic and Modern Issues Facing African Americans in Law Enforcement" was Dowagiac Area History Museum's first program in two years due to the pandemic. Director Steve Arseneau moderated the two-hour panel discussion Feb. 24 in the theatre of the Dale A. Lyons Building on SMC's Dowagiac campus. SMC's Diversity Committee co-sponsored the Black History Month program.
"My dad influenced me to become an officer because I saw how he treated people. My dad didn't do this for a trophy, to get rich or to be popular, he did it because it was the right thing to do," Dennis said. "I remember him to this day and everything he taught me. He'd sometimes get me up at 3 a.m. in my T-shirt and boxer shorts to tell me, 'You're my son. Do the right thing. Even if you suffer, it's still the right thing.'"
Grady, who retired after 23 years with the Michigan State Police, traced the histories of Samuel Battle, the first African American police officer in New York City in 1911; Stephen Bates, the first African American chief, born into slavery in 1842 on Robert E. Lee's family plantation, in 1879 in Vergennes, Vt.; Georgia Ann Robinson, the first African American female officer on the Los Angeles Police Department in 1919; and Jim Byrd, the third Black chief in Cheyenne, Wyo., in 1966.
No. 2 was Grady, in 1965, becoming Michigan's first Black chief at 32. George died Feb. 17, 1977, at 44. He served for nine years, until 1974.
Retiring Grand Rapids Police Chief Eric Payne, a 1979 Dowagiac graduate, reached the top spot in 2019, directing more than 300 sworn officers after 32 years with the department.
Randy Pompey, Air Force veteran and first Black Michigan State Police pilot, also served with the North Carolina Department of Corrections, the Michigan Attorney General's office, deputy Benton Harbor police chief and Coloma Township police chief.
"Chief Grady was also Coach Grady," Pompey said. He and Dennis were 1975 Dowagiac Union High School classmates, playing sports together from Little League through high school. They graduated from the MSP Police Academy's 96th recruit school in 1979.
"In uniform, he was obviously a proud officer with a level of professionalism higher than anyone else. You met those standards or you were not going to be around him. His clothes were pressed, his shoes shined, carrying a .38 revolver on his hip. He influenced us. You knew he was rubbing off on you standing next to him," Pompey said.
As Dennis lifted weights and learned to box, "I wanted to be an officer to protect people who couldn't protect themselves. I felt pressure as a young man, from being bullied to feeling watched all the time. In high school, one of my teachers was arrested for domestic violence against his wife. He picked on me all the time, downgrading my papers. He gave me a B- on one because it had 'too much information.' My dad sat me down at the kitchen table when everyone was asleep and told me his arrest was why he picked on me."
"It was challenging as a young person who just wanted to go to school. His officers were predominantly white, but I wasn't raised to see color, just character. My dad said justice should be colorblind. But let's be real, I've been to a lot of complaints by people who don't want to deal with minority officers. They stereotype you as soon as you walk up because people have issues, Black and white."
"Most people in law enforcement are self-starters, go-getters," Pompey said. "We have a great bunch of officers who compete against each other for special assignments and promotions. For a long time, we did not get an opportunity. When Dennis and I came through, they had affirmative action and decided to start hiring minorities, which was a double-edged sword. I got a 98 on the written exam, but when I got to the police academy it was 'because of affirmative action.' Then I got my sergeant stripe 'because of the color of your skin.'"
"Your police agency should reflect your community," Pompey said. "Two-thirds of Benton Harbor's officers were white. When I went to the brand-new Coloma Township department as chief, there was one locker room because they never thought they'd have a female. I hired one (who, ironically, resigned to join Grand Rapids). I had four children. None became cops. You see officers with beards and tattoos. Our world is changing. We have to find a way to change with it."
Arseneau asked about the "balancing act" necessary to satisfy pressure from multiple communities knowing "you can't make everyone happy." Payne replied, "In 2020, we had a riot." That May 30, a peaceful protest over George Floyd's death turned violent, with police cars and buildings set on fire.
"People were mad at me for the force used," Payne recalled, "but we were vastly outnumbered. We expected 2,000 people. I brought in 80 additional officers. By 6 a.m., there were thousands of people, the city was burning and probably 450 officers from throughout west Michigan came to help. We eventually called in the National Guard.
"Polar opposites were upset with me, from downtown businesses to protesters. Bricks were flying, our officers were getting beaten. My number-one goal was to not let anyone get seriously injured or killed. I can't satisfy everyone, so like Chief Grady told Denny, 'Be a man, do what's right.' I just recently promoted the first female deputy chief who was, by far, the best candidate."
"Breonna Taylor, who happened to be from Grand Rapids originally, was killed on a no-knock warrant. I can't believe departments still do that. It's kind of upsetting that we're not learning from past mistakes. We haven't done them in Grand Rapids for 15-20 years because tragedies can happen," Payne said.
SMC's Grady Scholars, a program created in 2020 and sponsored by American Electric Power (AEP), honors Chief Grady's legacy while developing diverse student leaders. As a cohort, the seven earned a 3.3 GPA last fall.