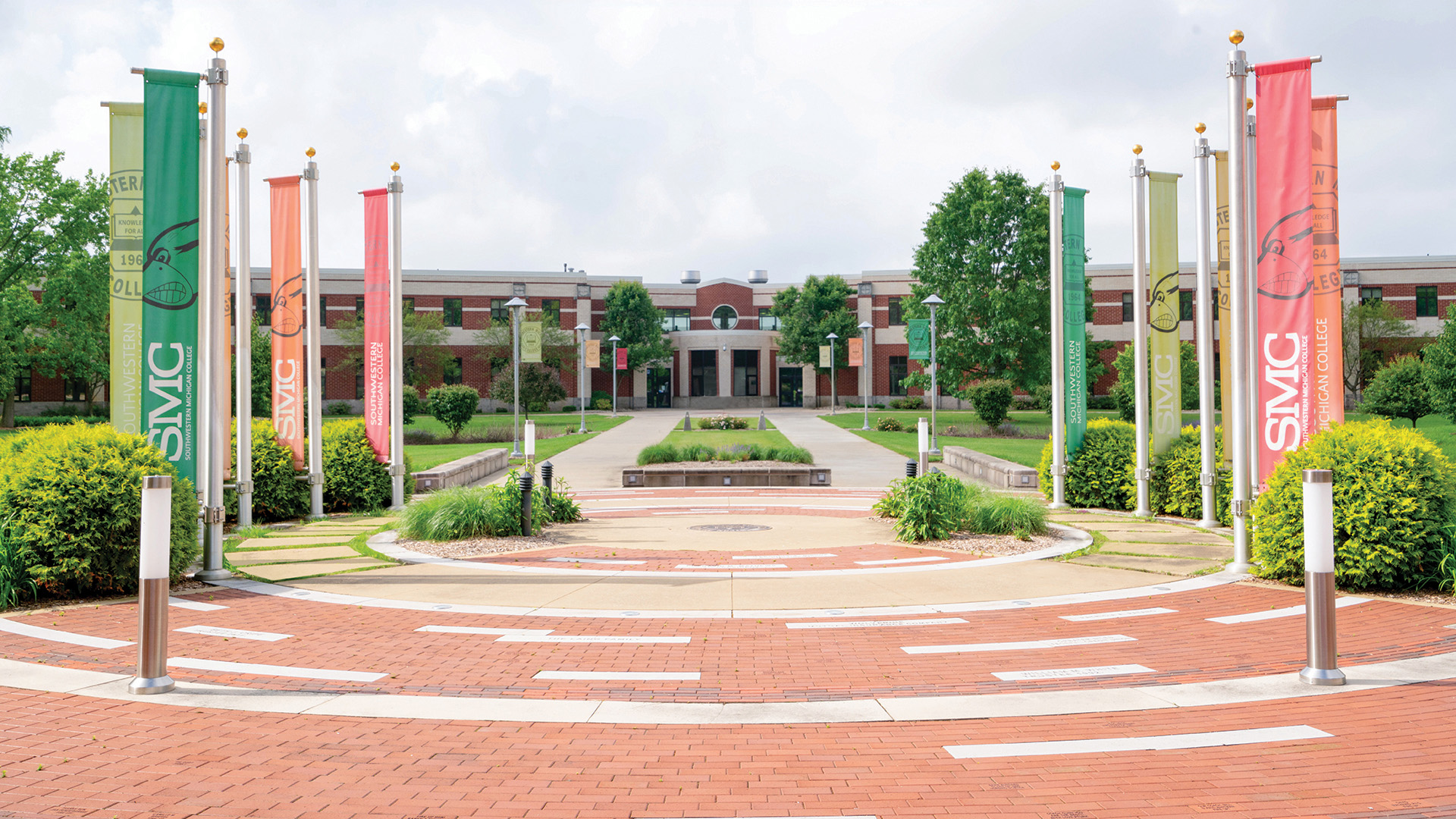 Carew Tours Italy, Sings at Vatican
Published on June 14, 2022 - 2 p.m.
Every couple of years, Southwestern Michigan College Director of Choral Activities David Carew tours a foreign country.
There was Ireland in 2016, Vienna, Prague and Budapest in 2018 and this spring, after a pandemic delay, Italy, including a performance at the Vatican.
"I've always loved to travel," Carew said. "We go through a company called Music Celebrations International (MCI). You tell them where you want to go and they set up a package for you."
Carew said "Southwest Michigan Chorale" is strictly a touring group that combines SMC — alumni Dakota Stump, Jessica Flagel, Thomas Melcher and Lisa Chilton and pianist Christine Seitz — and church choirs through collaborator the Rev. James Kraus, St. Joseph First United Methodist Church minister of music and leadership development.
"I'm the conductor and he coordinates travel," Carew said. "The first year we had 28, 36 the next trip and we took 48 this time. We had eight rehearsals, which proved beneficial when we got there. The trip is about the singing experience, so musically it's great. Europeans typically like to hear American music, so we do a lot of spirituals, jazz and contemporary composers" in an hour set.
"We did a Mass at the Vatican," Carew said. "The MCI coordinators have contacts with their counterparts at these venues. Obviously, it's not the Pope who runs the service, but clergy in charge of the music direction. We sent in a list of the repertoire for approval in the fall. They gave us three spots. It was surreal singing in St. Peter's (Basilica, the church built in the Renaissance style in Vatican City, the papal enclave within the city of Rome).
They saw the oval six-acre Colosseum, the largest ancient amphitheatre ever built and still the largest one standing, despite its age. It opened in 80 AD. "A couple of spots are roped off, but most of it is open," Carew said. "A lot of marble has been extracted to build big churches. You can't go down into the stadium where the gladiators fought."
Carew's favorite venue actually was (composer Antonio) "Vivaldi's church," Santa Maria della Visitazione, or La Pieta, as it is popularly known, which sits on the waterfront.
"We opened our trip with Rome and closed with gorgeous Venice," said Carew, who also visited Italy in 1998.
The central square of the city known for canals, Piazza San Marco, contains St. Mark's Basilica, which is tiled with Byzantine mosaics, and the Campanile bell tower offering views of the red roofs.
"We were also in Naples and Florence," where opera originated, during May 16-27. "We got to see an opera with Placido Domingo," 81. "The tenor was incredible. He was born in Chile and adopted by American parents in Philadelphia. He was probably the best tenor I've heard live, other than Pavarotti," Carew said.
Florence, capital of the Tuscany region, is home to many Renaissance art masterpieces, including Michelangelo's "David" sculpture and Leonardo da Vinci's "Annunciation" painting.
"We probably walked five to seven miles a day, and it was non-stop. We got to see the Amalfi Coast, which is just breath-taking, overlooking the Mediterranean. My son, 20, and parents came along, so it was special. He's starting his second year at the University of Michigan. He started as a chemical engineering major and is now pursuing computer science." Jacob played saxophone throughout high school.
The stretch of coastline along the southern edge of Italy's Sorrentine Peninsula features sheer cliffs and a rugged shoreline dotted with small beaches and pastel-colored fishing villages. The coastal road between the port city Salerno and clifftop Sorrento winds past grand villas, terraced vineyards and cliffside lemon groves.
When they weren't walking, they traveled in an air-conditioned Mercedes coach piloted by their guide, Giuseppe.
Carew expects to visit England and Wales in 2024, when SMC and the Beatles turn 60.
"We hope to do Evensong in one of the Anglican churches like the house choir," Carew said. "And Wales has a Carew castle I want to see."
Evensong is a church service that's traditionally held every day as the sun sets, marking the passing of another day in faith. It's fairly short, usually around 40 minutes, and features choral music, readings and prayers.
Carew joined the college in 2005 after teaching vocal music for both Dowagiac Union Schools and Edwardsburg Public Schools. He holds master's and bachelor's degrees in music from Michigan State University and Western Michigan University.