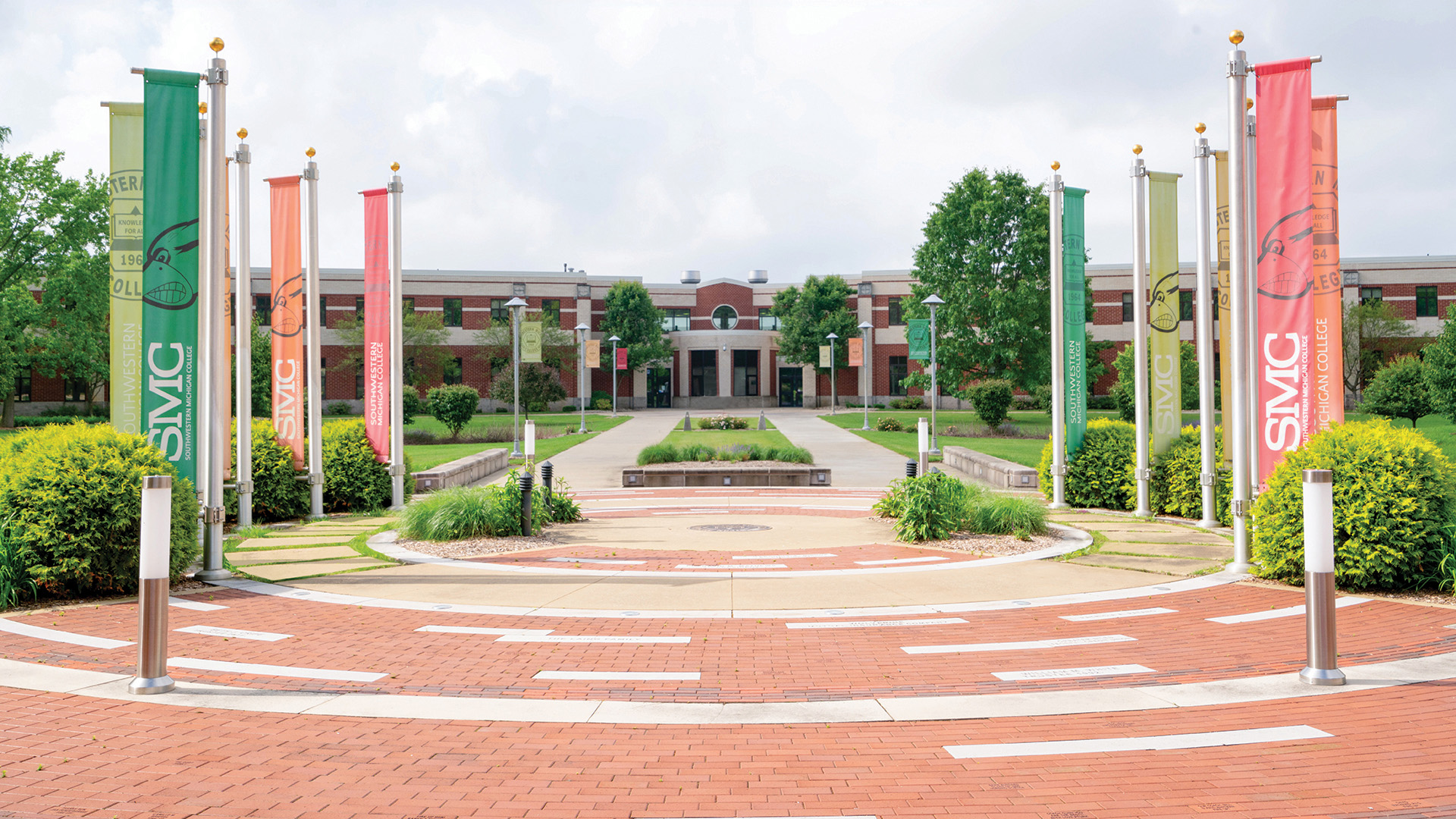 Carvers Create Fire-and-Ice Welcome for Students
Published on January 25, 2021 - 1 p.m.
For Welcome Back Weekend, two carvers created a two-block, fire-and-ice Southwestern Michigan College sculpture on the patio outside the Student Activity Center.
Danny Bloss of Niles and Josh Niven of Buchanan both had a gloved hand in creating 28 works of art at Niles' recent 17th annual Hunter Ice Festival.
"Most of us usually start out one way or another with food, and it just snowballs from there," said Bloss, who has cooked at the University of Notre Dame for 31 years.
"I get the fortunate pleasure of playing with this year 'round because I work in a giant freezer making packaged ice," said Niven, whose brother graduated from SMC. "We hope the students enjoy it. This has been a good winter. It hasn't been horribly cold, and there's snow on the ground at least — instead of rain."
Bloss said his next stop is Richmond, Ind., Jan. 29-30 for the eighth annual Meltdown Winter Ice Festival.
"I'm going to Fairbanks, Alaska, for the entire month of February," Niven said. "Yesterday it was 12 degrees, today it was -9."
"We both went to Alaska last February," Bloss said, "and the coldest it got was -38 on the first day and gradually got warmer until it was 28 degrees."
They said it's not unusual for more than one carver to collaborate on a sculpture.
"Last week (in Niles), we worked individually for the most part," Bloss said, "but we helped each other with six- or seven-block scenes."
As a concession to the COVID pandemic, Niles placed festival events on ice, scaled sculptures back from 150 to 28 and placed the artwork so it could be viewed drive-by style.
"We always help each other stack because it's easier with a buddy," Bloss said. "Split the blocks in half, stack them again and re-fuse them. We're good friends, so we help each other whenever we can. When I do events at Century Center (in South Bend), I may carve it, but Josh might deliver it. I do the same for him."
"We piggyback off each other," Niven agreed. "Now more than ever with the pandemic."
"Josh is always looking to get better, and so am I," Bloss said.