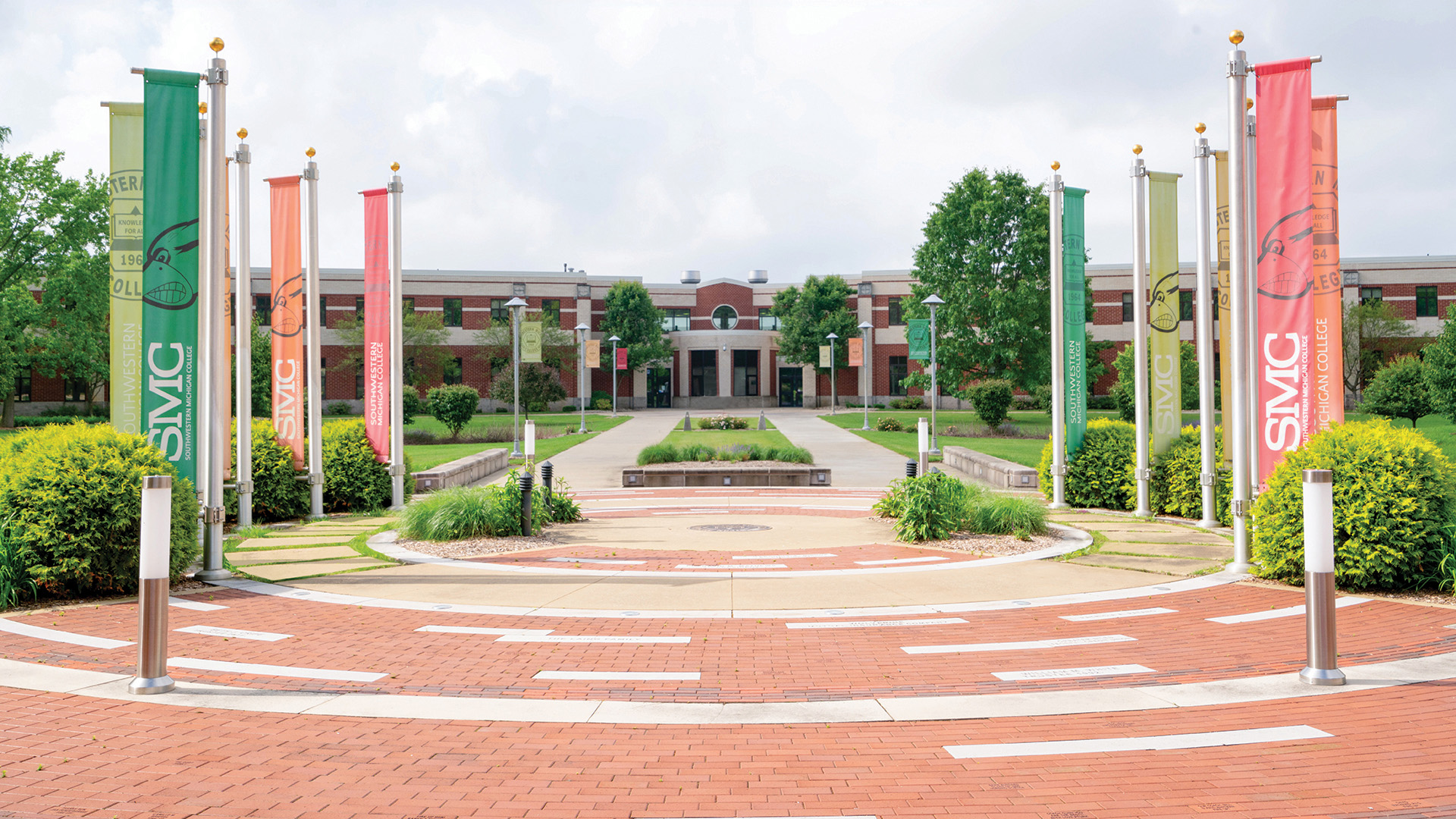 Dowagiac Area History Museum, SMC Collaborate on Black History Month Police Panel
Published on February 2, 2022 - 3 p.m.
In honor of Black History Month, Southwestern Michigan College's Diversity Committee and Dowagiac Area History Museum will host a panel discussion at SMC Feb. 24 with homegrown police leaders.
"Looking Back and Forward: Historic and Modern Issues Facing African Americans in Law Enforcement" takes place at 3 p.m. in the theatre of the Dale A. Lyons Building on the Dowagiac campus. DAHM Director Steve Arseneau will moderate, and the discussion is free and open to the public. The museum will be unveiling a new exhibit case on Chief George Grady that week.
Panelists include Dennis Grady, son of George Grady, Michigan's first Black police chief, and his 1975 Dowagiac Union High School classmate Randy Pompey. Both completed careers with the Michigan State Police, for which Pompey was the first Black pilot. They will be joined by Eric Payne, a 1982 Dowagiac graduate who recently retired as Grand Rapids' first Black police chief.
SMC's first-year Grady Scholars leadership-development program is named for George Grady, a Navy diver and Korean War veteran who served for nine years, 1965-1974, hiring as a patrolman Joseph Underwood Jr. Underwood became Michigan's first Black sheriff in 1988, serving 24 years in Cass County before retiring at the end of 2016.
SMC received a $7,500 gift from the AEP Foundation on behalf of Indiana Michigan Power to fund the scholarships' first year. The first class of Grady Scholars — Melissa Crespo of Lawton, Jose Medina of Dowagiac, Andrew Ruth of Buchanan, Alexander Medina of Paw Paw, Classie Newbern of Benton Harbor, Jazmin Walker of Benton Harbor and Alyssa Hall of Buchanan — averaged 3.32 GPAs fall semester.
"We truly appreciate the support of the AEP Foundation and Indiana Michigan Power to establish Grady Scholars. This type of effort is sorely needed in our community to improve college attainment and to help all families train for better careers," SMC President Dr. Joe Odenwald said. "There are people within the college district who still think SMC is out of their reach. We know that's true because we still have about 46 percent of high school students graduating in the Heritage Southwest ISD who aren't attending college anywhere. The idea is to associate this new program with someone from our area who was a trailblazer and, by all accounts, George Grady was."
Dennis Grady retired from the MSP in 2003 as a sergeant after more than 23 years. His last assignment was Lansing Post 11 as shift commander, supervising road troopers and post operations. He lives in Lansing with his wife, Barb. He holds a 1979 bachelor's degree from St. Joseph's College in Rensselaer, Ind., with minors in political science and education and a teaching license in grades 1-12.
Grady was stationed at Pontiac Post 27 as a road trooper. He held positions in recruiting, field training and supervisor officer and a physical training instructor in the academy for recruit training, a department honor guard for officer funerals and provided security for U.S. presidents. Grady was also a member of the MSP SWAT team, trained as a sniper and for barricaded gunman and hostage situations.
Pompey, an Air Force veteran, graduated from the MSP Police Academy's 96th recruit school in 1979.
While serving in the state police, Pompey attained the rank of trooper, uniform sergeant, pilot/sergeant, detective sergeant and detective lieutenant.
Upon retiring from the MSP, he accepted a position with the North Carolina Department of Corrections as a parole/probation officer, and later worked with the Michigan Attorney General's office as an investigator.
In 2006, Pompey became deputy chief of the Benton Harbor Police Department, then chief of the Coloma Township Police Department in 2009, serving until 2015. He is a certified American Red Cross cardio-pulmonary resuscitation/first aid instructor. He holds a commercial pilot's license with endorsements for single- and multi-engine-instrument aircraft and is a certified flight instructor.
He and his wife, Patti, live near Lansing, but travel the country in their RV.
Payne became police chief July 22, 2019, with 32 years of experience with the Grand Rapids Police Department.
He attended Grand Valley State University, earning a bachelor's degree in criminal justice. He worked as a GVSU police officer until joining Grand Rapids in September 1987.
He is a graduate of the department's Leadership Institute and received advanced leadership training from the Law Enforcement Executive Leadership Institute and the Leadership Institute for Police Executives and New Chiefs.
Payne served on patrol, in the vice unit and as a member of the detective unit's major case team. He served as a patrol watch commander and as the administrative lieutenant for the South Service Area. As captain, Payne commanded the South Service Area, then the Investigative Division, which includes the detective, vice and forensic services units. In September 2017, he was promoted to deputy police chief of operations, overseeing the patrol division, special response team, traffic unit and special events office. Payne commanded the crisis negotiation team from 2010-2018.
He and his wife, Jessica, a former sergeant with the department, have two children.
Those interested in learning more about Southwestern Michigan College or applying for the next class of Grady Scholars in Fall 2022 should visit swmich.edu.