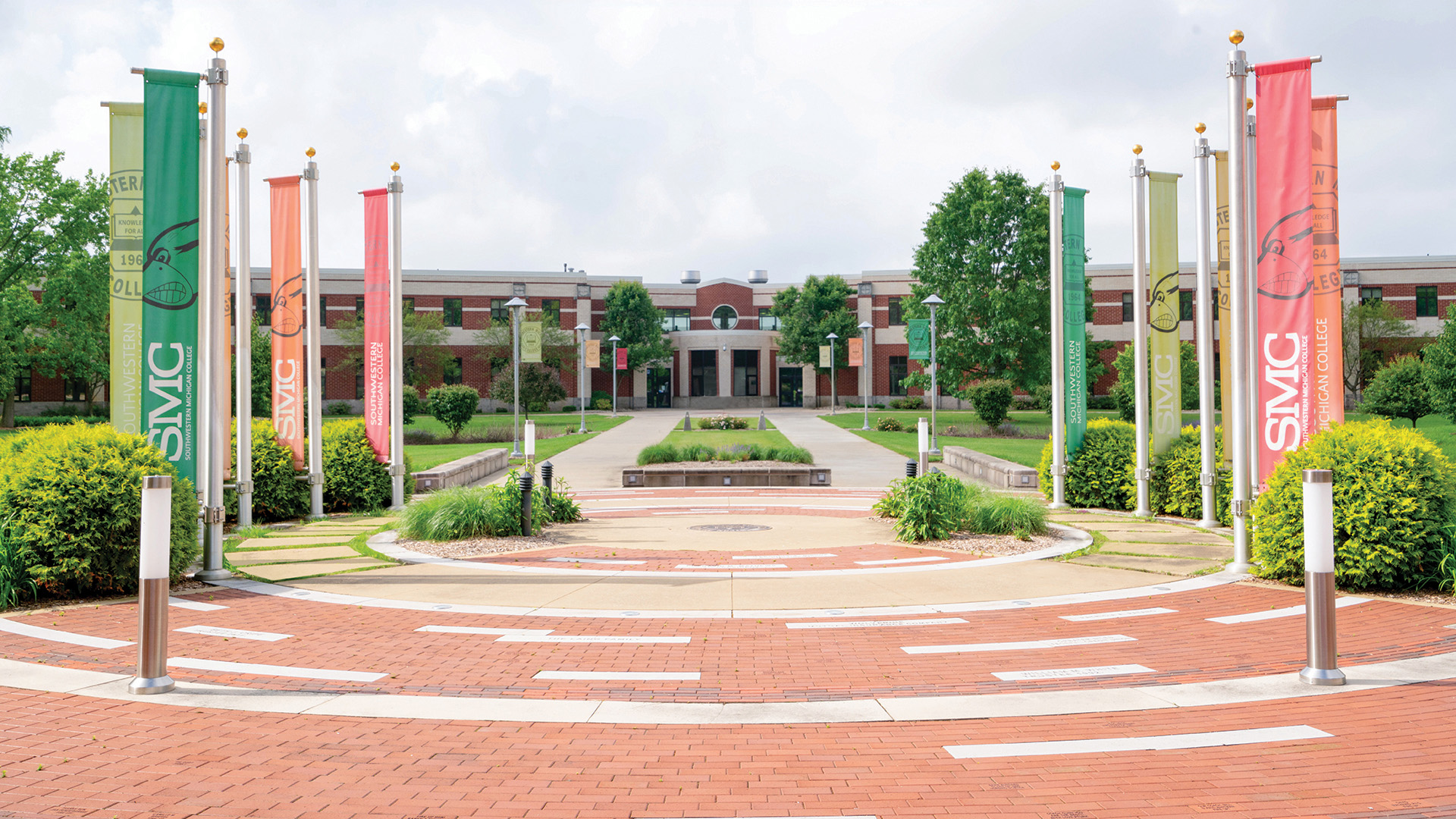 Dr. Fleming Recalls How He Wrote a Novel
Published on February 23, 2022 - 1 p.m.
Southwestern Michigan College Provost Dr. David Fleming wrote his satirical murder-mystery novel, It's All Academic, in six weeks. He finished in June 2010, and it hit the market by October.
"My inspiration for writing the book was Dr. Strangelove (or: How I Learned to Stop Worrying and Love the Bomb," Stanley Kubrick's 1964 film about what could happen if the wrong person pushed the wrong button, squeezing laughs from an atomic bomb crisis.
Like the film, It's All Academic is "over the top," Fleming said. "The whole thing is satire in my mind."
"They say, 'Write what you know,' and I'd been in higher ed for 17 years at that time," he told a Feb. 17 Lightning Talk at Fred L. Mathews Library on SMC's Dowagiac campus.
Fleming's Mark Carter barely has time to dump his personal belongings in his office in the Boan University administration building when Dean Michael Hartley's lifeless body is found lying in a pool of blood. A booming, narcissistic voice is silenced forever just as Carter is about to begin his new role as provost.
While police comb campus for clues to who killed the domineering dean, Carter attempts to seek rationality in the sometimes irrational world of higher education administration.
Armed only with a sense of humor and an ancient cell phone, Carter steps into a universe of endless meetings, inflated egos and inane policies, soon becoming disillusioned with a college administration more focused on a Spirit Week dunk-the-mascot than on a much-needed library renovation.
Boan University's real mystery is not who killed Dean Hartley so much as it's how anything gets done, and can Provost Carter survive.
Fleming joined SMC in May 2011 as vice president of instruction. The son of a West Virginia professor, he "had been writing my whole life," including poetry and novellas, and continues to blog at www.davidflemingsite.com.
"There are a lot of great, funny satires," such as Richard Russo's Straight Man, Moo by Jane Smiley and The Lecturer's Tale by James Hynes." In fact, Russo, a Pulitzer Prize-winner, spoke in Dowagiac in October 2008 as the Dogwood Fine Arts Festival's visiting author.
"But nobody ever writes from a provost's perspective," Fleming felt, "so that's what I decided to do. I chose the name 'Mark Carter,' pretending he was Jimmy Carter, who went into the job with no clue about what he's getting into. Then I wanted to draw people immediately into the life of a higher-ed administrator, so the first chapter in the first draft was about 130 pages of a cabinet meeting, which my editor helped me prune down. There are a lot of funny scenes about how interviews go off track.
"The dean was dead the day (Carter) started. I didn't know who the murderer was going to be when I started. I didn't care because the real challenge was how does this guy survive his first year. If you want to write fiction, let the characters and the plot develop themselves."
"My editor said there were too many characters. Did Mozart's 'Amadeus' have too many notes? A lot of the book is dialogue. One of the best compliments I received was, 'It reads like a screenplay.' I don't spend a lot of time describing the atmosphere because I wanted to move the story along. I love writing dialogue."
"I hate to put myself in the same category, but Fifty Shades of Gray was self-published initially. So was The Celestine Prophecy," Fleming said.
One drawback to self-publishing Fleming found is "I'm not a self-promoter," which that route rewards. "If I got 50 people to like my Facebook page, they would do additional promotion. The web site is not on the book cover. If you bought the book, you would never know there was a web site you could go to because the book published before they gave it to me."
"Around 2014 I started writing a potential sequel," Fleming said, "but set it aside. The blog is magic to me because I can write something quickly just to get it out because I still love writing."