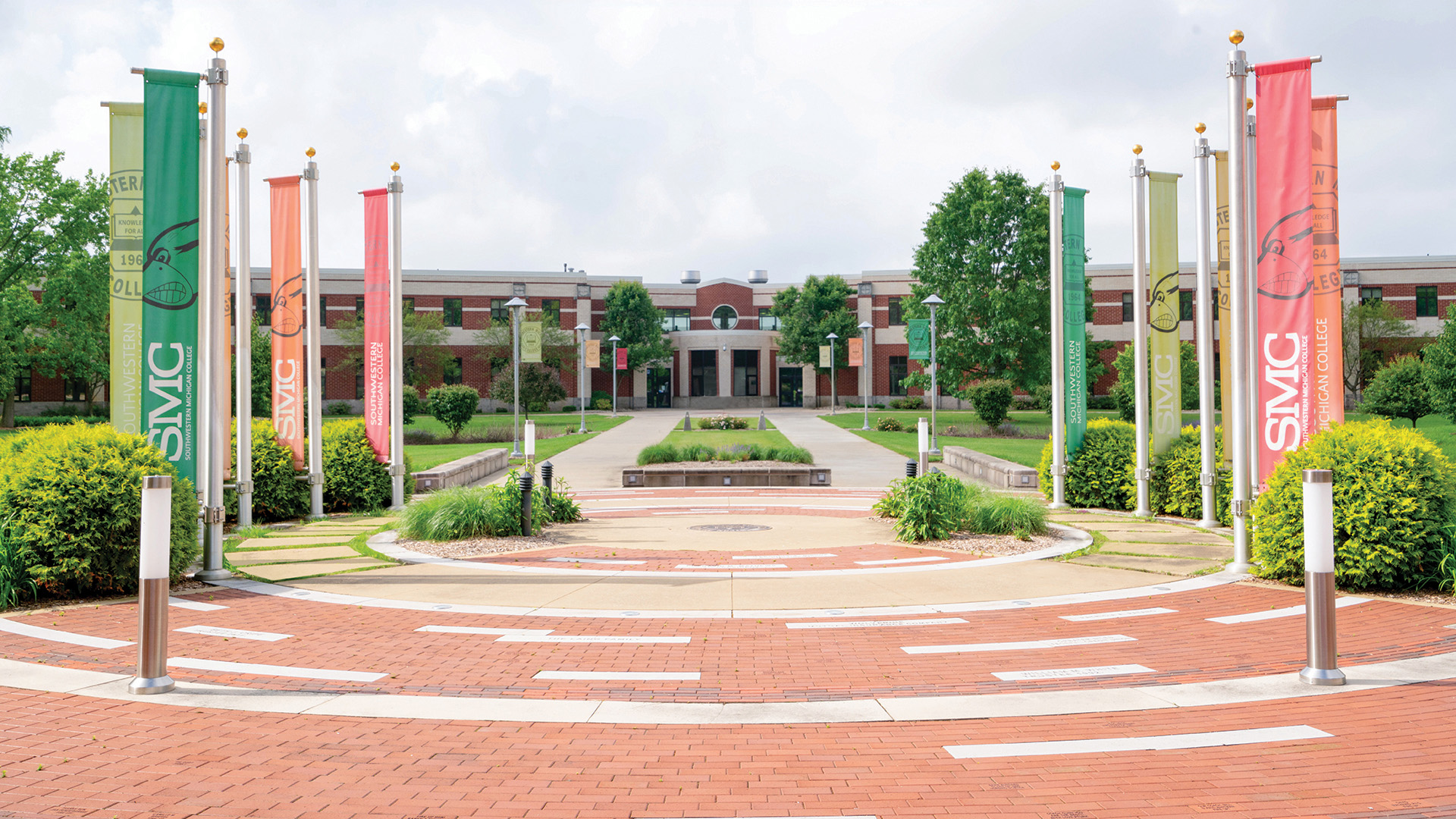 First SMC ETS College Tour Travels Length of State
Published on July 15, 2022 - 3 p.m.
Southwestern Michigan College Educational Talent Search's first College Tour Camp began July 11 at SMC. By Friday, July 15, 19 juniors and seniors from Cassopolis, Dowagiac, Edwardsburg, Marcellus and Niles Brandywine will have explored six other institutions all the way into the Upper Peninsula.
Traveling in three vans, the group visits Wayne State University and Saginaw Valley State University on Tuesday, spending the night in Mount Pleasant. After touring Central Michigan University on Wednesday, ETS travels to Castle Rock, then spends the first of two nights in Marquette, home to Northern Michigan University.
Castle Rock rises 195 feet above the water, offering 20-mile scenic views, including Mackinac Island, Lake Huron and downtown St. Ignace.
ETS visits Michigan Technological University in Houghton on Thursday morning and NMU on Thursday afternoon, as well as Presque Isle Park, on a peninsula jutting into Lake Superior.
Friday's last stop before returning to Dowagiac will be Ferris State University, Big Rapids.
Campus tours are not new to ETS, just the extensive nature of this package venturing so far north.
"We usually do about eight day trips one college at a time," ETS Director Maria Kulka said. "Our student advisory panel has asked to go to Central, Northern, Saginaw or Wayne State (in Detroit), but they're so far away we didn't have time to fit them into our schedule in a single day."
A highlight of the tour around SMC's Dowagiac campus guided by Admissions Counselors Ben Spencer and Bria Brookins was bumping into President Dr. Joe Odenwald at the Student Activity Center.
Odenwald offered a sneak peek of the nearly-complete 1st Source Bank Fieldhouse where the Roadrunners play this fall with intercollegiate men's and women's basketball, women's volleyball and men's wrestling returning after a 25-year absence. Cross country resumed last fall. New additions include competitive dance and bass fishing.
"As a result of this project, there will be 100 student athletes here for the first time since 1997," he said.
Brandywine's Seleste Williamson, who participated in ETS's Outdoor Adventures Camp last summer, is interested in physical therapy and visiting Saginaw Valley. Her friend, Amissa Hawley, is interested in forensic psychology.
"My mom came here for college," Hawley said. "I'm pretty excited about staying in the dorm," Thomas F. Jerdon Hall.
Edwardsburg's Aidan Bickel is not only dual-enrolled, he's in the Middle College program, receiving his associate degree along with his high school diploma. He's been involved with ETS since middle school.
"I've done most of the camps at one point or another," including Entrepreneurship Camp twice. "And I went on all of the museum trips. In fifth grade, I came for Young Authors."
Bickel, who works at Walmart, "is trying to figure out where I'm going to go to school after SMC. I'm thinking of going for accounting. I'm interested in seeing Central Michigan University and Northern Michigan University. I toured Central a few years ago with ETS and enjoyed it. I want to go back now and see if it's as I remember because I'm considering attending. I know nothing about Northern, but I know the area it's in, so I'll be interested to see it once we get up there."
Brayden Westrate of Cassopolis wants to study aviation to become an airline pilot. Nursing interests his friend, Logan Pflug, who is dual-enrolled at SMC. Logan's brother, Ethan, considers becoming a police officer, either in the military or after fulfilling his Army enlistment.
Artistic Edwardsburg junior Jaedyn Villwock is drawn to graphic design and looks forward to seeing Ferris State. She's also looking forward to their overnight in a residence hall.
Another Edwardsburg 11th grader, Jaylynn Campbell said, "Construction and mechanics definitely pique my interest. I said Ferris State interested me because my mom went there. I really want to stay close to home, so SMC is looking like my choice, then I could transfer to Ferris. I know a lot of people who went to Southwestern, including my friend's moms. One is currently in the nursing program. I like this school and the variety SMC offers. It's like a mini-university. A lot of people who go here already know each other somehow from the towns being close together."
After playing volleyball in the Backyard, campers enjoyed a cookout with grilled burgers and hot dogs, then went inside to watch movies. A steady stream of runners from cross country camp crossed the horizon during their picnic.