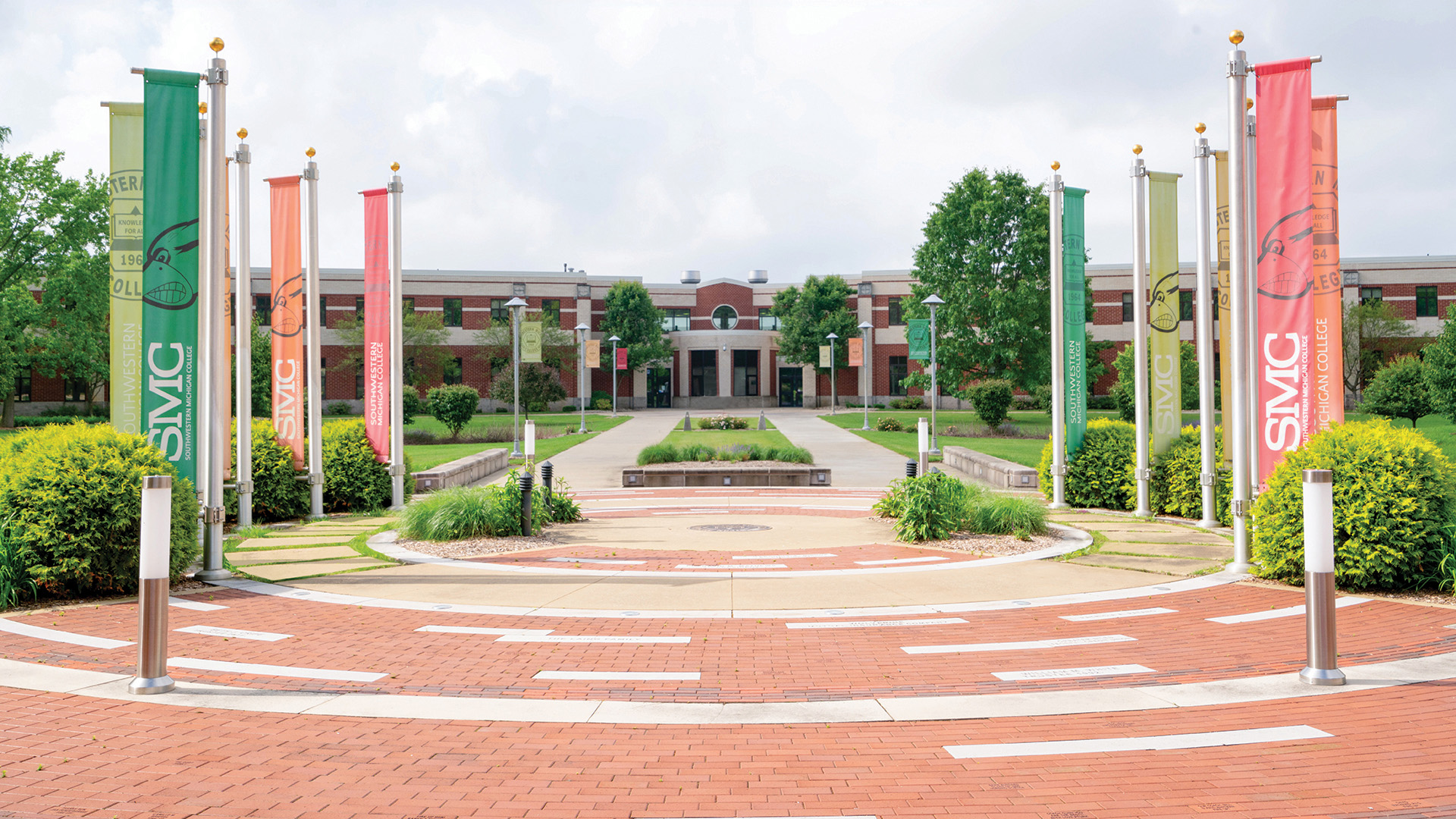 Give Bats a Break
Published on October 28, 2022 - 10 a.m.
Bats get a bad rap year-round — but especially at Halloween.
Images of blood-sucking vampire bats stoke scary stuff, but the reality of these flying mammals and their usefulness to agriculture and medicine is less frightening than clowns.
Southwestern Michigan College Assistant Professor of Introductory Sciences Donna Courtney told an Oct. 26 Lightning Talk in Fred L. Mathews Library during International Bat Week that not only do bats spare us from being besieged by nocturnal pests, but pollinating and seed-disbursing species protect whole economies and ecosystems, from deserts to rain forests.
"Bats are cool and do a lot for us," she said.
Bats, which can live more than 40 years, consume mosquitos that carry West Nile and save U.S. farmers an estimated $23 billion annually. Corn, rice, sugar cane, macadamia nuts, cocoa, cotton and even backyard gardens are protected by bats gobbling a thousand insects an hour.
Crops, from agave used for tequila and mezcal in Mexico to durian in Southeast Asia, rely on bat-pollinated plants. Throughout equatorial regions, fruit-eating bats account for as much as 95 percent of early reforestation of cleared land. Seed-dispersing bats help bring us chewing gum, cashew nuts, dates, mangos, avocados and peaches.
"Don't panic if you find a bat in your house," she said. "Cover it with a box with a lid, take it outside and put the box on an elevated surface to let it go. Bats can't take off from the ground. In Michigan, it is illegal to rehab bats because of the fear of rabies, though only one half of 1 percent of all bats carry rabies. Bats get a bad rap about disease."
"If you don't want them, watch at dusk to see where they're exiting," she suggested. "You need to exclude them. October is the best time. Once April rolls around moms start giving birth. They can fold their wings in tight. A brown bat needs only a quarter-inch hole. Most have one pup. Babies are almost a third of mom's weight at birth. It's like a 120-pound woman having a 40-pound baby. She carries them tucked under her wings until they're as big as her."
Three species feed on blood in Central and South America, but prefer birds, cows, pigs and other hooved animals.
"Blind as a bat" is a misnomer. "Big fruit bats rely on sight and smell. Even small insect-eating bats have excellent sight — particularly at night. They use echolocation, like radar or sonar, sending out a signal and waiting for bounce-back," Courtney said.
Bats don't tangle in hair. "I heard that growing up," Courtney said. "Bats swoop close because they're interested in insects attracted to carbon dioxide we exhale. You would think they could avoid something as big as a windmill, but low pressure behind spinning blades explodes their lungs."
V-shaped nicks vampire bats make don't clot. Scientists are investigating saliva to isolate proteins with the hope it can be used as the basis for anticoagulant drugs without blood-thinner side-effects.
The largest, golden-capped flying foxes with nine-foot wingspans, are herbivores found in India, Malaysia and Indonesia. The smallest, Kitti's hog-nosed "bumblebee bats," fit on fingertips and inhabit Thailand and Laos.
Bats experience torpor, a short-term body temperature reduction. Hibernation is an extended form of torpor.
"They'll sleep a few weeks, move around, then go back to sleep to conserve energy," Courtney said.
The biggest threat facing bats is a "devastating" disease, white-nose syndrome. A fungal growth around muzzles and on wings was first identified in 2006 in an upstate New York cave and has spread as far west as Washington state, as far south as Texas and to four Canadian provinces.
Bats here live in small colonies compared to Bracken Cave, Texas, near San Antonio, fueling tourism with 20 million Brazilian free-tailed bats roosting March-October or 1.5 million under an Austin bridge. "That's on my bucket list."
Courtney entered undeveloped "wild caves" while a National Park Service ranger. She traces her interest in bats to needing one summer credit while studying at Western Michigan University, building a database of bat/parasite interactions.
"I fell in love with it," said Courtney, whose passion as a girl revolved around wolves. "I continued working in the lab, sometimes on a voluntary basis, sometimes for research assistant pay."
There are more than 1,432 different species," second only to rodents, though rats are genetically closer to humans than bats.
Courtney, who worked in aviation electronics during nine years in the Navy, joined the college in 2009 as a professional tutor and writing consultant, became an adjunct faculty member in 2011 and fulltime faculty in 2017.