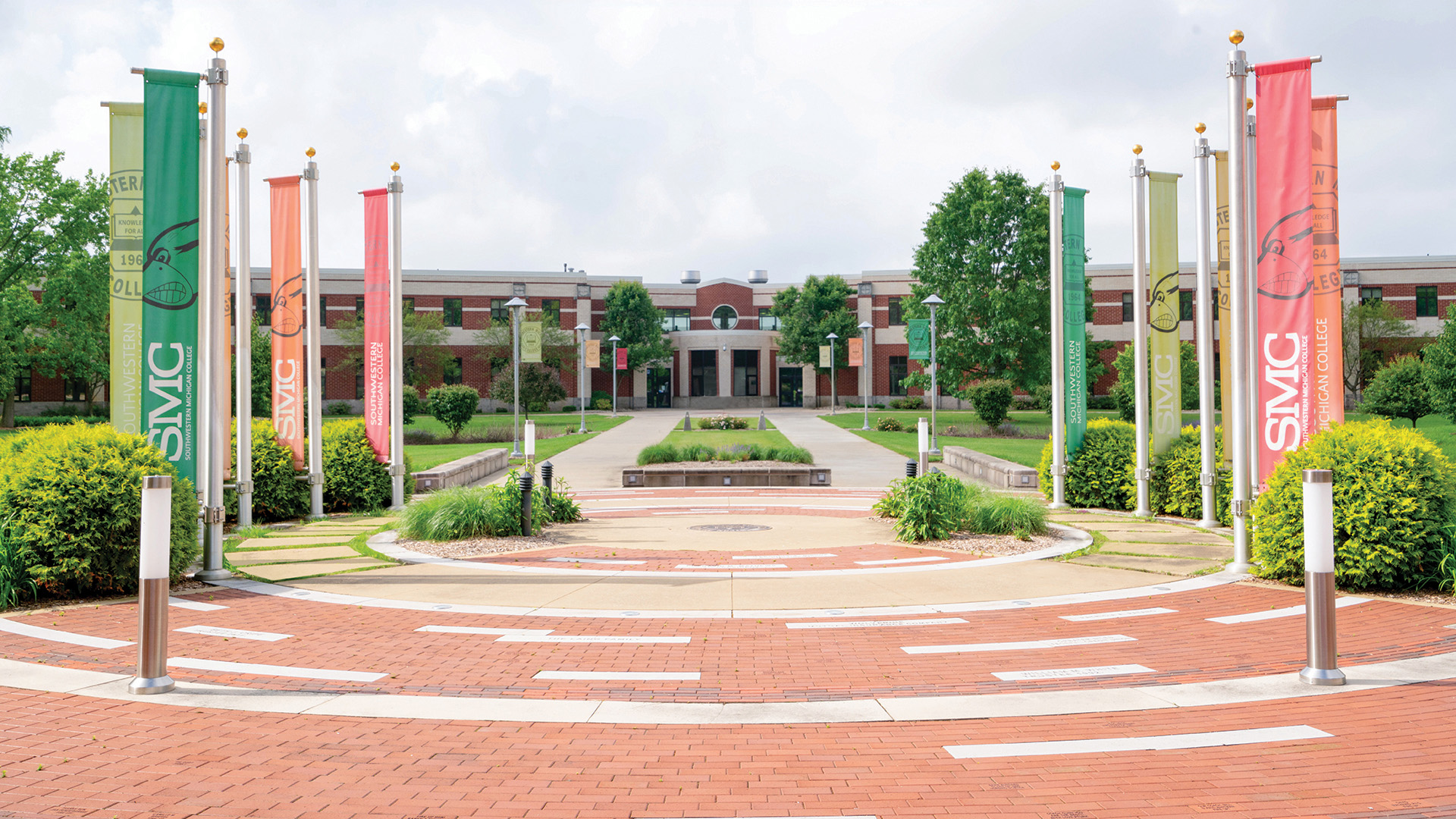 Heather Adams Addresses Outstanding Graduates
Published on May 3, 2022 - 9 a.m.
Preschool teacher Heather Adams, graduating with her Associate of Applied Science degree in early childhood education, said, "If anyone understands how challenging it was to reach the finish line, it's me."
A Phi Theta Kappa member who hopes to start work on her bachelor's degree this fall, Adams, of Dowagiac, was student speaker for the Outstanding Graduate Reception April 28 in the theatre of the Dale A. Lyons Building on Southwestern Michigan College's Dowagiac campus.
"She tutors elementary-age students and volunteers her time reading to kindergarten classrooms," President Dr. Joe Odenwald said, introducing Adams, from Watervliet. "In addition to this time she spends with other kids, she has two children of her own, ages 14 and 11, who keep her busy with sports, clubs, mentorship programs and honor societies. As she says, her life revolves around her kids."
"We didn't just do it, we did it well," Adams said, commending her classmates' "hard work, tenacity, determination and grit. I'm 37, a returning college student, wife to Dylan, educator and mom to my amazing and talented daughter, Kyleigh, and son, Eli, who are the reason I'm standing here today."
Nine years ago "I had two toddlers at home, a fulltime job as an assistant preschool teacher, was a part-time student pursuing my degree in early childhood education and due to have baby number three," Adams said. "Weeks after my son was born, our lives were turned upside down when he passed away at the University of Michigan's Mott Children's Hospital. As you can probably imagine, the life I thought was hard before just got harder. I wanted to hide. I decided to take time off, step away from school and spend time with my family. We were grieving, and I knew that's where I needed to be."
A year later, Adams was offered a job as a paraprofessional at her children's elementary school. "I decided to give it a shot, since my heart was always in education. I instantly knew teaching was what I wanted to do. Occasionally, I dreamt of going back to school to finish the degree I started so many years ago, but it never seemed feasible trying to accommodate everyone's busy schedules. Then COVID hit. We were all stuck at home. I thought now was as good a time as any to go back to school. I started my journey here at SMC in the summer of 2020 with a whopping 14 credits. I immediately remembered why I came to school part-time before. However, I kept chugging away, found myself on the Dean's List, then the President's List, and never looked back."
"I stand before you today to tell you that as we near the end of our time here together," Adams said, "wherever life may take you, you can do hard things. I had so many things working against me, and I did it, and so did you. No matter if you find yourself in school again in the fall as a transfer student, using your degree to land a dream job or taking some time off to just breathe, go and do what SMC prepared us to do — be our best selves, community leaders and be kind."
"When life throws things at you that you think you can't handle, remember, we all struggle," Adams said. "It's how we pick ourselves up and keep going that shows how strong we really are."
The 97 students graduated with honors at SMC's 55th Commencement April 30 were recognized by Provost Dr. David Fleming and Alumni Relations and Development Coordinator Emily Schrock for earning cumulative grade-point averages of 3.5 or higher:
Emily Adams, Heather Adams, Isabella Bair, Lizbeth Beltran, Shelby Bennett, Stephanie Bigelow, Collin Bohn, Daniel Brennan, Elizabeth Britton, Aliyah Brown, Austin Brown, Brayden Burgess, Erin Burggraf, Shawn Calhoun, Sindy Carranza, Hailey Christopher, Cody Closson, Alicea Cole, Alexandria Conner, Justin Crawford, Vanessa Crisenbery, Lyudmila Dickson-French, Laura Emborsky, Kent Emerson, Kayla Farrow, Tori Freeman, Adam Frye, Zyren Gilbert, John Golob, Sanford Gomez, Miranda Gonzalez and Erin Gould.
Also, Lauren Grinnewald, Maria Guillen, Brady Haas, Erin Hanlin, Reagan Hartman, McKenzie Hassle, Coralynn Hellenthal, Alexander Hoadley, Alexis Huizar, Allison Ianello, Shelby Ison, Alexis Jackson, Isabella Jackson, Olivia Jannert, Kyna Johnson, Kaitlyn Kalling, Kira Kelley, Taylor Kendall, Thierry Kenko, Cecily Keur, Pauline Knilans, William Knisely, Aimee Lambert, Anne-Marie Latourette, Peytin Lee, Brenna Lewis, Elena Loucks, Elise Loucks, Crista Loveing, Leticia Marquez, Olivia McLaughlin, Jose Medina and Morgan Motycka.
And, Breanna Nalls, Jack O'Brien, Grace Orpurt, Tanner Orton, Kaitlyn Owen, Brittany Phillips, William Phillips, Bianca Pickens, Fernando Pinon-Cardenas, Isaac Pitsch, Kimberly Proffitt, Lauren Rakowski, Alyssa Roberts, Michael Robles, Jayme Rowe, Christina Sarrels, Alec Saylor, Dalton Sayre, Michelle Schwarz, Anmol Singh, Kailen Sopraseuth, Amy Steinkraus, Makenna Stezowski, Lynsie Stolpe, Emily Stroud, Delani Stull, Elliott Suarez, Faith Sweet, Aidan Tipton, Makenzie Tomlin, Shelby Whitaker and Oscar Zelaya.
SMC Select Voices, conducted by Director of Choral Activities David Carew, and the SMC Jazz Ensemble, directed by Director of Bands Mark Hollandsworth, entertained.