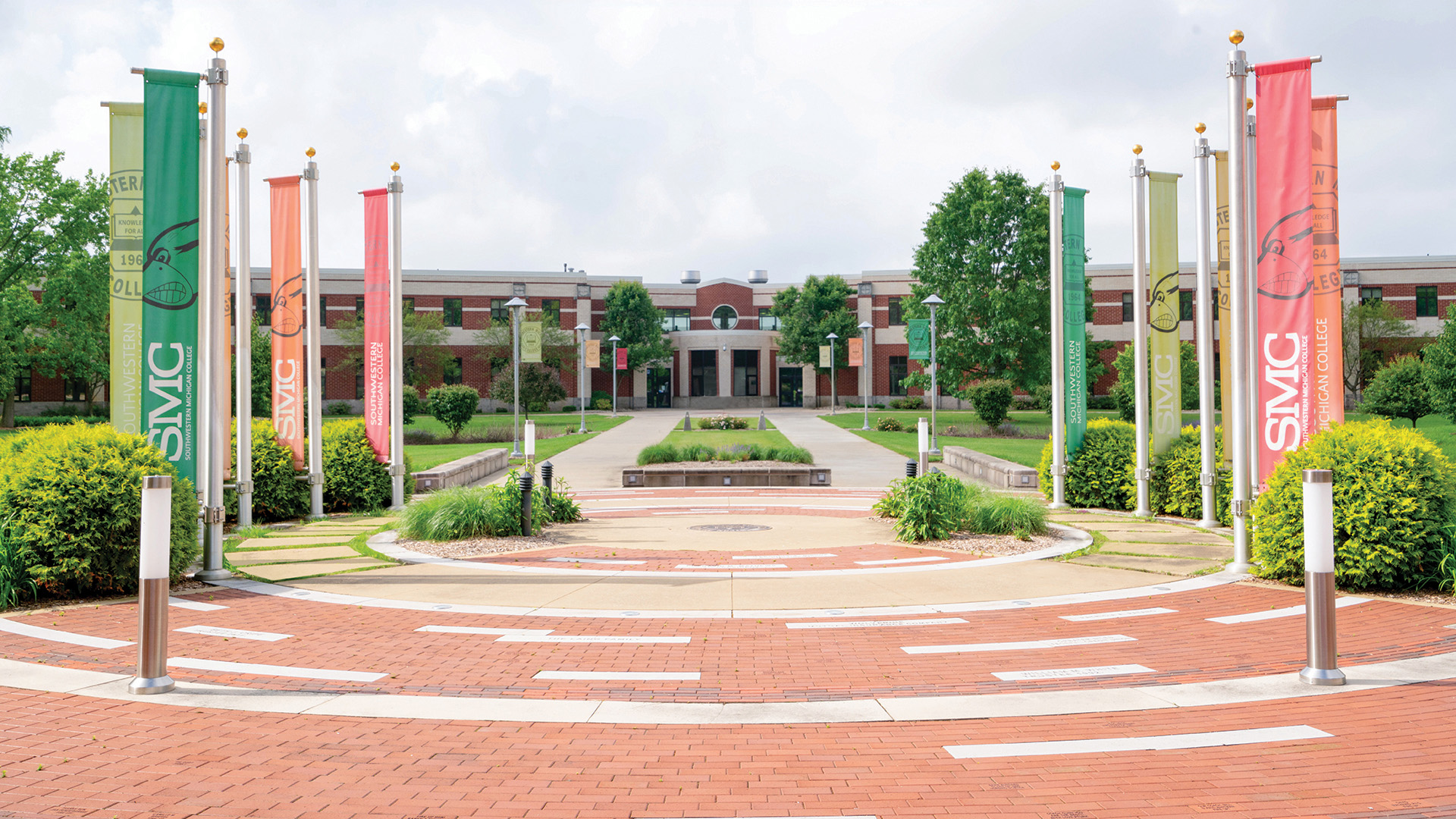 Human Trafficking Survivor Shares Story at SMC
Published on April 28, 2022 - 5 p.m.
Survivor Leslie King-Friday, author of When Angels Fight, brought her human-trafficking message to Southwestern Michigan College April 22.
Beginning at 15, she was trafficked for more than 20 years in Grand Rapids. She opened Sacred Beginnings, offering hope and healing to victims of modern slavery, in 2005.
Her talk was sponsored by the tri-county Southwest Michigan Human Trafficking Task Force started in August 2012, to which SMC Criminal Justice Program Director Don Ricker belongs.
The task force has more than 65 members in Cass, Berrien and Van Buren counties. A collaboration of law enforcement, non-governmental and faith-based organizations and concerned citizens, it joined the Michigan Abolitionist Project, a 501c3 tax-exempt organization in Utica, in August 2020.
Human trafficking is when one person controls and exploits another for financial gain. It occurs everywhere, often in plain sight.
King-Friday, accompanied by her husband, was nominated for Grand Rapids Woman of the Year in 2005, 2008 YWCA Advocate of the Year, 2011 Rising Hero Award, 2014 "50 Most Influential Women in West Michigan," 2018 Michigan Liberator Award, 2019 Grand Rapids Negro Business and Professional Women's Club Certificate of Achievement and, in 2021, African American Leadership and Better Business Bureau Trust awards. She was introduced as a "miracle and a hero all wrapped up in one phenomenal woman."
"As you can see by my complexion, I'm biracial — Black, white, Indian and Puerto Rican," she said. "When I went to school, African American kids didn't want to play with me because I was light-skinned and my hair was blonde. Caucasians didn't want to play with me, either, because my hair wasn't straight enough. Where did I fit?"
She described her father as a "chronic alcoholic" who beat her workaholic mother. "I can still hear her screams like it was yesterday. She worked several jobs to take care of me, the oldest, my brother and my sister. I wasn't 'Daddy's little girl,' I tried to run away from him. I was never told 'I love you,' nor did I ever receive a hug. I was angry because I was different and called names at school. I couldn't tell you what childhood is because I was an adult at a very early age, raising my brother and sister."
She liked playing with a dollhouse in the attic "because my dolls weren't cruel and I could talk to them," at least until an older cousin came to live with them. He played dolls, bought candy and provided human contact the 8-year-old girl craved, though in hindsight "he did that to gain my trust" because he started molesting her, warning "if you say anything, your father's going to kill your mother."
When her father realized what was going on, he did not kill his wife, but cast aside his crutches. "I thought he was crippled, but he took those stairs three at a time," King-Friday said. "I heard arguing and a gunshot. My cousin ran downstairs. I didn't see him until umpteen years later at my father's funeral. Why wasn't my family like the Brady Bunch or the Partridge Family? I didn't like my Mrs. Beasley doll anymore.
"I looked at the world through an angry, fiery lens" and started running away from home until police put her in juvenile detention. "People I trusted to love and care for me didn't. I still struggle with trust to this day."
A seemingly kind stranger invited her to lunch when he happened upon her crying. During casual conversation he peppered her with questions that elicited considerable personal information. He flattered her as they continued to meet, buying her clothes and promising no one would ever hurt her again, but things changed when she was forced to join the pimp's "stable" and awoke to find a strange man on top of her, her "boyfriend" watching.
On July 4, 2000, she consumed a lethal amount of drugs and alcohol. She felt herself dying and screamed for God to help. She felt a powerful "hug" and has been doing God's work ever since. She stayed with nuns at Rose Haven, a shelter for the prostituted run by the Dominican Sisters of the Good Shepherd Ministry. After a year, she became the first client to join its staff. She also worked as a home health aide for AngelCare Home Health.
After three years, she landed a fulltime job for five years with the Grand Rapids Police Department, helping prostituted women turn their lives around.
In 2005, with the help of a kind real estate agent, she bought a four-bedroom house she could share with other women. "Sacred Beginnings was the first survivor-led program in Michigan," with two safe houses and a waiting list.