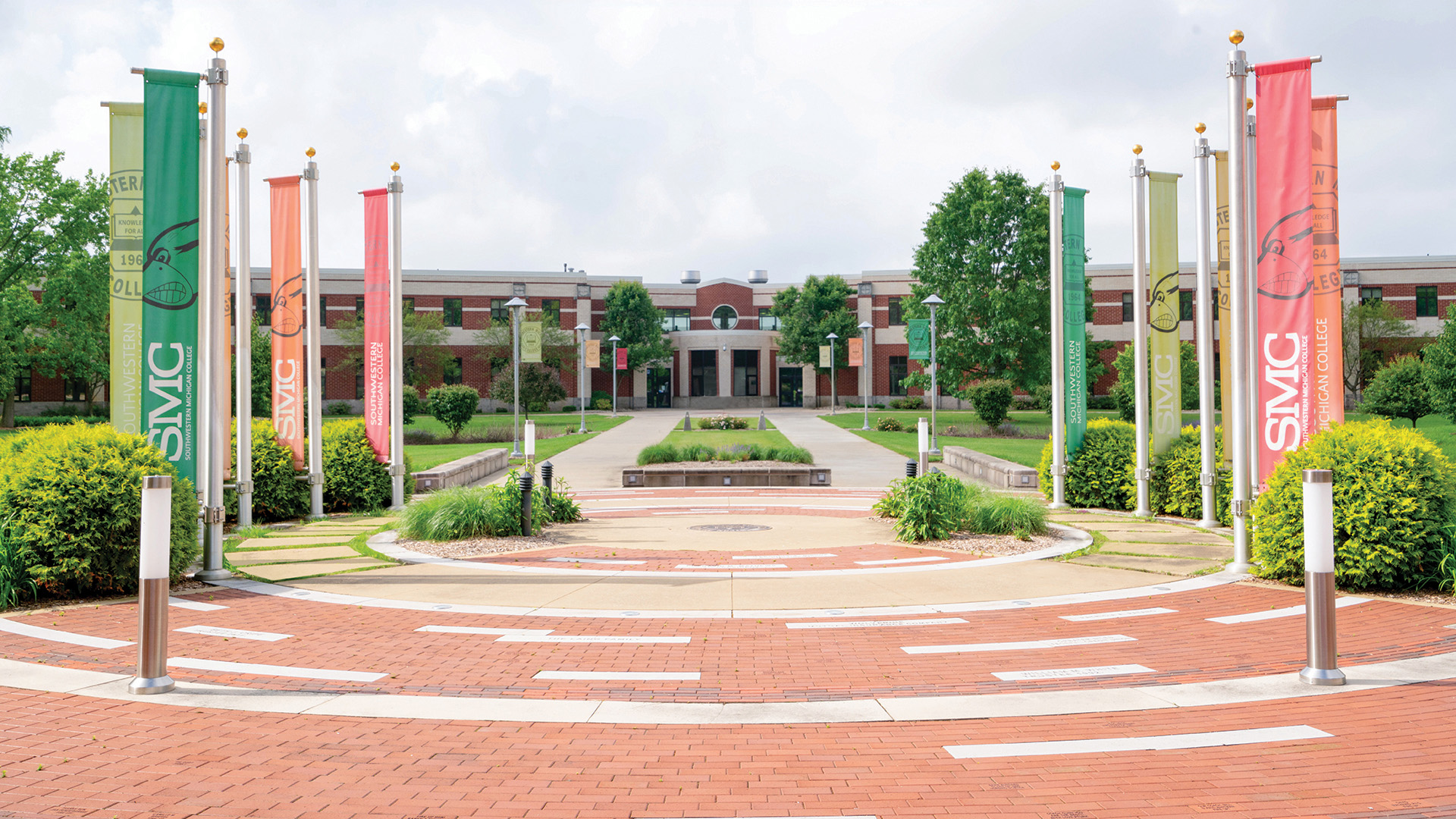 Krueger Built Strong Foundation Starting at SMC
Published on March 5, 2020 - 9 a.m.
Lauren Krueger has really come up in the world. Sixty floors up!
Ten years after Dowagiac's 2012 co-salutatorian's Southwestern Michigan College dual enrollment, Krueger is a civil engineer building Chicago high-rises.
As project manager for Harmon, the Naperville resident recently completed Wolf Point East and began another skyscraper, Salesforce Tower.
She manages the entire building process and finances from the start of engineering to manufacturing, to installation on the job site to the finished turnover of the building. Harmon, which has about 400 employees, prefabricates all curtain wall units in-house at one of four manufacturing plants.
While both projects rise 60 stories, Wolf Point, a concrete building, stands 694 feet tall, compared to Salesforce's 846 feet. "Steel buildings usually have taller floor spans," she said. "The only time I was afraid of heights was when I went skydiving in 2016."
"I was inspired to go into a construction-related career mostly because of my father," Krueger said. "My dad was a union carpenter in Chicago when I was young, then started his own company building houses. As a little girl, I was amazed at how he could take a stack of 2x4s and make it into a home. I couldn't imagine myself in any other type of career besides construction."
A college friend told her about Harmon's high-rise facades. "It sounded awesome, so I found Harmon at the Michigan Tech career fair in October 2014," Krueger said. "At that time the only knowledge I had was from residential windows." She landed an interview with Harmon the next day. The now-president asked, "Can you explain what a mullion is?"
"Thanks to remembering what my dad taught me, I said, 'Isn't it the framing around the window?' Technically, I was only half right," Krueger said. "Mullions are only the vertical part of the windows. But they were still impressed I came close to the answer. After my first internship in summer 2015 with Harmon in Baltimore, I knew this was the company and career for me."
"SMC was an amazing experience," Krueger said. "It definitely helped me get ready for Michigan Tech. It also helped me a ton financially. I graduated high school with 42 credits from SMC and started at Michigan Tech as a sophomore. I was so far ahead of my classmates I was able to take a semester off my second year and work at an engineering firm in Kalamazoo (SME) and still graduate in four years."
After completing her bachelor's degree, Krueger moved to Charlotte, N.C., for a year to serve as project coordinator on a 25-story office tower.
Krueger's SME role was testing concrete, asphalt and soil. "It just so happens almost any construction site has all of those things," she said. "I tested concrete on many roads and bridges, but also building foundations, parking lots, sidewalks and wastewater treatment plants. I got to almost every civil engineering industry and grew to love the building side the most."
Krueger helped on Meijer's in South Haven, Arcadia Ales in Kalamazoo and New Buffalo's public library.
Her Bolingbrook office is 10 minutes from where she grew up in Lemont. She also works from a "steel box" jobsite trailer. "Some weeks I spend every day downtown at the jobsite. Some weeks I don't go downtown at all. It just depends on when I am needed. Right now I usually go to the jobsite once a week."
Krueger was 10 when her family left Lemont for Dowagiac. "At the time I was so mad at my parents," she admits. "Today I am more than thankful we moved and for all of the opportunities I had in Dowagiac. It does feel like my life has come full circle being back here."
She is the youngest of David and Debbie's three daughters. Kristin teaches kindergarten at Justus Gage. Jessica, of Portage, is also in a construction-related career as location manager at Kendall Electric, overseeing Three Rivers and Sturgis branches.
"Opportunities in construction are off the charts," she said. "In 2017, 70 tower crane permits were pulled in the City of Chicago, which is booming in the construction industry. It is good to have diversity and balance in any workplace. The way women and men think is very different. While working with my male counterparts, we look at a problem and come up with different solutions. Sometimes my male counterparts are better. Sometimes mine are better. But the best thing is we are collaborating and making sure we pick the best solution."
"It's crazy how many people cannot believe women can do the same thing," Krueger said. "A project executive I work with, a 67-year-old gentleman, after about the first six months of working with him and earning his respect, finally turned to me and said, 'Lauren, I am so impressed with your work. I have NEVER seen a woman do what you are doing before.' I took it as a compliment because, honestly, they never have. We are here to show them we can do anything they can."
"Believe in yourself! You can do anything if you put your mind into it," she advises young women considering construction. "There will be challenges along the way. There will be difficult people, situations and conditions. Just take each as it comes. Sometimes you need to be strong and hold your ground. Sometimes you need to be softer and let things through, but never feel bad about correcting someone if they make you feel uncomfortable. This is what I would say to any young lady going into any career.
"Don't be intimidated by the rough, tough and rowdy construction industry," Krueger continued. "Every single person in this industry is human and still has a family and life outside work. Being liked and being respected are two different things. You do not need to like someone to earn their respect."
Krueger is a director for the National Association of Women in Construction (NAWIC) Chicago Metro Chapter and returns to Michigan Tech's career fair as a Harmon recruiter.
To this day, if anyone asks what class helped most, SMC's Architectural AutoCAD "helped me learn how to design a house to code in AutoCAD and taught me to understand construction drawings to the next level. Community colleges can really help build a great foundation for you to excel at a university."
March 1-7 is National Women in Construction Week.