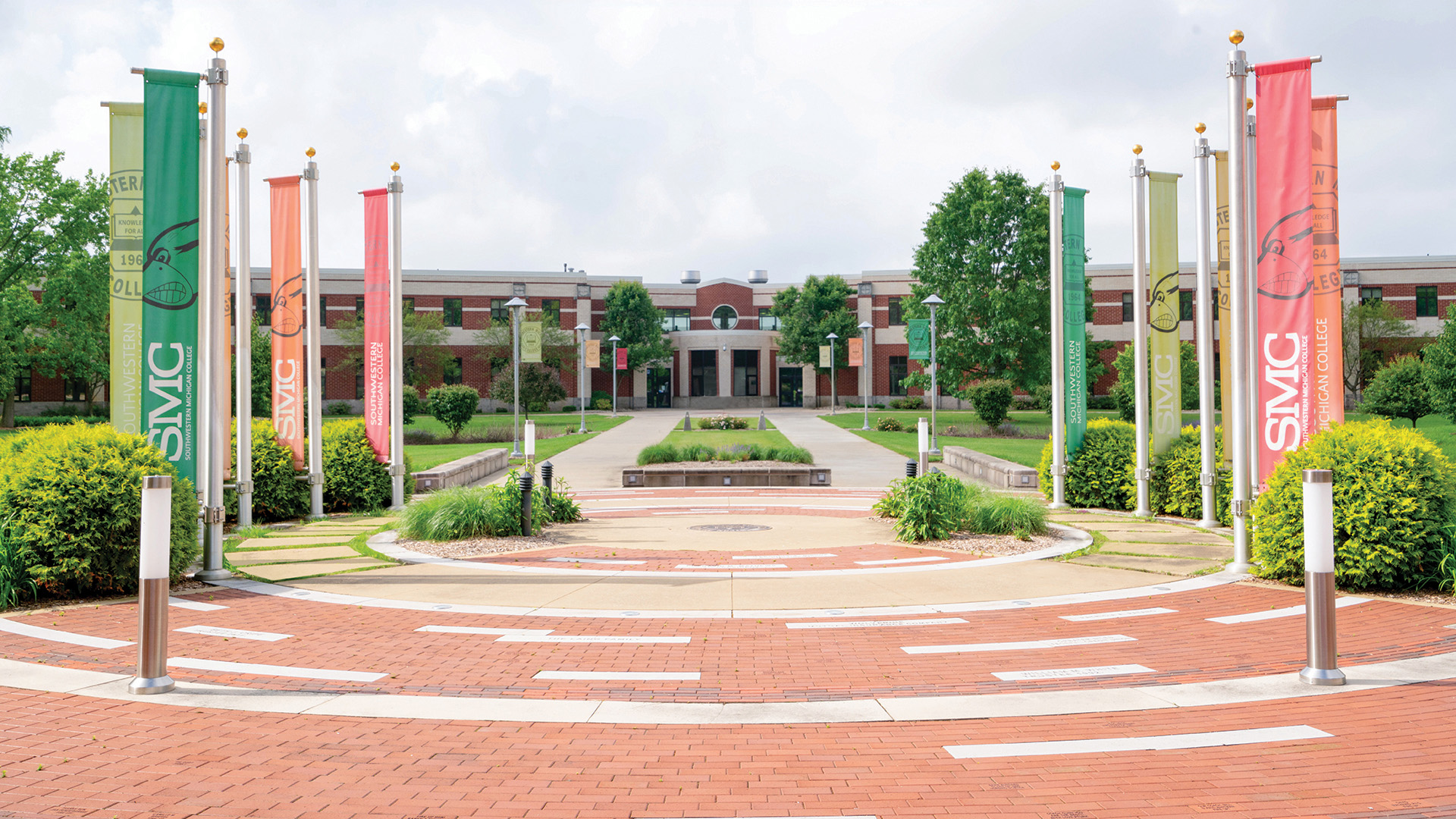 Look What Automotive Student Built With His Basic SMC Skills
Published on January 17, 2023 - 10 a.m.
Tod Smith is grateful to Southwestern Michigan College for its part in him joining the University of Notre Dame in 2014.
The 1993 automotive technology graduate is Facilities Design and Operations (FDO) lead mechanic, even if it seems he's running his own road commission between summer mowing with every type of athletic field imaginable and winter snow removal, for which preparations began Sept. 1.
"I'm in charge of 135 pieces of equipment," Smith said, "and probably another 100 attachments and 25 trucks" stored in six locations.
"We've got 41 miles of sidewalks we plow with Bobcats," he said. "When it snows, we come in at 2 a.m. and need to be done by 7."
He pauses beside the flagpole, "the exact center of campus," and points out the Eastern white pine with an iron ring jutting from its bark to hitch your horse.
"We do whatever we can in-house," he continues, "so in the summer I'm doing brake jobs on trucks to get them ready for winter, when we drive them more."
He jostles his red Toro Workman past the fire department and infirmary and through an industrial-park-like area where functions such as shipping, receiving, warehousing, catering and a laundry building for everything from football uniforms to tablecloths are located. There's a "holding yard" for 150 to 200 trees planted annually.
"We spend a lot of time grooming fields," even those with artificial turf. "It's less than grass, but it's not nothing," Smith said.
Basic Skills to Build On
"SMC gave me basic skills to build on, and I've worked with some good people," Smith said. "My two-year automotive degree gave me everything, from math to psychology. I remember having a psychology class and wondering why I needed that. Well, I deal with 50 people here," so communication skills are also important.
"We need skilled blue-collar people, whether it's welding or plumbing skills," Smith said. "There's value to trade schools and apprenticeships."
He worked for Zolman Tire while still an SMC student. "The day I graduated I became a fulltime employee. There was a shortage then, but not nearly like now, when the average age of an auto mechanic is 50 to 55."
In the shop where photos from his motorcycling passion decorate his desk, he works alongside an older mechanic near retirement and a young man from Edwardsburg who attends tractor pulling at the Cass County Fair.
"I felt as a high-school student, I wasn't told the whole story" of opportunities which exist between directly entering the workforce and earning a four-year bachelor's degree. "There are jobs where people can make a good living, but they don't know what questions to ask at 18," he comments as the Grotto of Our Lady of Lourdes recedes into the distance.
His son, 23, is a mechanic, receiving online training through Kubota, which manufactures tractors and other agricultural machinery, but "he'd be further along if he had a two-year degree from Southwestern Michigan," Smith said.
Smith graduated from Penn High School in 1990 and isn't the first to note, "SMC is smaller than my high school."
His parents both taught — his father, Penn's auto shop, his mother, at-risk Mishawaka students — but it was the specter of the Gulf War that determined his education would continue.
Operation Desert Storm was a campaign waged by a U.S.-led coalition of 35 countries against Iraq in response to its Aug. 2, 1990, invasion and annexation of Kuwait. The occupation lasted until Feb. 28, 1991.
"I never thought about college, so I didn't know what to expect. I was surprised how many people SMC was (retraining) because a factory had closed down."
Before joining St. Joseph County, Ind.'s, largest employer, Smith worked for more than a decade for the City of Elkhart, starting as an auto mechanic and transferring to the streets department's paving and concrete crews.
What FDO Does
FDO, led by Vice President and University Architect Doug Marsh, is composed of the Landscape Services Department (emblazoned on Smith's shirt as he narrates his informative, if bumpy, "nickel tour") the offices of Planning Design and Construction, Utilities and Maintenance, and University Facilities Information.
The 1982 architecture graduate's team cares for more than 200 buildings and 1,000 acres of campus grounds. The scenic campus contains two lakes, St. Mary's and St. Joseph's, 22-acre Cedar Grove Cemetery and two golf courses, Warren and Burke.
More than 20 construction projects were underway last summer, from new roofs to the Wellness Center expansion, breaking ground on a research building that will connect to McCourtney Hall, and constructing Raclin Murphy Museum of Art for a 2023 opening.
A new men's residence hall is rising in the East Quad, integrating elements of Notre Dame's collegiate gothic campus architecture style.
"It amazes me how they build a building now" that match others erected in the 19th century, Smith marveled as he zipped through the vicinity of the replica of the Log Chapel built in 1831 as a mission to the Potawatomi Indians. Given to founder Father Edward Sorin, it became the university's 1842 nucleus and was rebuilt in 1906 after an 1856 fire destroyed the original.
The university is organized into seven schools and colleges, Smith explained, and the FDO has a hand in helping them run smoothly and look their best. He shared that work continues on Our Lady of the Lake World Peace Plaza with a water feature and prayer inscribed in six languages. Compton Family Ice Arena, opened in 2011, is hockey's home. Tucked away across the street is the Charles B. Hayes Family Sculpture Park with a pond ringed by tall shade trees.
Smith and the FDO helped provide the grand entrance by lining the sidewalks of Notre Dame Avenue, the artery leading to the Golden Dome from Angela Boulevard, with double rows of maple trees.
His tour darted back and forth to include "hidden gems," such as the plantation of walnut trees in the northwest corner or Holy Cross Community cemetery, the final resting place since 2015 for the Rev. Theodore M. Hesburgh, president from 1952-87.
Smith still visits Dowagiac. The last time was July 15 for Steve's Run. His 20:34.5 placed 16th overall in the 5K and first in his age bracket. Smith never ran for the Roadrunners. He wrestled in high school, and regrets he didn't continue at SMC.
"Realistically," Smith said, "the only time anybody's going to know my name here is if something doesn't run. If it runs as it should, nobody's going to know I exist, so I'm glad I got to tell my story."