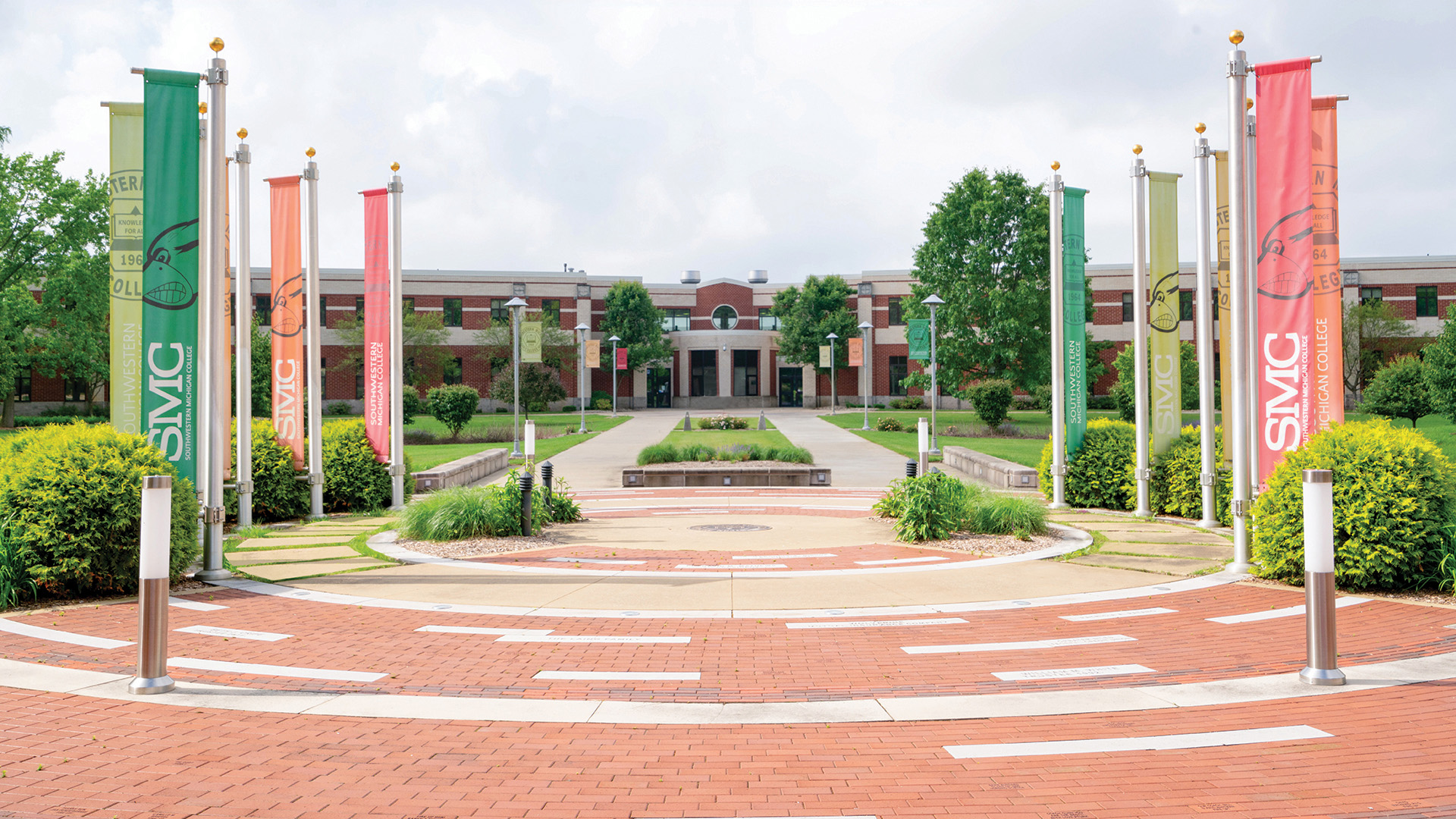 Los Angeles TV Composer Visits SMC
Published on October 31, 2022 - 4 p.m.
Southwestern Michigan College music theory students weren't goofing off if you happened upon them watching Disney Junior's "Muppet Babies" Oct. 28 in the Dale A. Lyons Building.
Actually, they were discussing composing with the 1994 Plainwell graduate who wrote the music for the episode in question, "Moon Muffins " season three, episode 27A, particularly how not to scare the target audience, 4- to 7-year-olds watching with their families.
Horn, 46, is a Los Angeles composer who holds a bachelor's degree in music composition and percussion performance from Western Michigan University and a master's degree in film scoring from the University of North Carolina School of the Arts.
"The best thing music does emotionally," Horn said, "is it pulls out of people what they don't know how to express. Music is great therapy for what you've been suppressing."
Horn began his career composing music for TV commercials in Chicago. He is also known for Disney XD's "The 7D," Disney Junior's "Jake and the Never Land Pirates" and Disney Channel's "Descendants: Wicked World," for which he won an ASCAP Screen Music Award in 2018.
Horn, brother-in-law of Mark Hollandsworth, SMC Director of Bands since 2019, began his career as a television composer in L.A., where he lives, in 2005. He and his wife have a daughter, 18, who is now in college.
First, Horn played the 11-minute clip sans music, then added what he wrote as a one-man orchestra. "There are no live musicians, just me and my computer" replicating woodwinds, brass and strings, even theremin, in his home studio.
Horn went from wanting to be a guitarist to, more specifically, Eddie Van Halen. He taught himself to play by ear. Then he joined band on saxophone, transitioned to percussion in the drumline, guitar in jazz band and even banjo for six months.
His break was getting on the radar of David Vanacore, who became the king of reality TV composing for "Survivor" at the 2000 outset of unscripted shows, expanding to "Big Brother," "The Apprentice," "American Chopper" and "Hell's Kitchen," among others.
"I was one of the composers hired to contribute to his voluminous music library," Horn said. "I did that exclusively for almost nine years. To get to Disney, (Vanacore) had an old friend from the '90s, they were both session players — David played keyboard for Cher, and Danny Jacob played guitar for George Michael and Bette Midler. I was recommended to Danny, who did music for 'Phineas and Ferb.' That was my first animated job. It's been eight years of solid work since."
"Muppet Babies calls for wall-to-wall music because, catering to a 5-year-old's attention span, it constantly shifts every three to five seconds. Somebody does a thing, they're running for their lives, then they're relieved they escaped the threat," Horn said. "The challenge is writing something coherently musical. The episode conducts me to do something slightly different every two to four measures. It really illustrates the need for music. It's pretty dull without it."
When characters flee a rolling boulder, the "chord nerd" treads an intensity tightrope with broad sonic, primary-color brushstrokes and brisk "madcap chaos" reminiscent of silent movies.
The show rebooted the CBS animated series that ran from 1984-90, featuring toddler versions of Kermit the Frog, Miss Piggy, Fozzie Bear, Gonzo and Animal and introduced Summer Penguin. It ran three seasons and 71 episodes, 2018-22. Each episode took a week.
"In the '80s the theme was doo-wop because it rode the '50s nostalgia wave," said Horn, who conferred with showrunner Tom Warburton, Patrick's youngest brother.
He seasons his "Moon Muffins" deconstruction with terms such as mediant, augmented triads, functional harmony and 1625 jazz chord progressions.
As Muppet Babies hurtle through space gathering muffin ingredients, "I reference Star Wars, Star Trek, John Williams scores in general and Back to the Future," the movie he saw at 9 that made him crave a musical career.
"To be fully prepared for this job," he said, "you have to be a musician, composer, arranger, orchestrator, audio engineer, musicologist, storyteller and entrepreneur, all at the same time, because the technology is so amazing."
Horn shared his submission to Netflix's "Super Giant Robot Brothers," which interested him because of its 1980s Synthwave vibe. Think of John Carpenter's "Halloween" or Tangerine Dream, the German electronica band. Synthwave "reminds me of being 11 years old in 1987, which was a fun time to be a kid," said Horn, who played guitar.
He also bid on 2023's "Star Wars: Young Jedi Adventures."
"One of the best things you can do as musicians is surround yourself with better musicians," Hollandsworth said. "You may not see a path for yourself yet, but foundational stuff we do here can lead you down a variety of paths."