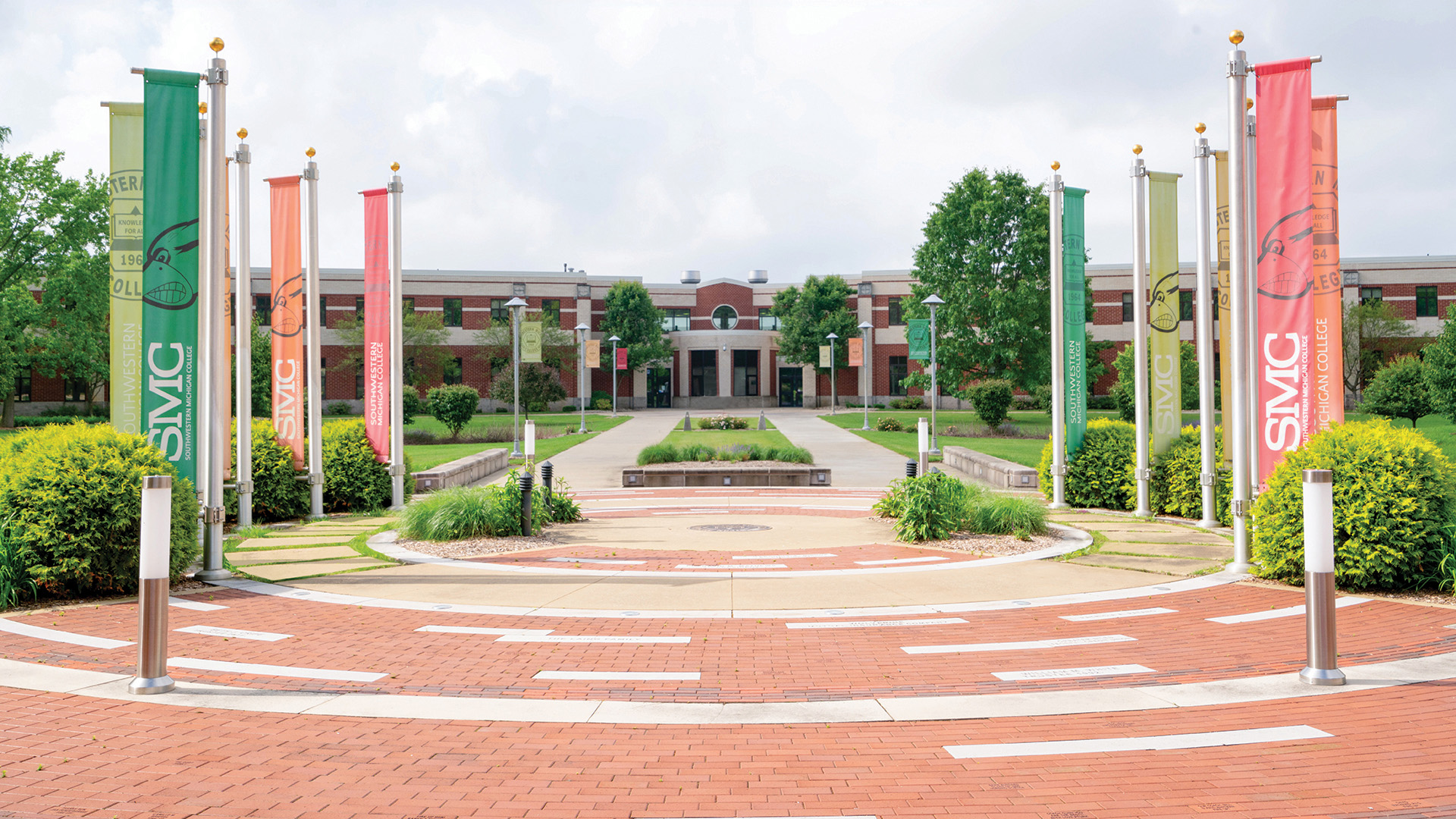 Married SMC Nurses Navigate Pandemic
Published on September 10, 2020 - 10 a.m.
When Todd Mendez finished Southwestern Michigan College's nursing program, his wife, Lauren, pinned him at the Dec. 16, 2016, ceremony.
"When I discovered the world of health care four years ago, I didn't know I had stumbled upon the most rewarding and challenging experience I've ever known," Todd told his class assembled onstage in the Dale A. Lyons Building, thanking instructors who "saw things in me I never knew were there."
For instance, Todd had the impulse to volunteer for a 72-hour shift in South Bend Memorial Hospital's COVID-19 unit during a two-week transition from travel nurse to a new job in dialysis for Fresenius. Last year Todd started working three 12-hour shifts a week from Fort Wayne after two years as a Memorial float RN.
Lauren, his partner in raising, and now home-schooling, four children as well as Edwardsburg's school nurse, recalls, "He said he wasn't scared, he just wanted to help people. He wanted to be the person to calm their fears and reassure them they are in good hands. Being a nurse myself, we didn't hesitate to make it work. We hand-sewed him a mask that night before he left. He had a chance to be on the front lines and took it without thinking twice. His patients adore him. So does his family. He has a heart of gold, which makes him the best nurse and the best husband and dad."
There were no medical professionals in Todd's Elkhart family. In fact, he was the first to finish college. He and his first wife had a child and owned a coffee shop that went out of business in 2010. He has also been a mailman and a salesperson at Woodwind and Brasswind. He studied music at Indiana University South Bend and plays several instruments.
With divorce ending his marriage, Todd went to Baghdad and worked on a military base as a civilian to retire his debts. He was there with his brother, Luke, for a year, coming home every few months to see his son.
The Edwardsburg couple met at the coffee shop when a band Lauren sang with performed, but he was married. She was pregnant. Her parents helped with her children while she waitressed and did "any odd job I could get my hands on." They only dated after his return from Baghdad in August 2011, "reconnecting as two single parents trying to get by."
When she graduated from SMC in May 2011, Lauren "couldn't stop crying because I finally could give my kids the life they deserved." But a year after their August 2012, marriage, Todd was laid off from his job at an Elkhart sound-design company. He told Lauren, a Memorial night shift float nurse, "I think I want to do what you do. You love your job and it sounds so interesting."
"We knew this kind of job would never leave us in the dust again," she said. "We would never have to worry about job security or losing what we worked so hard to build. I encouraged him to get a job as a patient care assistant (PCA). He loved it, couldn't wait to be a nurse. I'm not going to lie, though, those years were hard. We had a baby in 2014 in the middle of his schooling. We barely scraped by" — especially with debt from a loan to enlarge their tiny home. The contractor went bankrupt without finishing the addition.
Todd kept going, pushing through school despite chaos in their lives. "The day he graduated was the biggest relief we have ever experienced," Lauren said. "We cried and hugged on that stage because we knew we could breathe again. I was so proud of him! Our kids watched us persevere. It meant so much to us to teach them by example."
Her first year in her "dream job" as school nurse dealt Lauren "interesting plot twists," starting last fall with mosquito-borne EEE affecting outdoor activities, January/ February flu waves which shut school and, by late February, administrative meetings planning how to cope with "this new coronavirus we had been hearing about."
As "Heroes Work Here" signs sprouted around hospitals like spring flowers, Lauren noticed "posts from my nurse friends about signs left in their front yards and chalked onto their driveways. It makes my heart full to see the community celebrating nurses and other clinicians the way they deserve. We don't require thanks, but I can tell you some days it felt like a thankless job. So the kindness is welcomed with open arms and a happy heart. It takes a million people to make our job work, from the health aides, PCAs, lab techs, radiation and nuclear medicine techs, medical equipment suppliers, truck drivers, physicians, environmental service personnel — the list goes on and on. I personally wish we looked at this more from the angle we are all in this together."
"I hope people understand this will be a gradual process, long and stressful for us all," Lauren said of impatience for "normal's" return.
"Understand that by dipping our toes in the water slowly, we are saving lives. It will take baby steps to see if they work. Had this happened even 10 years ago, it would be much harder. We all cope in different ways. I choose to be grateful for every day I wake up, for extra time with my kids, extra time I've had to exercise and take care of my body and for the fact we have the science and technology to defeat this eventually. It will just take time."