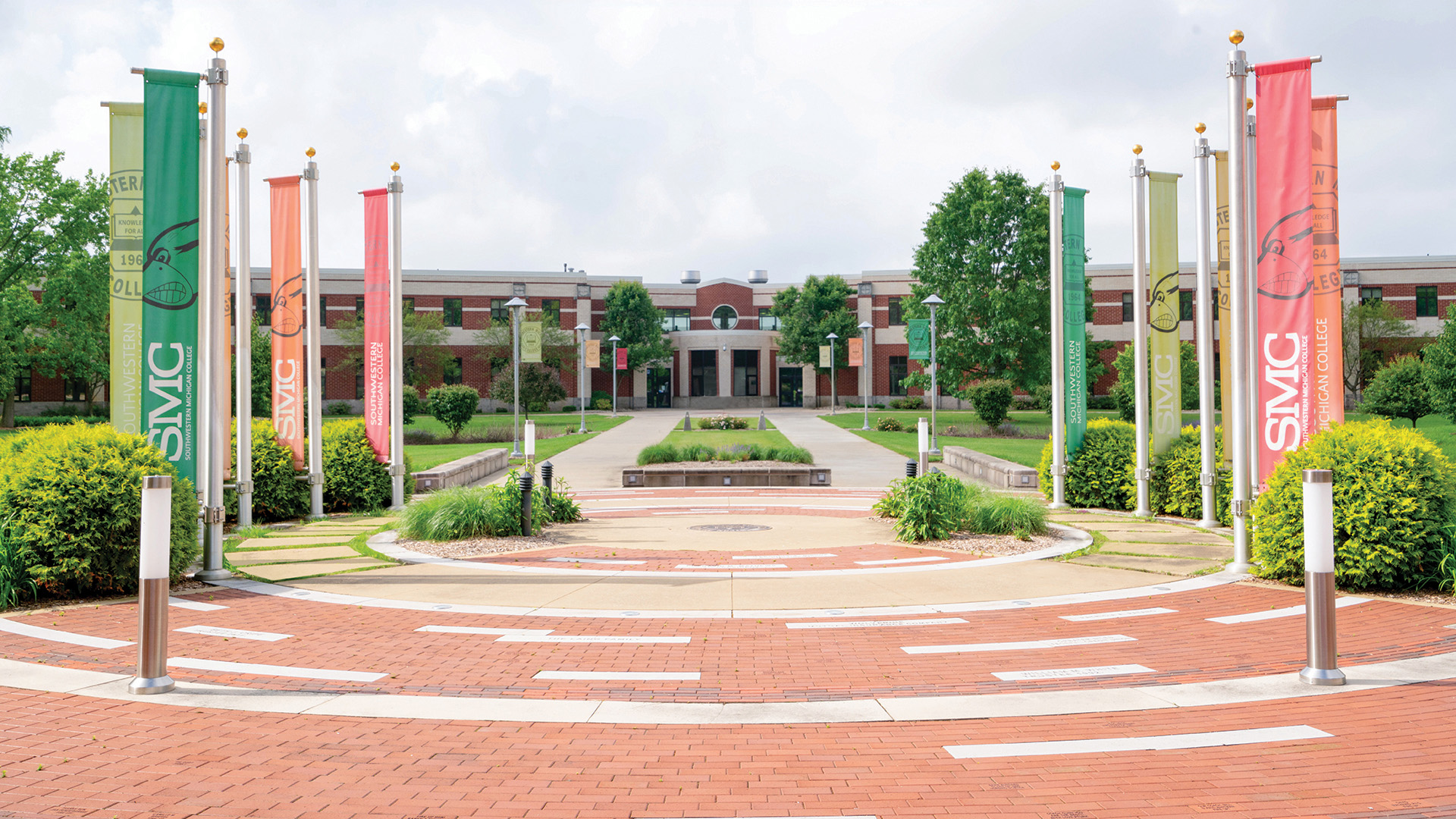 Recognition Breakfast Returns
Published on May 16, 2022 - 5 p.m.
Southwestern Michigan College recognized Dean of Arts and Sciences Dr. Keith Howell for 25 years of service at its seventh recognition and retirement breakfast April 29 in Mathews Conference Center East on the Dowagiac campus — the first since 2019 due to the pandemic.
Senior Vice President and Chief Business Officer Susan Coulston introduced 13 people celebrating five years with SMC: Christine Amstutz-Moore, academic advising; Blake Bundy, financial aid assistant director; Teesha Conley, academic advising/disability services coordinator; Mollie Grabemeyer, Student Activity Center evening supervisor; Daryl Harris, Office of Information Technology (OIT) lead technical support specialist; Jeff Hooks, executive director of campus life; Manoj Khot, OIT server administrator; Maria Kulka, Educational Talent Search director; Assistant Professor of Welding Dan Miles; Associate Professor of English Cody Miller; Vice President of Institutional Advancement Mike O'Brien; Associate Professor of Psychology Christy Tidd; and Jennifer Wolf, business office senior staff accountant.
Four employees who reached 10 years of service with SMC were presented by Vice President of Enrollment Management and Campus Life Brent Brewer. They are Michelle Kite, business office controller; Lauren Mow, financial aid director; Professor Hailey Sheets, communications department chair; and Jennifer Zimmer, library services coordinator.
O'Brien highlighted Shelley Todd, medical assisting professor, for 15 years; Theresa Carlton, OIT technical security coordinator, for 20 years; and Dr. Howell, who received a standing ovation. He chaired the math/science department before becoming dean in 2018.
"Let's always remember to celebrate the milestones in each other's lives, including bittersweet retirements," President Dr. Joe Odenwald said.
Cathy Luthringer of Cassopolis retired in February after 14 years. She joined the college on Aug. 25, 2008. Her first four years were in the testing center part-time. Beginning in 2012, Luthringer worked in various roles at the Niles campus, from part-time receptionist to fulltime admissions advisor. She returned to the Dowagiac campus in 2018 as the School of Business and Advanced Technology administrative assistant until she retired.
Provost Dr. David Fleming recognized 11 individuals for professional accomplishments: Dr. Katie Hannah, doctorate in educational leadership, Central Michigan University, in May; Mark Hollandsworth, master of music education, VanderCook College of Music, Chicago, in July; Hooks published an article, "Alumni engagement and the Community College," in Community College Journal last April; Dean Dr. Melissa Kennedy obtained her certified nurse educator certificate from the National League for Nursing in 2021; Deirdre Kirk received her Leadership in Energy and Environmental Design (LEED) Green Associate credential in January; Megan Kupres April 29 received her master's degree in communication from Arizona State University; Hazel Lim received her master's degree in nursing from Ferris State University last summer; Cara Mabry got her master's degree in nursing education from Sentinel College of Nursing and Health Sciences at Post University in March; Branden Pompey completed his master's degree in higher, adult and lifelong education from Michigan State University last December; Haley Smith attained her master's degree in nursing education from Sentinel College of Nursing and Health Sciences at Post University last January; and Jason Smith earned his master's degree in business administration from Indiana Tech in April.
Treasurer Becky Moore attended on behalf of the Board of Trustees. She marks 10 years as a trustee this summer.