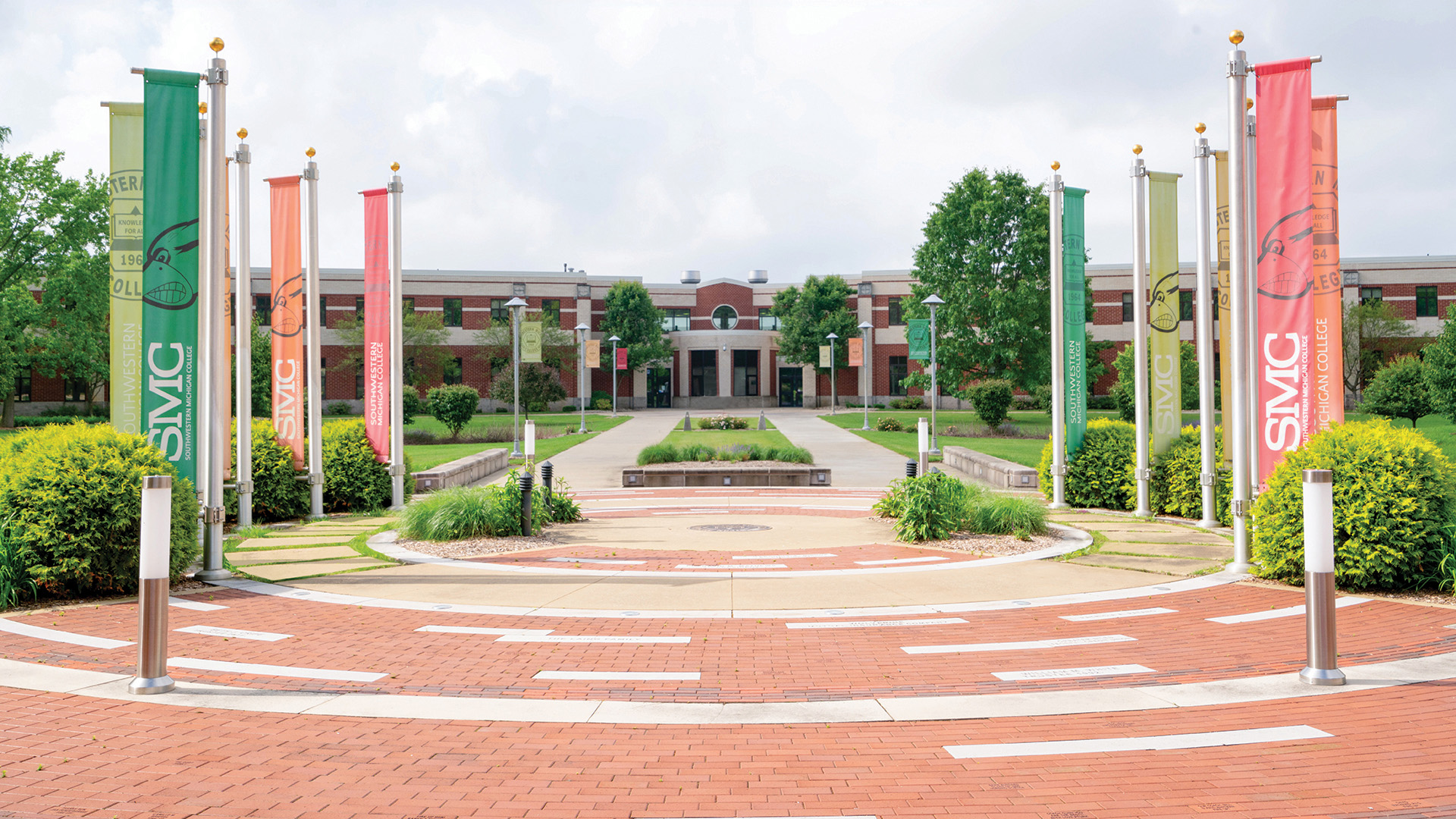 'Remember Your Crew,' Ensign Reminds SMC Honor Graduates
Published on May 1, 2023 - 2 p.m.
Gage Ensign was reminded of standing in front of a throng at Parris Island, S.C., graduating from Marine Corps recruit training — boot camp.
Beautiful sun. Palm trees. Perfect breeze.
"Parris Island feels like a vacation until you're a recruit," Ensign told Southwestern Michigan College's Outstanding Graduate Reception April 27 in the theatre of the Dale A. Lyons Building on the Dowagiac campus.
"I remember seeing my family in reserved seats as I received the awards of honor graduate, iron man and most physically fit Marine in a combat test and physical fitness test. My mom was teary-eyed, my dad was proud, my aunt hollered the entire time. My drill instructors, on the other hand, didn't seem to care much about their products being cheered. They were on to the next mission, making another set of recruits Marines."
"At that moment," Ensign said, "I realized what that award was about. It wasn't just about my accomplishment, but my professors, my coaches, my teachers, my friends, who all helped me along the way. Former Navy SEAL David Goggins puts it perfectly: This success is another cookie in the jar that can be used to fuel upcoming challenges."
"We must be willing to help others become greater versions of themselves. On a hot day in Port Austin, Mich., I was doing a 100-mile charity run when I figured out what really matters — my crew," Ensign said. "They supplied the food, water and supplies to get through that race. It was never about the runner. Here today we have mothers, fathers, veterans, life learners who have earned their degrees. Remember who your crew is — that professor who stuck around after class, that friend who helped you study. Your aunt, grandma, uncle. In the long race of life, remember your crew."
Ensign graduated April 29 with an Associate of Arts degree in general studies. This summer, he attends officer candidate school in Quantico, Va. This fall, he transfers to Central Michigan University to study physical education.
Ensign, from Constantine, at SMC achieved a straight-A grade-point average, qualified nationally in wrestling and volunteered with Helping Hands in Cassopolis.
He exhibited two poster presentations and gave a NoTED Talk at the Honors Program's recent research showcase.
SMC's wrestling team made National Wrestling Coaches Association's (NWCA) Scholar All-American Team, with the fifth-best GPA in the nation, thanks also to Hunter Heath, Gabe Livingston and Vinny Patierno.
"If anybody personifies the Greek idea of mind, body and soul, it's Gage Ensign," President Dr. Joe Odenwald said.
Provost Dr. David Fleming and Alumni Relations and Development Coordinator Emily Schrock read honor graduates' names and presented certificates and portfolios.
"I want to recognize the generosity that helps many of these students on their path to success," Schrock said. "We rely on the philanthropy of our alumni and community to support student scholarships. We are grateful donors share the motivation to provide affordable, local access to high-quality, post-secondary career preparation and college education."
"Donors provided over 950 students with scholarships in the past year," Schrock said, "and access to life-changing SMC education. It's just the beginning for a better tomorrow."
Odenwald said as he introduced the Board of Trustees, "I'm proud that they not only serve the college on a voluntary basis, they're all involved in the community. (Beth Cripe) last night was named (Dowagiac's) Citizen of the Year" by Elks Lodge 889. Tracy Hertsel recently received United Way of Southwest Michigan's Judge Susan L. Dobrich Volunteer Leadership Award for Cass County.
The 88 students graduating with honors at SMC's 56th Commencement were recognized for earning cumulative grade-point averages of 3.5 or higher: Landon Ackerson, Ivan Alvarado, Juanita Barboza, China Bendiner, Kylie Bennett, Thomas Bentley, Aidan Bickel, Kristen Black, Tatyanna Blaylock, Breanna Bomke, Kyle Brock, Holly Brooks, Aliyah Brown, Emma Brunner Ashaun Buckner, Riley Bush, Presley Buti, Nadia Collins, Tyler Craig, Sophia Curtis, Harley Daniels, Max Davis, Nicholas Eaton, Burgandy Ecker, Nickolai Emde, Jared Emery, Gage Ensign, Karla Espinoza, Danielle Gaul and Sanford Gomez.
Also: Yazmin Gutierrez, Riley Harris, Emma Hinsey, Grace Hinsey, Emma Holmes, Riley Hopper, Trisha Hunt, Christian Johnson, Jayla Johnson, Marissa Jones, Brianna Kendall, Anna Leach, Ryleigh Litty, Cameron London, Hailie Lucas, Jakobe Luster, Gavin Mark, Lorena Marquez, Jessica Maurer, Nikola Mcclenn, Elizabeth McNary, Alexander Medina, Kate Miles, Addison Modderman, Brittany Morris, Craig Mothorpe, Kara Murphy, Classie Newbern, Jack O'Brien and Marcus Olson.
And: Kaitlyn Owen, Stephanie Palmisano, Aliya Platt, William Poitras, Marisa Pullins, Desiree Raab, Erin Rochefort, Kelsey Ropp, Andrew Ruth, Veronica Salamanca, Candice Saye, Ethan Saylor, Tyler Sexton, Aden Sgro, Bailee Shambaugh, Grace Silverthorn, Mya Simmons, Alexandria Smith, Gavin Smith, Emily Straley, Alyson Swingle, Jean Thurston, Malinda Topash, Justin Toth, Emma Totzke, Atticus Weed, Elizabeth Whitehead and Dane Wilson.
SMC Select Voices, conducted by Director of Choral Activities Professor David Carew, performed the alma mater, a Hebrew song about "the whole world is a narrow bridge and the main thing is to not be afraid to fall" and The Beatles' "In My Life."
Director of Bands and Assistant Professor Mark Hollandsworth's Jazz Ensemble performed before the ceremony.