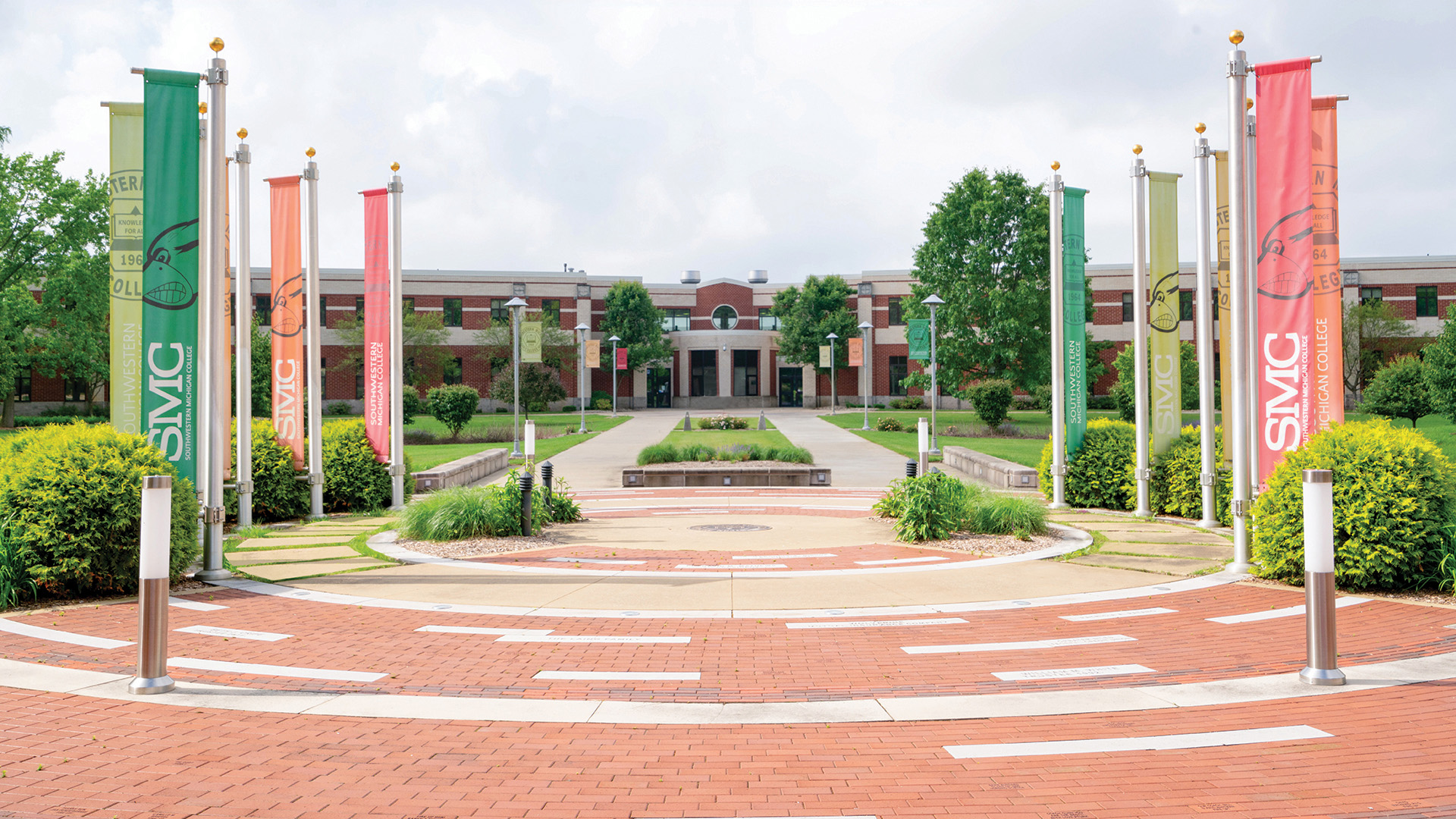 SMC Art Students Drawn to Graphic Novels
Published on February 24, 2022 - 10 a.m.
In the first Fred L. Mathews Library "Lightning Talk" presented by 14 Southwestern Michigan College students, Professor Marc Dombrosky's elective Art 200 Creative Process class reviewed graphic novels from SMC's collection.
Among them, Art Spiegelman's Pulitzer Prize-winning Maus, which has been in the news since its removal by a Tennessee school board, which vaulted it onto Amazon's bestseller list.
The library had invited Dombrosky to reprise a popular presentation he made about four years ago, and "I threw my entire class under the bus," he said. "We came in (Feb. 15) in a tactical way and talked about graphic novels and building narrative, identity and character development. Everyone selected a novel" to provide a brief synopsis.
Mathews Library recently added TaNehisi Coates' five-volume Black Panther series (tackling weighty issues of nationalism, identity, monarchism and democracy that exceed typical supervillain stuff associated with comics); Poison Ivy: Thorns concerns Pamela Isley, who grows up to become the Batman villain; and The Context by Alexandro Segade.
In a further twist, since students have been researching, writing and drawing themselves as characters in the novels they selected, audience members were invited to sit at nearby tables "and they will draw you as a character in their graphic novel and give you those drawings as a special take-away," Dombrosky said.
Dombrosky had asked students to imagine themselves as a character in the book. How would you be represented? What would you look like? What role would your character have in the narrative?
They drew themselves in the style of the novel and brought artwork to class on "Twosday" (Feb. 22, 2022). They had to describe and explain how their avatar inhabits this new world. What do you do? What's your back story? Do you have friends? A nemesis?
They were to write at least 250 words like a personal journal entry, or in the style of the graphic novel itself.
"Regardless of format, allow this writing to be an opportunity to unpack your new character in their new world. How do they get along with themselves, their surroundings and others? What are the opportunities and challenges they face?" Dombrosky wrote in the assignment.
One student responded:
"I chose the graphic novel Here by Richard McGuire," the story of a corner of a room and of events that occurred in that space over hundreds of years.
"Since this novel doesn't have one specific storyline to follow, I have almost complete freedom on how to create my character. I have created my character to exist in the time period 2070. The house that the novel revolves around is now a futuristic castle. My avatar's name is Aelin Whithorn and she is 23. Aelin comes from a very wealthy family, though two years ago all of the Whithorn family perished, leaving the family's fortune to Aelin alone.
"She moved from her family's old estate to her own mini-castle miles away. This castle was the first thing she spent her money on once her family had passed. She said it was because of its interesting history and seclusion, but most people think it's because it's one of the few places her family had never visited. Aelin spent the first 20 years of her life trying to escape everything that had to do with her family, and now she finally has. Aelin spends her time alone walking around her property in pure peace. She no longer has anyone or anything to worry and stress about. She prefers to be alone.
"Many people have tried to befriend her and it would last a couple of months until eventually Aelin would ghost them like everyone else. She spends her time reading, painting and sitting in the garden crying. There is one person, though, who she cares for besides her dog, her boyfriend Achilles. The only scene, though, that I would have shown of her in the graphic novel is her sitting in the summer grass smiling. I would have her saying, 'I did what was needed to be alone and happy.'"
One student reported on Shiver, a collection of nine short stories by Junji Ito, the master of horror manga. "One focuses on puppets, and who's controlling whom?" she said. "One is about oil. Another is about insects. It's interesting how he takes a small concept that seems random and changes it into something truly terrifying."