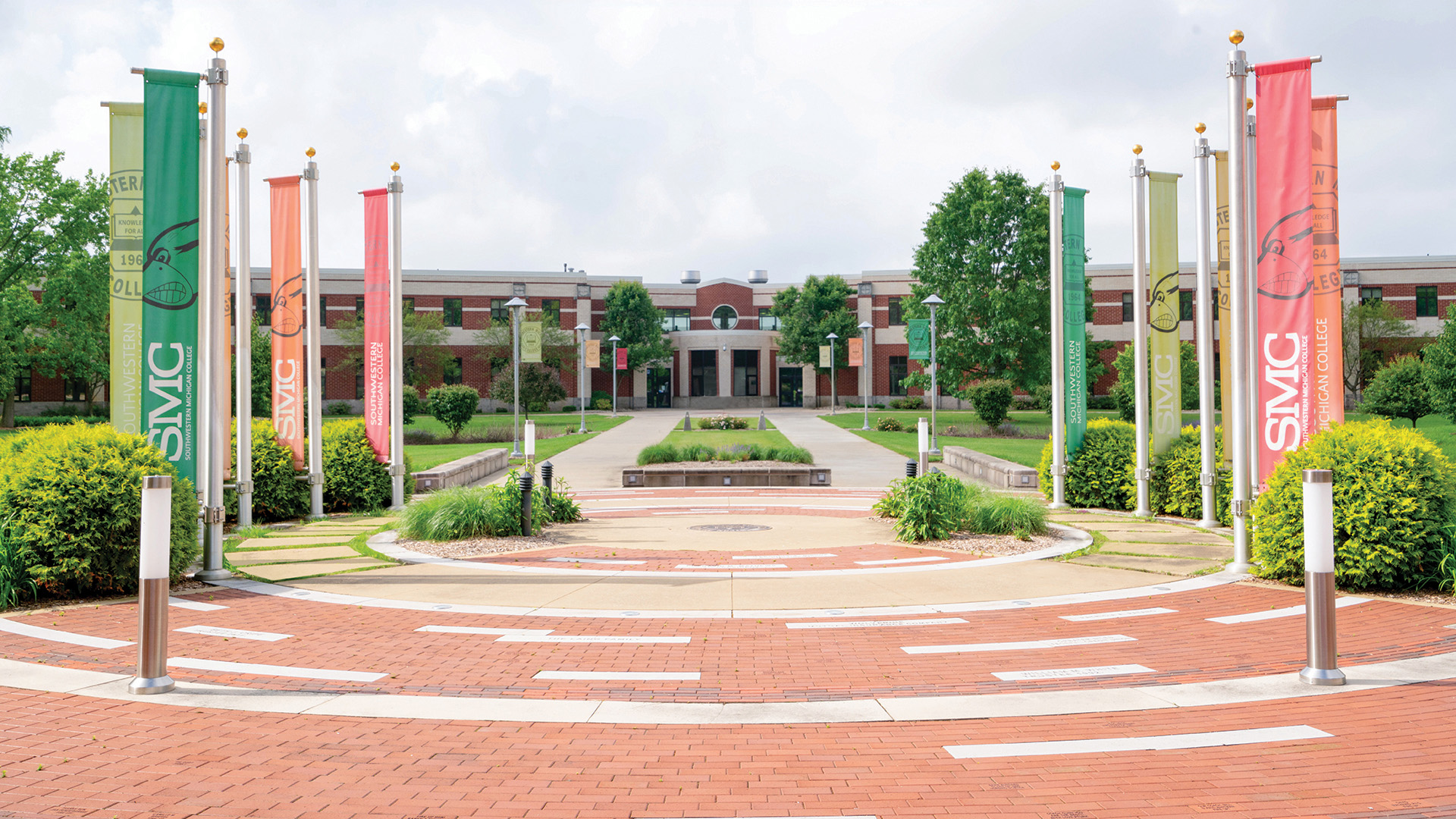 SMC Bands 'Back in Black' Oct. 22
Published on October 19, 2021 - 10 a.m.
Southwestern Michigan College Director of Bands Mark Hollandsworth titled Friday's Fall Band Concert "Back in Black" because it's instrumental music's first time live on stage in performance attire since Feb. 20, 2020.
It took place at 7 p.m. Oct. 22 in the theatre of the Dale A. Lyons Building on SMC's Dowagiac campus. The concert is open to the public at no charge. Donations will be accepted to support SMC Performing Arts.
Performing will be the 19-member Jazz Ensemble; the 42-member Symphonic Band; the Jazz Combo; featured soloist Danny Lopez, trumpet instructor, on Alexander Arutiunian's "Trumpet Concerto in A-Flat Major"; and a duet by Lopez and Hollandsworth on Antonio Vivaldi's "Concerto for Two Trumpets." Christine Seitz of Mishawaka accompanies both on piano.
Hollandsworth's Symphonic Band and Director of Choral Activities David Carew's Concert Choir collaborate on SMC's alma mater, "Here's to Thee."
Larry Daehn's "As Summer was just Beginning" Hollandsworth picked "for its beautiful melody that's attainable technically and allows us to work on the expressive parts of our playing."
"As Summer was just Beginning" was inspired by an inscription on a James Dean statue. Dean's life was cut short in a 1955 car accident at 24 after starring in three films, "East of Eden," "Rebel Without a Cause" and "Giant."
Daehn directed bands in Wisconsin, including 27 years at New Glarus High School. In April, the 82-year-old accepted the 2021 Edwin Franco Goldman Citation Award from the American Bandmasters Association for "conspicuous service in the interest of bands and band music in America."
The 2020 recipient, Oscar-winning John Williams, created music for "Star Wars" and "Harry Potter" films. Former President Bill Clinton has also received this award.
Jazz trumpeter Clifford Brown, 25, died in a Pennsylvania Turnpike car wreck in 1956. His "The Blues Walk" features Sam Loomis of Otsego on baritone saxophone, Coby Henslee of Watervliet on trumpet, Noah Fraser of Gobles on piano and Nick Falace of Mishawaka on trumpet. Henslee is also featured in Chuck Mangione's "Land of Make Believe."
Glenn McFarland of Benton Harbor plays an alto saxophone solo on "Pure Imagination," while Kennedy Stillson and Ryan Peterson, both of South Haven, are spotlighted on alto sax and trombone, respectively, in "The Chicken." Kenneth Creameans of Dowagiac leads the Jazz Combo through Miles Davis' "Freddie Freeloader."
The Symphonic Band presents J.J. Richards' march, "Emblem of Unity," closing with "Sevens" by Samuel Hazo. Hollandsworth said "Sevens" is "rhythmically challenging, with a lot of time signatures these students never played in before. That's our most challenging piece for Symphonic Band."