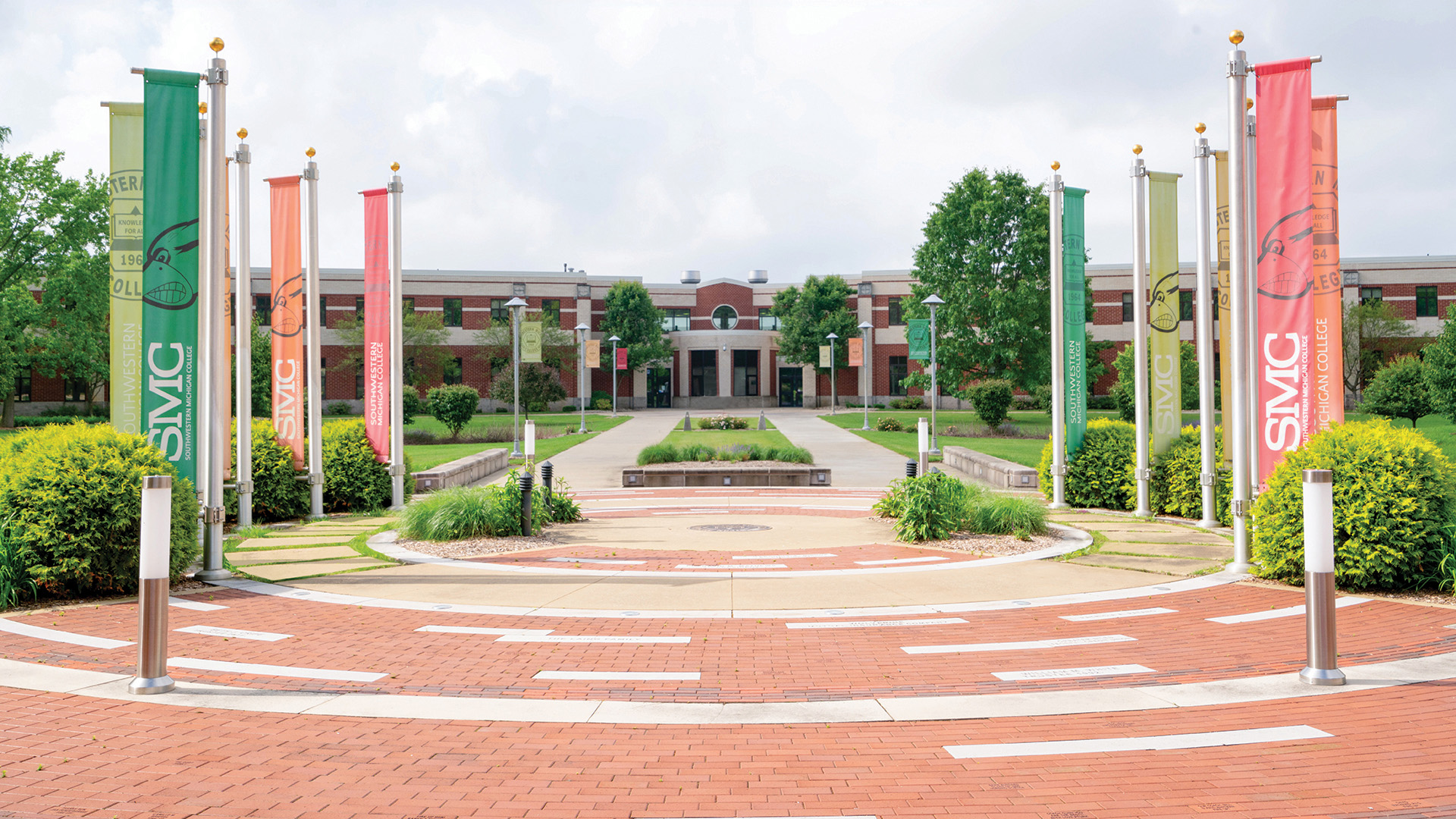 SMC Board of Trustees Adopts 2020-21 Budget
Published on June 15, 2020 - 1:15 p.m.
Following a public hearing, the Southwestern Michigan College Board of Trustees, meeting remotely the morning of June 15, unanimously adopted 2020-21 fiscal-year budgets.
The balanced $21,452,000 general fund for July 1, 2020-June 30, 2021, anticipates $7,920,000 from tuition and fees, $6,203,000 from property taxes, a $6,086,000 state appropriation and $1,243,000 from other revenues.
In his president's report, Dr. Joe Odenwald noted that SMC "is officially in Phase Two as of this morning" of its four-part reopening plan, with campus open to designated necessary personnel and to the public by appointment only between 10 a.m.-3 p.m. in the David C. Briegel Building. Members of the public are required to wear masks (provided) to enter buildings, and limited campus tours (10 persons maximum) can resume.
Many employees continue to work remotely and most instruction continues online. Employees have been provided with personal protective equipment (PPE) for use when social distancing and physical barriers are not possible. Personnel on campus are screened daily and continue to follow COVID-19 safety guidelines.
"Friday we held our first in-person orientation of the year following guidelines from several government entities, including the CDC (Centers for Disease Control), MIOSHA (Michigan Occupational Safety and Health Administration) and the American College Health Association, and within the boundaries of the governor's executive orders. We had 36 students here, carefully spaced apart in terms of time and distance. I can't say enough about the efforts of so many people to get the campus ready to reopen safely."
Summer enrollment "looks to be flat or down slightly," Odenwald reported. "Summer is a victory just to be where we are, especially since we do not have use of the residence halls. I continue to be delighted with the fall housing application numbers. This morning we were at 271 students who say they're coming this fall to live on campus. If we get 19 more we'll be able to open the third building. Fifty more would put us about where we feel safe at 85 percent of overall capacity. It makes me feel better and more optimistic about opening the halls when people tell us they want to live on campus. Good management in the past helped us weather this as well as we have, and I continue to be impressed with our personnel, who found different ways to work without complaining or making excuses. They just picked up the ball where it laid and ran with it."
"Moving forward, we need to keep our eyes fixed on the goal," Odenwald said. "We need to be back to 2,500 students by Fall 2024, which I told the board last October. I'm pleased to report there's good work going on to get us there despite all the things we're having to do to keep us running. We've got six or seven task forces working on various things, from the residential experience to educational technology and adult students, to identify opportunities. I wouldn't want to be anywhere else or on any other team. All of the tough days of working from home begin to fade away as we get back to what I think we're good at, building relationships that are crucial to student success."
Vicki VanDenBerg and Tyler Scime of Plante Moran reviewed their annual financial audit plan with the board, including a timeline of internal control testing, certain sampling procedures and student financial aid testing being performed during the week of July 20, year-end field work during the week of Sept. 14 (subject to coronavirus pandemic developments) and an exit conference in early October, with the final management letter delivered to the Board of Trustees in mid- to late October.
In other business, the board accepted a $1,000 gift to the college from Mrs. Sarah Taylor of Battle Creek and updated several policies in the run-up to the college's site visit for reaffirmation of Higher Learning Commission accreditation scheduled for April 2021.
Board of Trustees Chairman Thomas F. Jerdon said since there is traditionally no meeting in July, the next session Aug. 17 will likely revert from a Zoom format back to in-person at 7 p.m. in the boardroom, room 2109 of the Briegel Building on the Dowagiac campus.