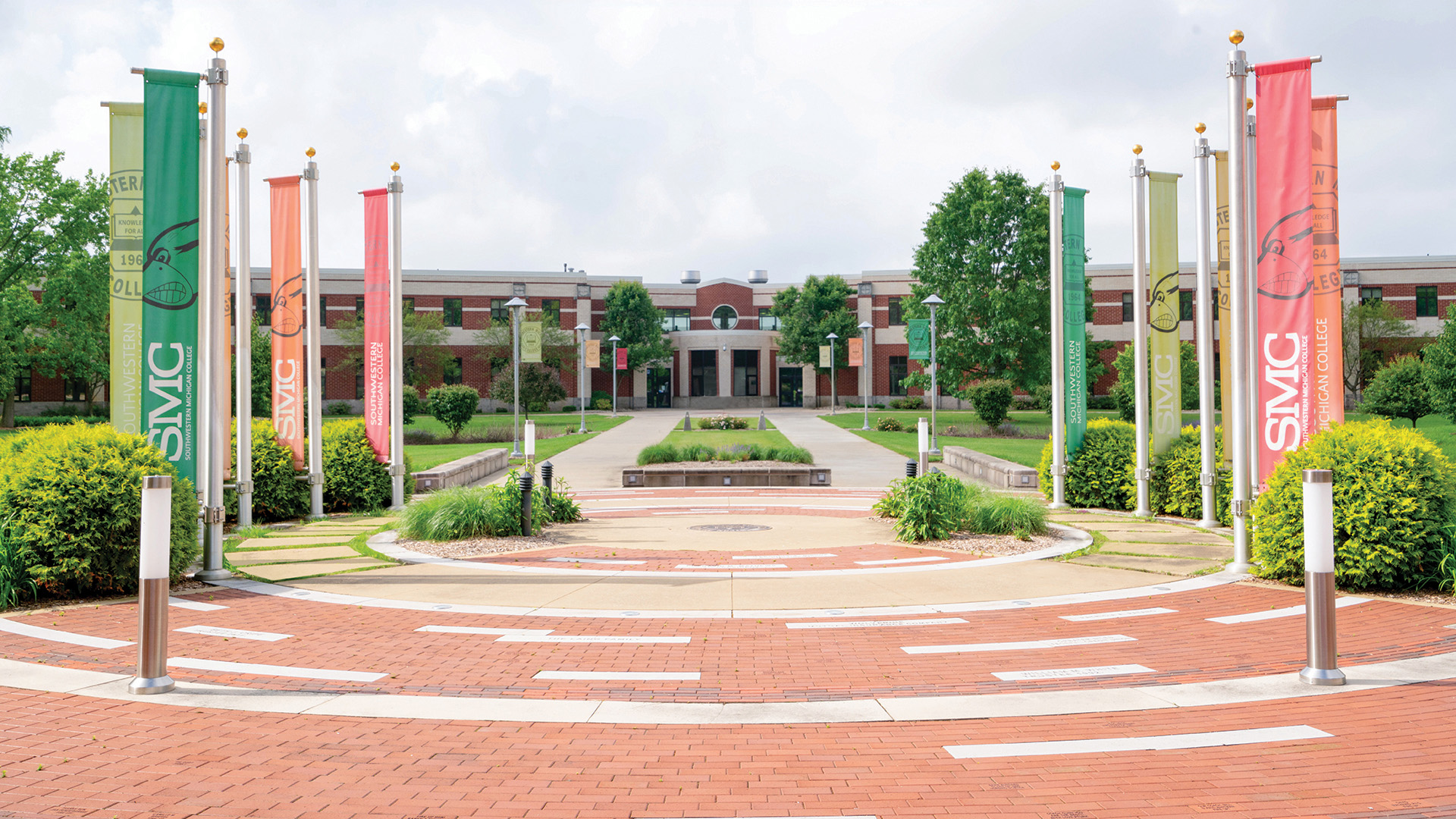 SMC Board of Trustees Approves Budgets
Published on June 10, 2022 - 11 a.m.
Following a public hearing, the Southwestern Michigan College Board of Trustees June 8 adopted 2022-23 fiscal-year budgets.
The balanced $24,556,000 general fund for July 1, 2022-June 30, 2023, anticipates $8,950,000 from tuition and fees, $6,770,000 from property taxes on 2.3936 mills and a $7,882,000 state appropriation.
"This is SMC's 58th balanced budget in a row and the College has never had anything less," Chairman Thomas F. Jerdon said. "The administration and trustees have taken great care to manage SMC's budget and to maintain two beautiful campuses while offering a wide array of high-quality programs. This is especially a great success coming out of the pandemic when resources were stretched."
Summer classes began this week for 573 students.
Trustees awarded two employees 10-year service pins at the meeting on the Dowagiac campus.
Controller Michelle Kite of Elkhart received her pin from Trustee Becky Moore. She has a master's degree in business administration and a bachelor's degree in accounting, both from Indiana University Bloomington. Kite was previously employed for 12 years with PricewaterhouseCoopers and Crowe Horwath.
Trustee Tracy Hertsel presented a pin to Financial Aid Director Lauren Mow of Benton Harbor. Mow, who started as a part-time administrative assistant, earned a bachelor's degree in English from the University of Michigan.
Trustees also met Dr. Tom Green, the new program director at SMC for Michigan State University's Institute of Agricultural Technology.
Green, who started his education at SMC from Cassopolis Ross Beatty High School, transferred to Indiana University South Bend (IUSB) for double majors in psychology and Japanese.
He ultimately earned master's and doctoral degrees in plants, soil and microbial sciences at MSU. He also holds an MSU certificate for golf course management, including Hampshire Country Club and Park Shore Golf Course in Cass County. He consulted on constructing a Battle Creek athletic field and is currently helping establish an urban farm.
Green has done post-doctoral work at MSU in turf grass physiology and pathology. He teaches turf grass management, performance turf design and construction, pesticide and fertilizer application technology and turf grass budgeting courses for MSU. He is the author of several publications related to turf grass and golf course agriculture.
"It's good to be back," Green said. "We've got a pretty good crop of new students coming in. I think the program has potential to grow."
In his President's Report, Dr. Joe Odenwald highlighted upcoming summer events. The Niles campus celebrates its 30thanniversary Thursday, June 16, with a Chamber Business After Hours from 4:30-6:30 p.m.
The following Thursday, June 23, is SMC Night at Four Winds Field, with Odenwald throwing out the first pitch before the South Bend Cubs baseball game.
The 48th Steve's Run takes place July 15, a Friday evening, at 6 in downtown Dowagiac.
There will be a Dowagiac Chamber Business After Hours Aug. 17 revealing improvements made to turn the gymnasium into 1st Source Bank Fieldhouse. SMC's resumption of intercollegiate athletics started last fall with men's and women's cross country and continues this fall with men's wrestling, women's volleyball and men's and women's basketball, plus adding a women's competitive dance team, a collegiate bass fishing team and a pep band to deepen student engagement.
Vicki VanDenBerg and Alex Moore from Plante Moran previewed the timeline for the audit, which will be presented to the board on Oct. 12.
Trustees also acknowledged 10 donations totaling $45,527.80 to the SMC Foundation and accepted two $250 gifts to the college.