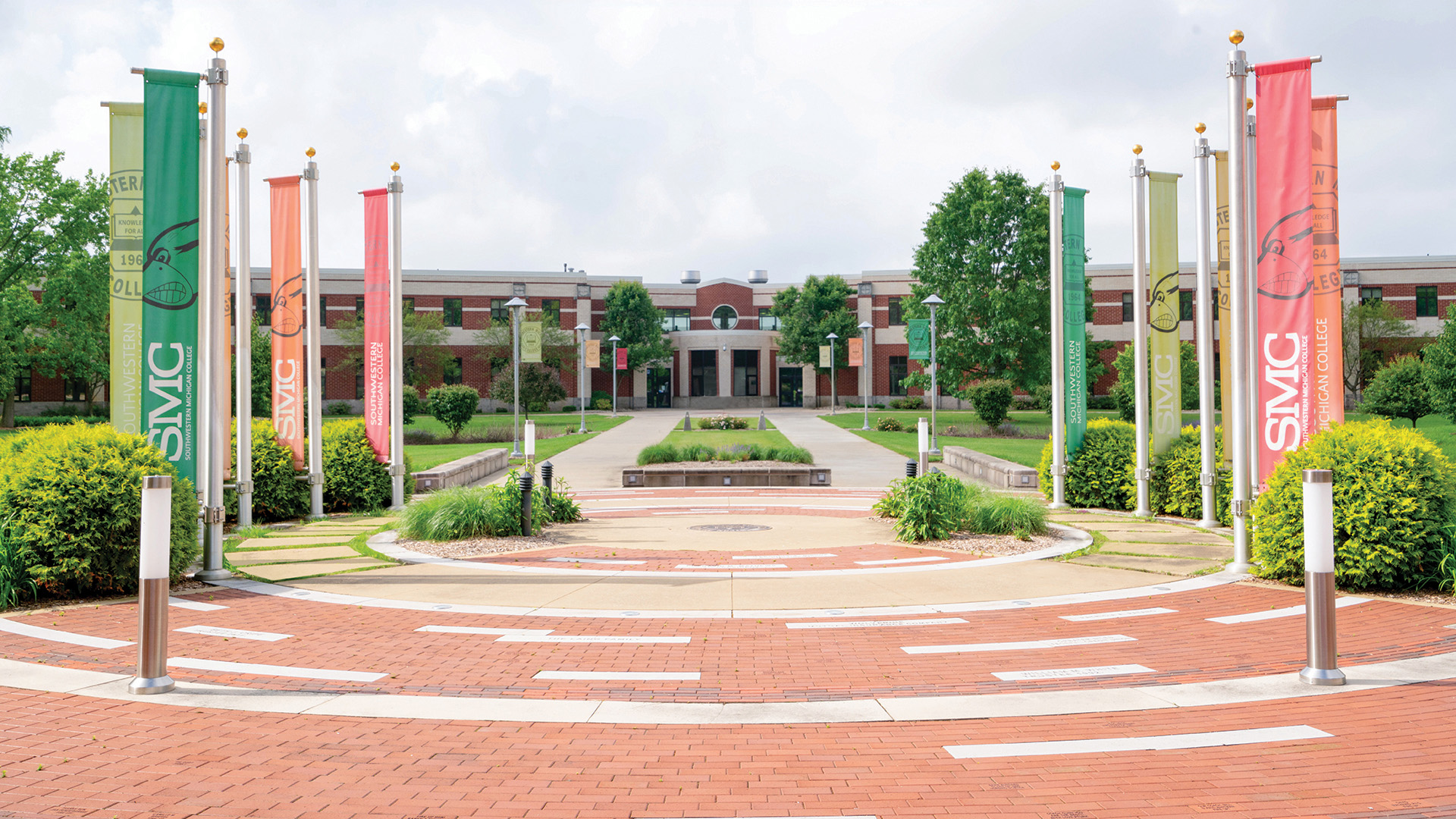 SMC Board of Trustees Awards Six Five-Year Service Pins
Published on October 14, 2021 - 10 a.m.
Southwestern Michigan College's Board of Trustees honored seven employees with service pins Oct. 13, including Dean of Arts and Sciences Dr. Keith Howell for 25 years at the college. Howell, of Mishawaka, for seven years chaired the Math/Science Department before becoming dean in 2018.
Vice President and Chief Business Officer Susan Coulston introduced Manoj Khot of Cassopolis for his five-year pin. He is the college's server administrator and joined SMC in July 2016. Khot, who has 16 years in IT, previously worked as a consultant for an information technology infrastructure hosting company.
Provost Dr. David Fleming presented two faculty five-year recipients, Assistant Professors Christy Tidd and Cody Miller. Tidd, of Elkhart, has been teaching psychology full time for five years, but started as a part-time instructor in 2012. Miller, of Niles, started tutoring in 2005 while still an SMC student and was named Tutor of the Year in 2016.
Coulston presented Blake Bundy of Dowagiac for his five-year pin. He was recently promoted to Assistant Financial Aid Director. President Dr. Joe Odenwald introduced Vice President for Institutional Advancement Mike O'Brien of Osceola, who came to SMC in August 2016 as Vice President of Marketing and Enrollment Management. He had been Director of Digital Media at WNDU-TV after working in Chicago advertising for 25 years.
Student Activity Center Evening Supervisor Mollie Grabemeyer was introduced by Vice President of Enrollment Management and Campus Life Brent Brewer. Grabemeyer earned an associate degree in 2006, returning 10 years later as an employee.
For his President's Report, Odenwald turned to Brewer's admissions team for a presentation on the recruitment process to engage prospective students through events showcasing the college, from career exploration days to intercollegiate athletics and an esports arena, providing a four-year college experience at an affordable two-year price.
The team consists of Director of Community and Educational Partnerships Heather Zile, Dual Enrolled Student Success Manager Brian Howard and Admissions Counselors Ben Spencer, Bill Mathews and Bria Brookins.
In other business, Vice President Susan Coulston provided the Board of Trustees with a timeline for the Lyons Building renovation. Later this month, the college will formally request a fifty-percent match from the State of Michigan, as a part of the capital outlay process. If approved, the project might begin as early as the fall of 2023. Ultimately, the timeline and approval will depend upon the State of Michigan. By 2023, Coulston noted that the college should have its portion of funding for the project accumulated.
The Board of Trustees' next regular meeting Nov. 10 takes place in the Niles campus community room. Trustees will inspect the chemistry labs that were modernized and expanded over the summer through a $550,000 investment.