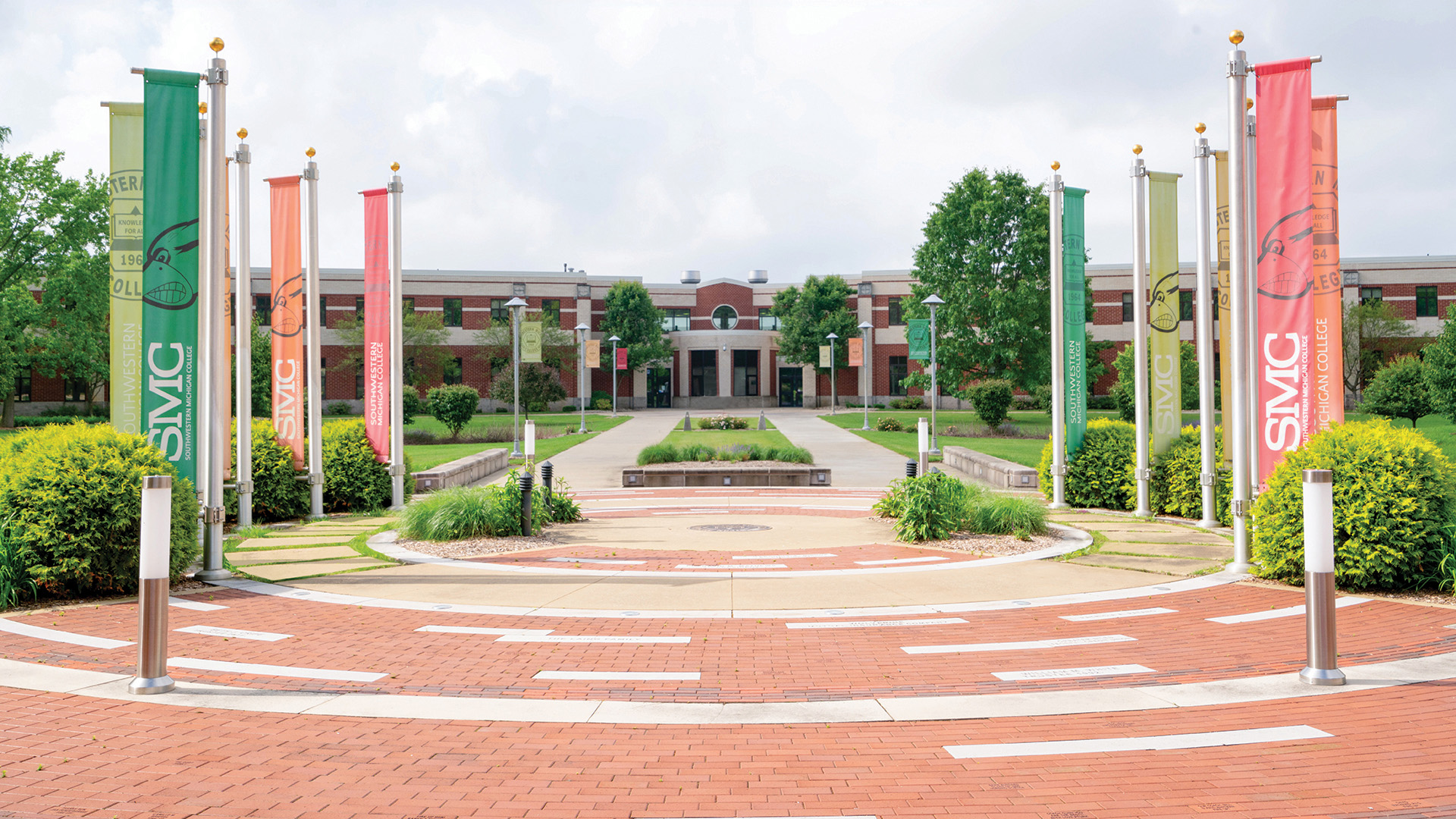 SMC Board of Trustees Re-Elects Officers
Published on January 11, 2023 - 2 p.m.
Southwestern Michigan College Board of Trustees re-elected officers and welcomed back a former trustee at the first meeting of 2023 Jan. 11.
Tom Jerdon has been chairman since 2015. The slate also includes Keith McKenzie as vice chairman, Becky Moore as treasurer and Beth Cripe as secretary.
Returning is Todd Obren, elected in November. He succeeds William M. White, who retired in December after 30 years on the board. Obren previously served on the board 2015-18.
Obren presented a five-year service pin to Matt Collins of Dowagiac. Vice President and Chief Business Officer Susan Coulston introduced Collins, an SMC graduate and technology support manager since December 2019.
"Keeping employee and student computers up and running is a huge job," Coulston said. "His calm demeanor makes him an absolute joy to work with. He was a student worker for four years, both in the bookstore and in (Information Technology). In 2014, he was a part-time network specialist in our IT department. From 2015-16, he was a fulltime network specialist."
Collins earned an associate degree in business in 2014 and added a bachelor's degree in computer information in 2016 through SMC's partnership with Ferris State University.
In his President's Report, Dr. Joe Odenwald celebrated the opening of spring semester with a head-count increase of 6.6 percent and 8.3 percent for contact hours.
"That put us in the lead among all Michigan community colleges on that day," he said. "With a week of registration remaining, we can reasonably expect a similar final number. Housing for spring is above 90 percent capacity.
"It's more than intercollegiate athletics. It's online courses designed by our faculty with quality in mind. Better dual enrollment numbers and improved retention numbers, effective technology and caring staff. This is a marathon, not a sprint, and we must keep pushing, sticking with the system we built over the past several years and pursuing perfection."
"This kind of retention from fall to spring is remarkable," Jerdon said, leading a round of applause for Odenwald and his cabinet.
"With retention going up," Jerdon said, "my gut feeling is that GPAs will be going up because of things like bass fishing, dance, pep band and athletic teams, because students are committed to doing something they love. That's the key."
Trustees acknowledged 51 gifts totaling $46,051.62 to the SMC Foundation and accepted three donations for $862.50 to the college.