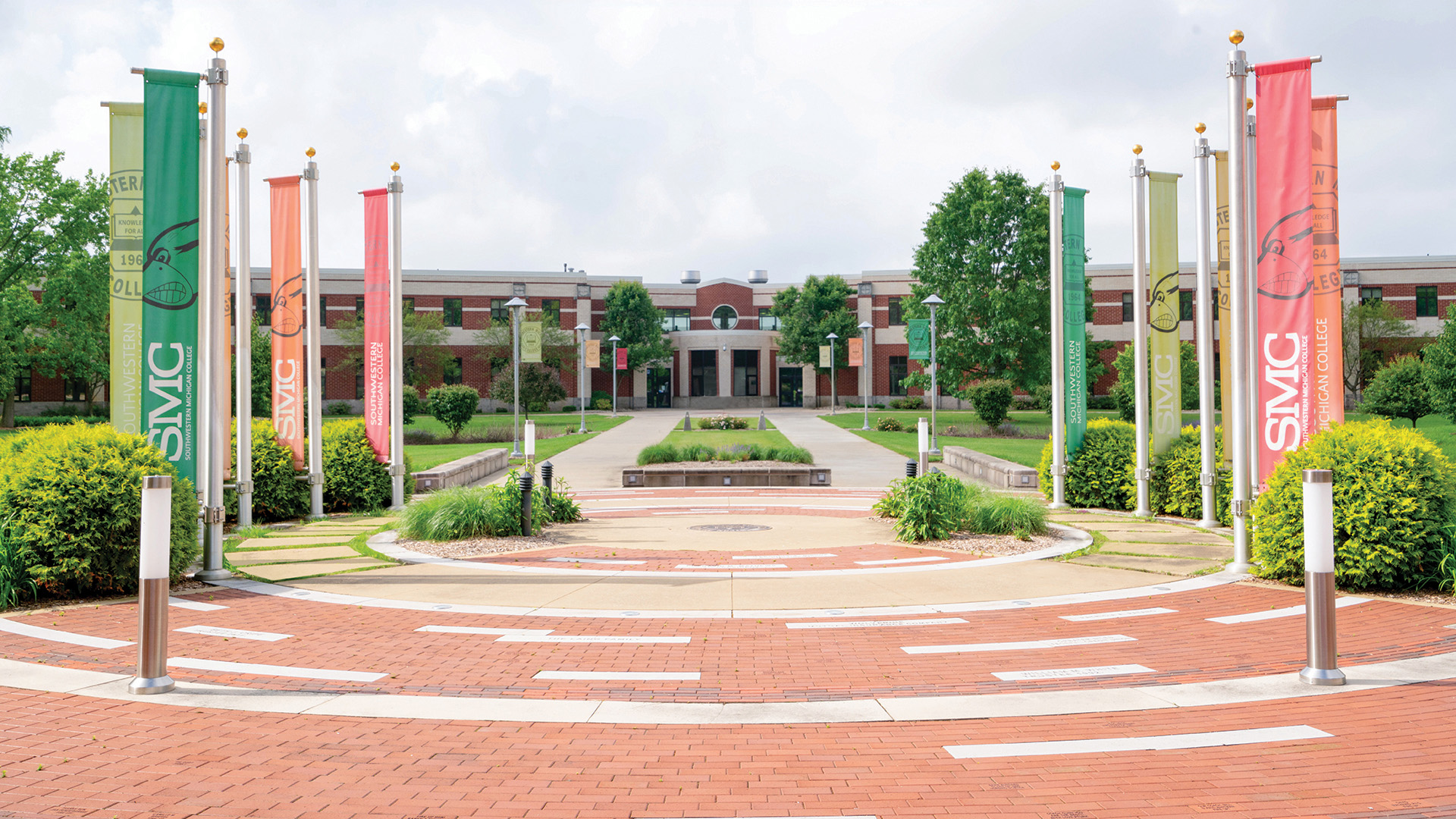 SMC Board of Trustees Reviews 'Metrics That Matter'
Published on November 10, 2022 - 9 a.m.
Southwestern Michigan College's Board of Trustees heard President Dr. Joe Odenwald's report on "metrics that matter" during Nov. 9's meeting on the Niles campus.
"Spring registration is well underway," Odenwald said. "We registered 940 students the first week, including 610 in a single day. The goal is 1,620" by the time classes start Jan. 9, "so we're about two thirds of the way there."
Odenwald credited "a variety of efforts around campus," from earlier schedule preparation to CRM, customer relationship management technology which improves communication with students.
"Another metric that matters is I received the community college benchmarking report," Odenwald said. "Our student satisfaction with safety and security was at the 98th percentile. According to the same report, our success rate for our students is better than 90 percent of our peers. We had an excellent course success rate in the fall of 2021, with only 1-percent difference between online and traditional courses. Finally, our fall-to-fall retention rate jumped among fulltime degree seekers. We're hitting our stride again" after the COVID-19 pandemic.
Odenwald, of Dowagiac, received his five-year service pin from Trustee William M. White. He became the college's eighth president effective Jan. 1, 2020.
He had been SMC's Vice President of Student Services since Nov. 27, 2017, after working as Assistant Dean for Academic Affairs and Student Services at Louisiana State University College of Engineering.
Odenwald grew up in Ferriday, La., farming with his father and grandfather. He previously held positions at Mississippi College, including Associate Dean of Students and Director of Student Life while teaching graduate courses as a member of the adjunct faculty.
Odenwald earned his Bachelor of Arts from Louisiana College, a Master of Science from Mississippi College and his Doctor of Education from The University of Southern Mississippi. In May, he will add a fourth degree, a Michigan State University master's in management.
Laura, his wife of seven years and a marketing consultant, volunteers as coach of SMC's Ladybirds dance team created as part of the college's return to intercollegiate athletics after 25 years. Their son, Joseph Franklin, turns 4 in December.
"On behalf of the Board of Trustees, we're glad you're here and glad you found us," Chairman Thomas Jerdon said. "I can't believe you've been here five years already, but we hope it will be many more."
Board Treasurer and Certified Public Accountant Becky Moore, of Cassopolis, received her 10-year service pin. Moore attended Marcellus High School, SMC and graduated from Western Michigan University in 1984.
She began her career in public accounting with Alexander Grant of Kalamazoo. Thereafter she accepted a position with BDO Seidman in Kalamazoo focusing primarily in government auditing. Moore then became finance officer with Heritage Southwest ISD, and then in 1992, founded Accounting Consultants PC which she operated for the next 27 years until she sold it to Jansen Valk Thompson & Reahm. She continues to do consulting work with the Edward Lowe Foundation.
Moore served as secretary on the Cass County Fair Board and during her 25-year involvement she also managed the livestock sale and, for its 150th anniversary in 2001, organized a retrospective with 5,000 pieces of fair memorabilia she collected.
She remains involved in and supports many local organizations including Cass Kickstart to Careers and Cass County 100+ Women Who Care.
Moore and her husband Jim have been married for 39 years.
Web developer Diana Litaker of Portage also accepted a five-year service pin from Trustee Tracy Hertsel. Vice President and Chief Business Officer Susan Coulston introduced Litaker, who joined SMC from Whirlpool on Nov. 6, 2017. Litaker, who grew up in Comstock, graduated from Western Michigan University. Her 17-year-old daughter has studied at SMC for two semesters through dual enrollment.
"Diana is going to be one of our featured speakers at a library Lightning Talk on disaster preparedness," Coulston said. "We're happy to have had Diana here for the past five years. She's helped streamline various portals and helped us change web platforms. She heads up the ADA (Americans with Disabilities Act) remediation team."
In other business, trustees accepted six gifts to the college totaling $3,886.75 and acknowledged eight donations to the SMC Foundation for $8,475.