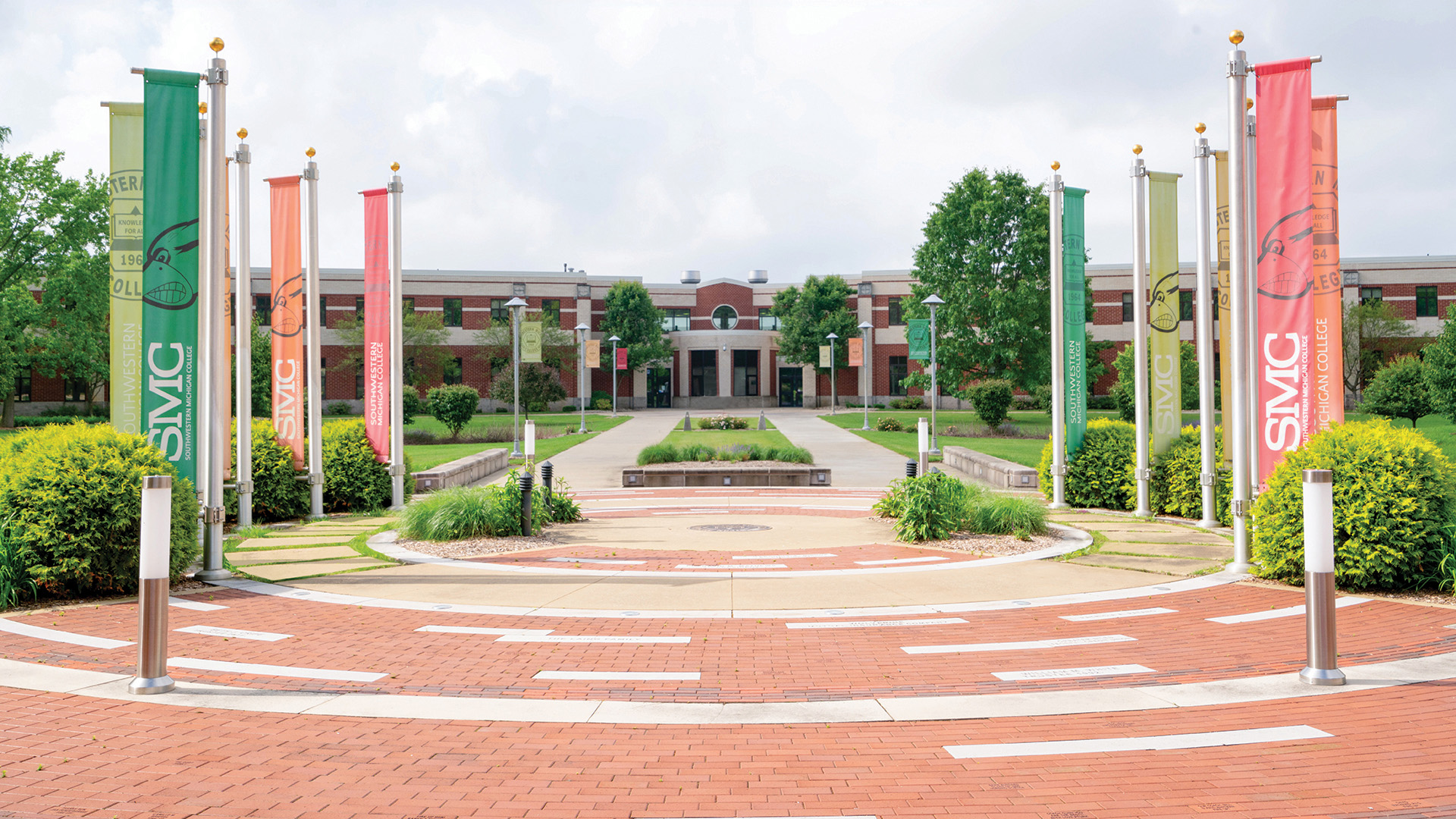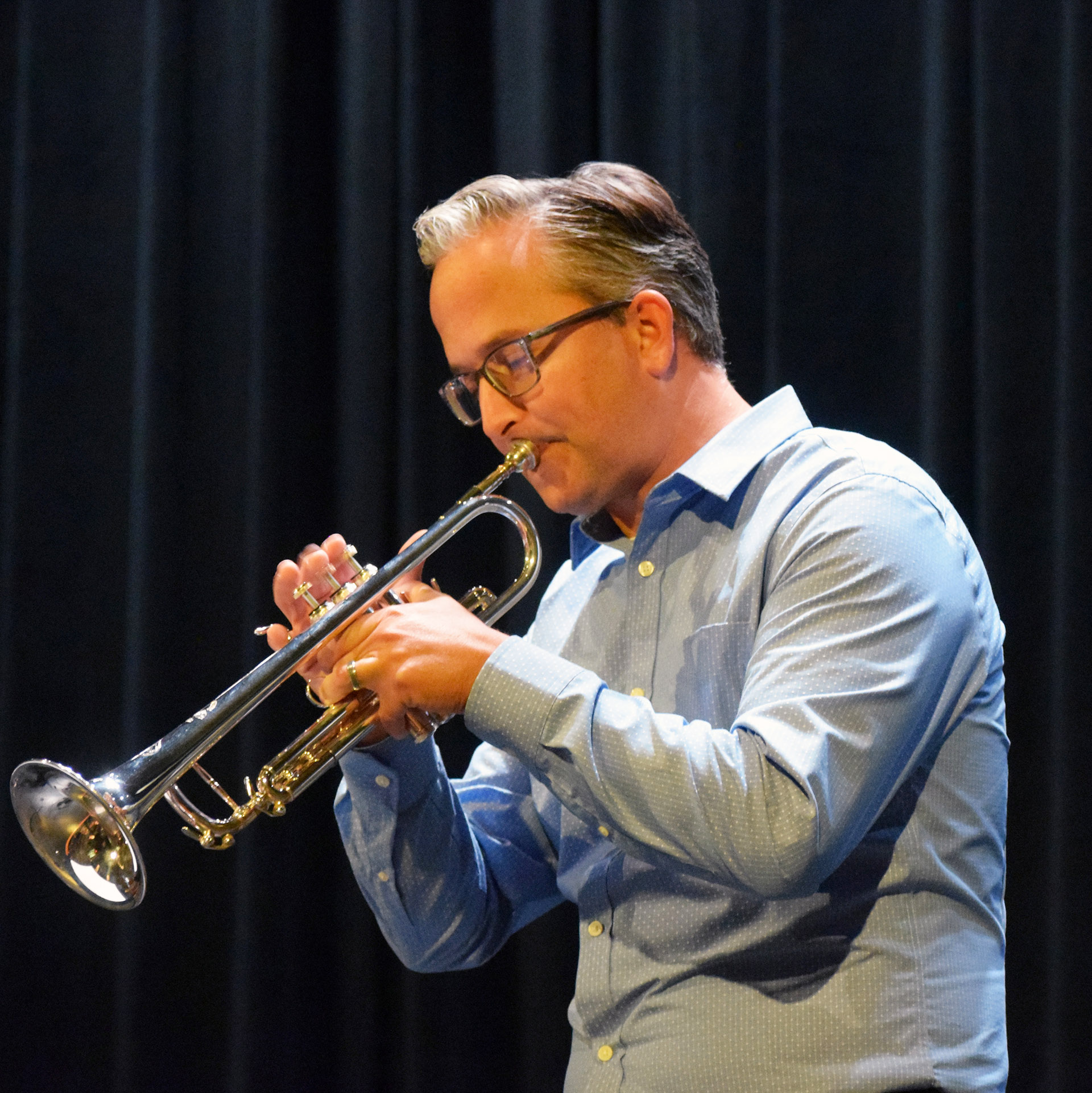 SMC Brass Band Kicks Off Dowagiac Summer Concert Series
Published on June 3, 2022 - 12 p.m.
Southwestern Michigan College Brass Band signaled a shift to summer June 2 with the first of 10 Thursday-evening "Music in the Park" concerts in the new pavilion replacing the Wolverine Building between Dowagiac District Library and the Main Street boulevard.
Between refreshing temperatures, the sun-dappled emerald expanse where new mothers played with infants and idyllic images of people listening from porch swings at residences ringing the park on two sides while boys on bikes billowed big plumes of bubble exhaust, it was ideal for getting in the mood for the new season, which continues at 7:30 p.m. June 9 with bluegrass band Schlitz Creek.
Sponsors for the concert series include SMC, Lyons Industries, Honor Credit Union and StayDowagiac.com, a collective of the 1870 House (Dowagiac Downtown Development Authority volunteer Zena Burns introduced the band), The Altus Apartment (named for longtime SMC Board of Trustees Vice Chairman Dale Altus Lyons) and Hatch Street Manor.
The rest of the schedule includes: June 16, Skeletones (R&B, Motown); June 23, Jordan Hamilton (cello-based hip-hop, soul); June 30, Cabildo (Latin rock); July 7, Ada LeAnn (pop, featured on NBC's American Song Contest); July 14, Somebody's Friends ('80s and '90s rock covers); July 21, Hodie Snitch (outlaw country); July 28, Touch of Texas (classic country); and Aug. 4, Luminos (modern acapella).
SMC Director of Bands Mark Hollandsworth made his conducting debut last June, though he played cornet in 2019 in Dr. Jon Korzun's finale before retiring after 28 years as the college's band director.
"I have always admired this town's support of the arts," Hollandsworth said in 2021. He brought 19 years of experience to SMC, including 12 in Buchanan and seven in Edwardsburg.
Korzun founded the Brass Band. A couple of original members continue to play in the amalgamation of students and community members.
Hollandsworth's musicians performed a themed program heavy on movie soundtracks and musical theatre. Even the hymn "I'll Walk with God" appeared in the 1954 film The Student Prince, sung by Mario Lanza.
After "The Star-Spangled Banner," SMC opened its hour set with "Beauty and the Beast," composed by Alan Mencken, who "has a ton of musical and film score credits," Hollandsworth said, "including The Little Shop of Horrors, Newsies, The Little Mermaid, Pocahontas, The Hunchback of Notre Dame, Hercules and Tangled, to name a few. He's one of 16 people to have won an Oscar, an Emmy, a Tony and a Grammy."
"Slipstream," by English composer Philip Sparke, was commissioned by the BBC for its entry in the 1987 European Broadcasting Union's "New Music for Bands" competition, winning first prize in the march section.
"Send in the Clowns" by Stephen Sondheim from 1973's "A Little Night Music," refers to the old showbiz trope of distracting audiences with slapstick when everything else fails.
"This is a song of regret and love lost," Hollandsworth explained. "The lead, Desiree, comically laments the foolishness, hopelessness and despair of her situation. We're featuring Mary Davidson (of Stevensville) on flugelhorn as our Desiree. This jazz standard has been recorded by many musicians," including Frank Sinatra, Barbra Streisand and Judy Collins.
"We couldn't ask for much better weather than we're having for tonight's performance," he said, setting the stage for George Gershwin's "Summertime," from 1935's Porgy and Bess. The six-note melody has been interpreted by Miles Davis, Janis Joplin and Willie Nelson.
The Brass Band featured the animated Disney feature The Lion King, released in 1994 — the year Hollandsworth graduated high school.
Hollandsworth explained the British-style band's composition, such as no trumpets, only cornets (usually including an E-flat cornet for piercing high notes); flugelhorn; alto horns pitched to E flat to sound like French horns; baritones; euphoniums; E-flat and B-flat tubas; tenor and bass trombones; and percussionists Noah Fraser and Glenn McFarland.
SMC Brass Band will also be appearing at 7 p.m. June 9 in Hartford.
After "The Impossible Dream" from 1965's Man of La Mancha, featuring a duet by Richard Heemer of Niles on euphonium and Deb Kroening of St. Joseph on cornet, the concert closed with Gershwin's "Strike Up the Band" from the 1927 musical.
A new feature this summer is food trucks parked across Zarry's Alley, with Sammy Arepas' Venezuelan cuisine leading off.