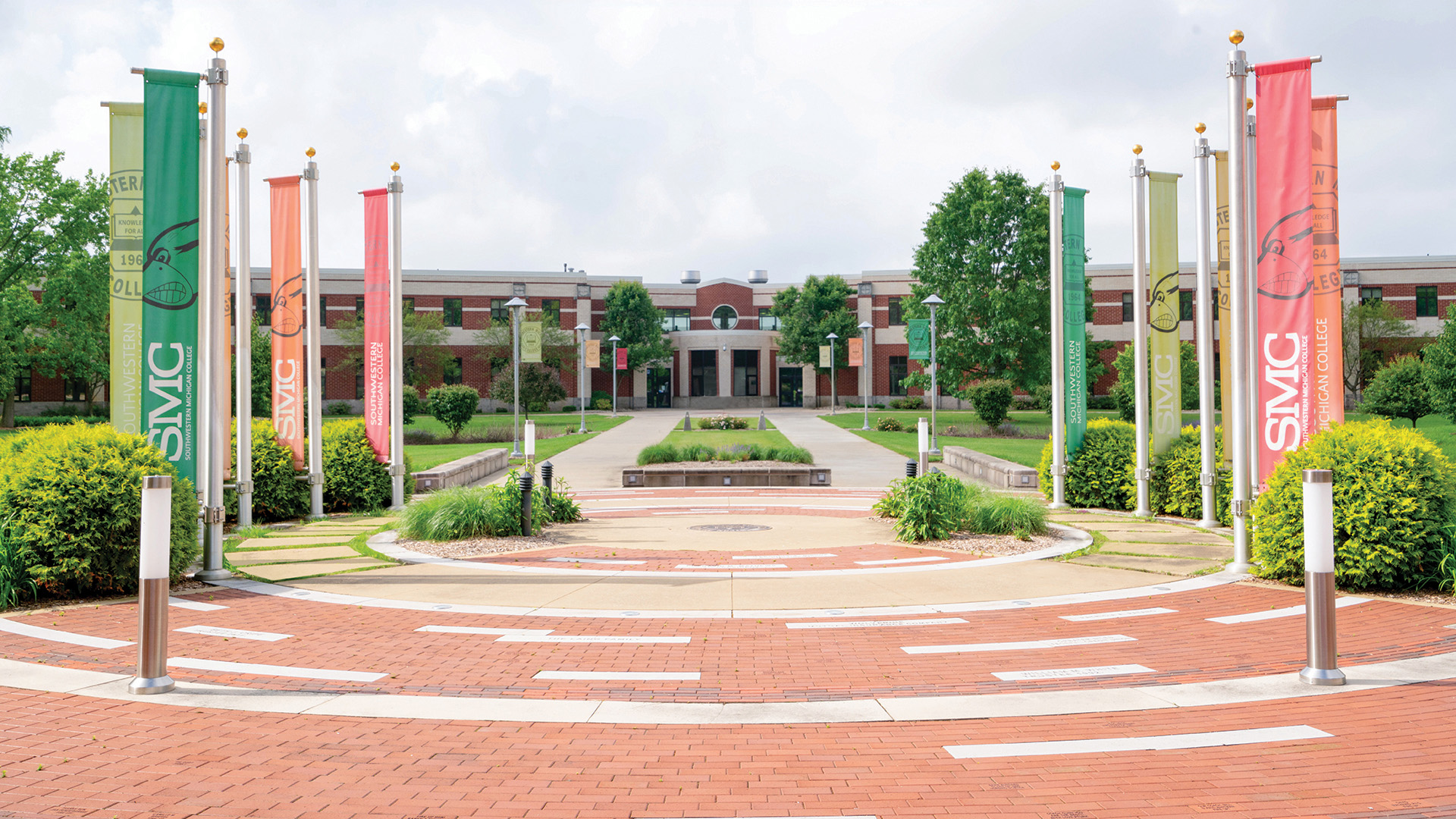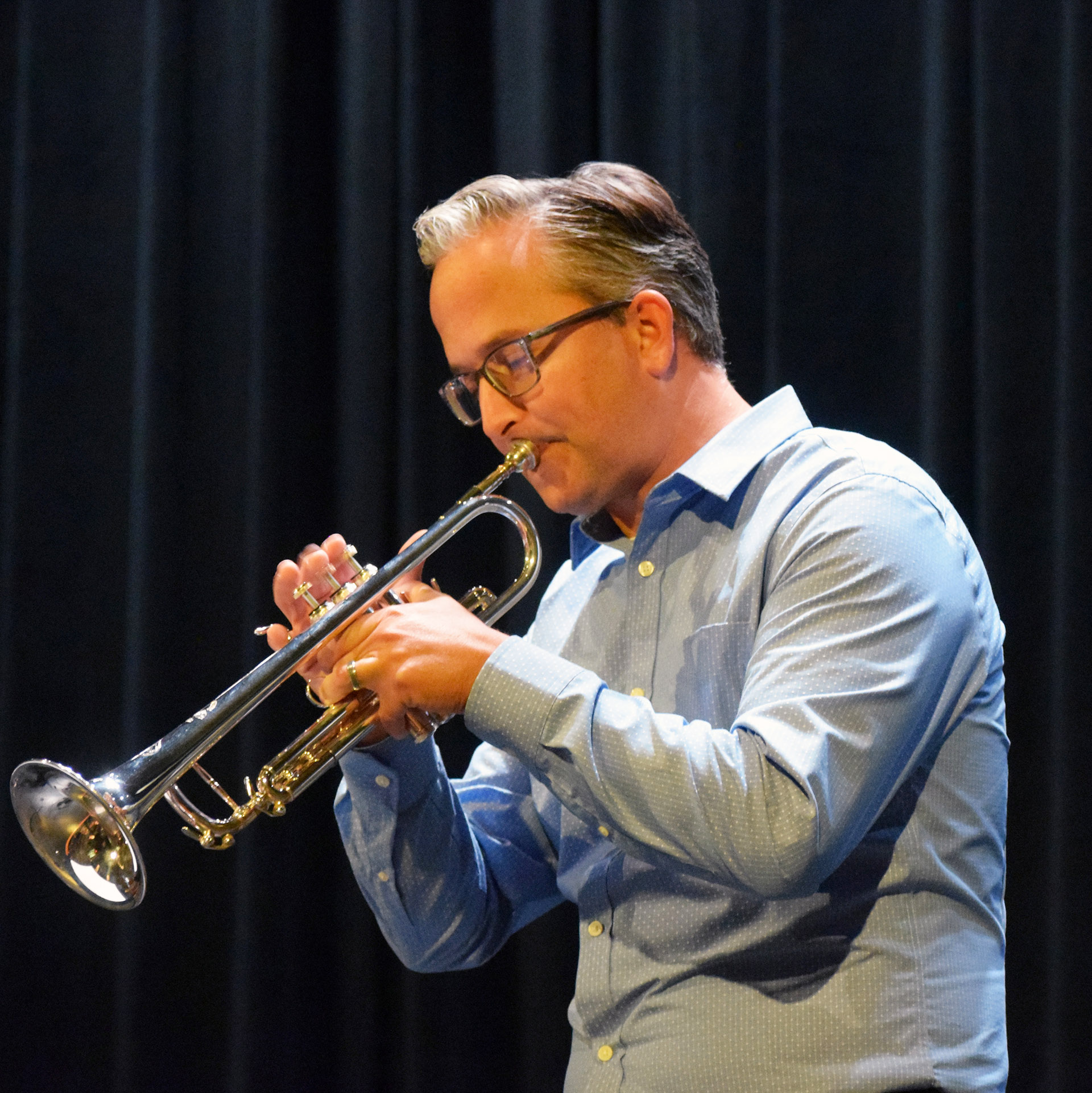 SMC Brass Band Leads Off Dowagiac Summer Concerts
Published on June 12, 2023 - 12 p.m.
Southwestern Michigan College Brass Band signaled a shift to summer June 8 with the first of 12 Thursday-evening "Music in the Park" concerts in the pavilion that replaced the Wolverine Building between Dowagiac District Library and the Main Street boulevard.
Refreshing temperatures and a sun-dappled emerald expanse made it ideal for getting in the mood for summer. The series continues at 7:30 p.m. June 15 with Kalamazoo's On the Lash, original Celtic folk.
Concert sponsors include SMC, Lyons Industries, Honor Credit Union and StayDowagiac.com, a collective of the 1870 House, The Altus Apartment (named for longtime SMC Board of Trustees Vice Chairman Dale Altus Lyons) and Hatch Street Manor.
The rest of the schedule includes: June 22, Skeletones, R&B, soul, blues and Motown; June 29, Battle Creek pop singer/songwriter Ada LeAnn, who represented Michigan on NBC's American Song Contest; July 6, Out of Favor Boys, rock-tinged blues; July 13, Schlitz Creek, bluegrass with some bite; July 20, Lauren Dukes Band, neo-soul, R&B and blues; July 27, Touch of Texas, variety and classic country at the Cruise-In; Aug. 3, The Erika Scherry Band, country, rock and pop favorites; Aug. 10, Hodie Snitch, your daddy's country music; Aug. 17, Caribbean Soul Experience, Caribbean, soul and R&B; and Aug. 24, Covington Groove, rock with jam, funk and soul.
SMC Director of Bands Mark Hollandsworth made his conducting debut in June 2021, though he played cornet in 2019 in Dr. Jon Korzun's finale before retiring after 28 years as the college's band director.
Hollandsworth brought 19 years of experience to SMC, including 12 in Buchanan and seven in Edwardsburg.
Korzun founded the Brass Band. Richard Heemer of Niles on euphonium has been playing for 26 years with the mixture of students, band directors and community members.
Hollandsworth's musicians sampled Broadway, Hollywood, New Orleans and traditional American concert band fare.
After "The Star-Spangled Banner," SMC opened its set with "Liberty Fanfare" by John Williams, who scored such popular films as "Jaws," "Close Encounters of the Third Kind," "E.T." and the "Star Wars" series.
"In 1986, he composed 'Liberty Fanfare' for the celebration of the 100th anniversary of the Statue of Liberty," Hollandsworth said.
The Brass Band followed with 2001's "The Lord of the Rings: The Fellowship of the Ring," nominated for 13 Oscars, including Best Original Score. Canadian composer Howard Shore, "Saturday Night Live's" original musical director, has three Academy Awards, three Golden Globe Awards and four Grammy Awards.
Hollandsworth explained George Gershwin's 1924 "Rhapsody in Blue" as a key composition in defining the Jazz Age by combining classical music elements. "The iconic opening clarinet glissando is performed tonight on cornet by Danny Lopez," SMC's adjunct trumpet instructor.
On Sunday, April 16, the curtain fell on Broadway's longest-running show, Andrew Lloyd Webber's "Phantom of the Opera."
"It ran for more than 35 years," Hollandsworth said. "It opened in January 1988 and played almost 14,000 performances to more than 20 million people, grossing $1.3 billion. An estimated 6,500 people have been employed on the production, including over 400 actors. It took approximately 125 cast, orchestra and crew to put on one production." SMC presented its operatic pop ballad, "All I Ask of You."
The Brass Band played "Night Life," the fourth movement from "Cityscapes for Brass Bands" published for Great Britain's 1985 National Brass Band Championships.
"The Prayer" was made famous by Celine Dion and Andrea Bocelli, then Dion dueting with Josh Groban. Groban studied at Interlochen, south of Traverse City, where Hollandsworth heard Ray Charles with his grandparents.
Hollandsworth explained the British-style band's composition. No trumpets, only cornets (including Niles' Steve Bizoe's E-flat cornet for piercing high notes); flugelhorn; alto horns pitched to E flat to sound like French horns; baritones; euphoniums; E-flat and B-flat tubas; trombones; and percussionists Noah Fraser and Carolyn Lyons Murray.
SMC closed with "Bandology," Eric Osterling's 1964 march.
As an encore the band added danceable Dixieland jazz, "That's a Plenty."
Oak + Ash BBQ and Chelito's Mini-Donuts served food on-site.