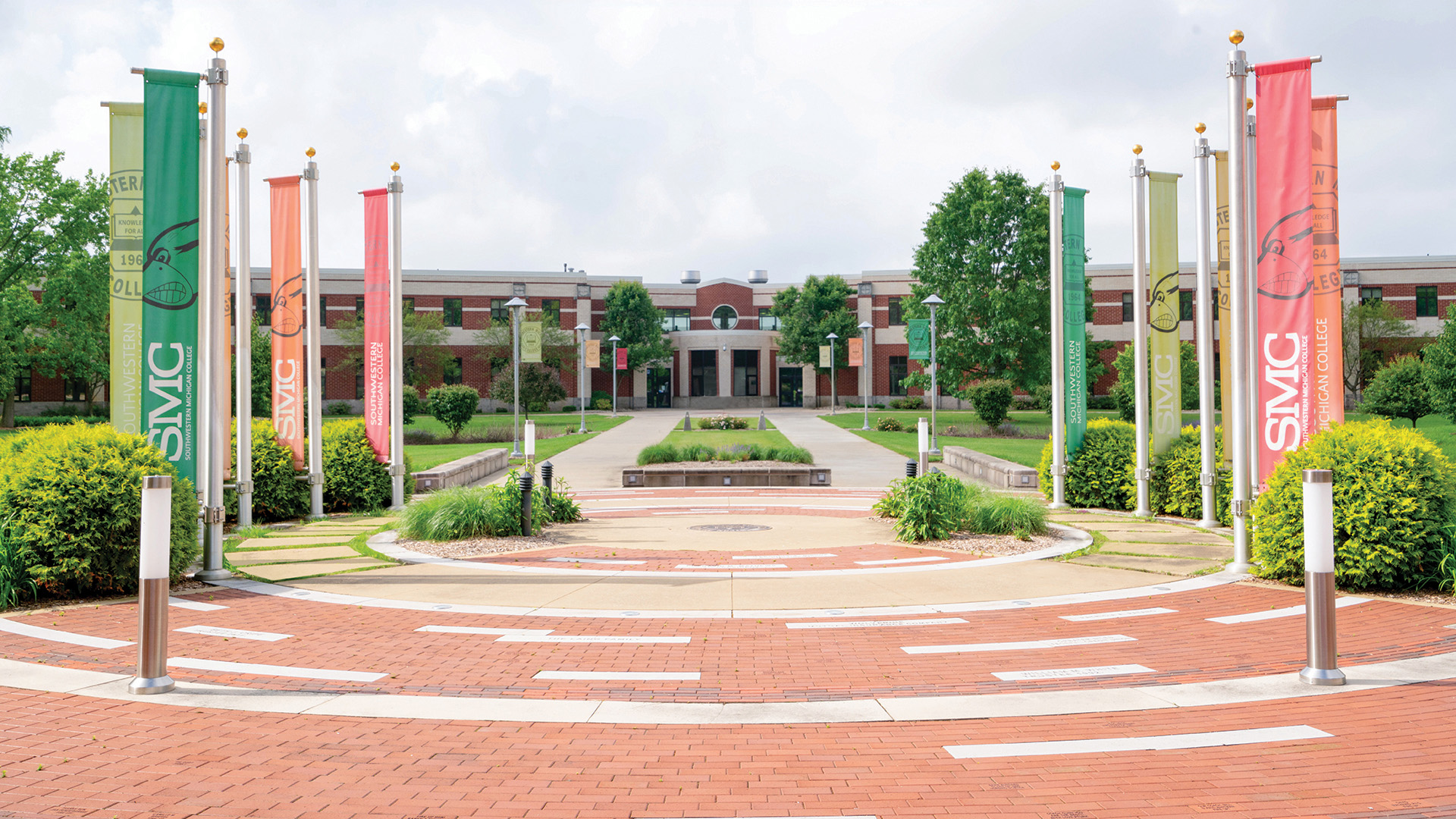 SMC Brass Band Signals Summer Concerts Comeback
Published on June 4, 2021 - 12 p.m.
Southwestern Michigan College Brass Band on June 7, 2018, christened Dowagiac's new summer concert venue outside the James E. Snow Professional Building.
Leading off the 2019 Dowagiac Summer Concert Series, SMC Director of Bands Mark Hollandsworth played cornet in Dr. Jon Korzun's finale before retiring after 28 years as the college's band director.
Hollandsworth succeeded Korzun, who drove over from his home in Stevensville to listen. But because the pandemic canceled 2020 summer concerts, June 3's performance served as Hollandsworth's official introduction to Dowagiac.
He shared some personal anecdotes, such as his lead into John Williams' "Jurassic Park" themes.
"The last time I heard 'Jurassic Park' performed was at the Hollywood Bowl," Hollandsworth said. "I had an opportunity to hear the Los Angeles Philharmonic play the entire soundtrack live while the movie was going on. It was a really amazing experience, and those kinds of things happen in Michigan, too. The Detroit Symphony has done things along those lines."
"I have always admired this town's support of the arts," continued Hollandsworth, who brought 19 years of experience to SMC, including 12 in Buchanan and seven in Edwardsburg. "It's a priority in this community year-round, which is a great reason for teaching here."
One of his SMC students, Noah Fraser of Gobles, was featured on the drum set in "Cute" by Neal Hefti, a jazz trumpeter best known for composing the "Batman" theme.
The band drowned out birds chirping in the trees with "Birdland," a high-energy jazz fusion made famous by Canadian trumpeter and bandleader Maynard Ferguson, who came to prominence in Stan Kenton's orchestra.
Hollandsworth briefly explained the brass band's composition, such as there are no trumpets, only cornets (including an E-flat cornet for piercing high notes); flugelhorn; alto horns pitched to E flat, so they variously sound like French horns or alto saxophones; baritones; euphoniums; tubas; trombones; and two percussionists.
Switching gears from Australian composer Percy Grainger's "Irish Tune from County Derry," which builds on the folk tune "Danny Boy," the Brass Band moved to the United States for the three-song "Appalachian Suite."
Hollandsworth introduced Louis Armstrong's "What a Wonderful World" with, "Hopefully, tonight you're feeling that sentiment. It is wonderful to get back out and play in front of people and to have an audience and to be able to share this kind of experience," with Mary Davidson's flugelhorn standing in for "Satchmo's" gravelly singing.
Hollandsworth noted that the audience began staking out the spacious lawn before the equipment truck arrived.
"We could have come out here with kazoos and you'd be clapping for us," he said. "You're starving (for live music). This is something we all want."
The Brass Band galloped toward the finish line with Karl King's "The Melody Shop," a "barn-burner of a march," but closed on a calmer note with "Amazing Grace."
Dowagiac Downtown Development Authority's Thursday-evening summer concert series, co-sponsored by SMC, Cass COA, Honor Credit Union and Lyons Industries, continues at 7:30 p.m. June 10 with Allie Garland's third Grand Old City appearance.