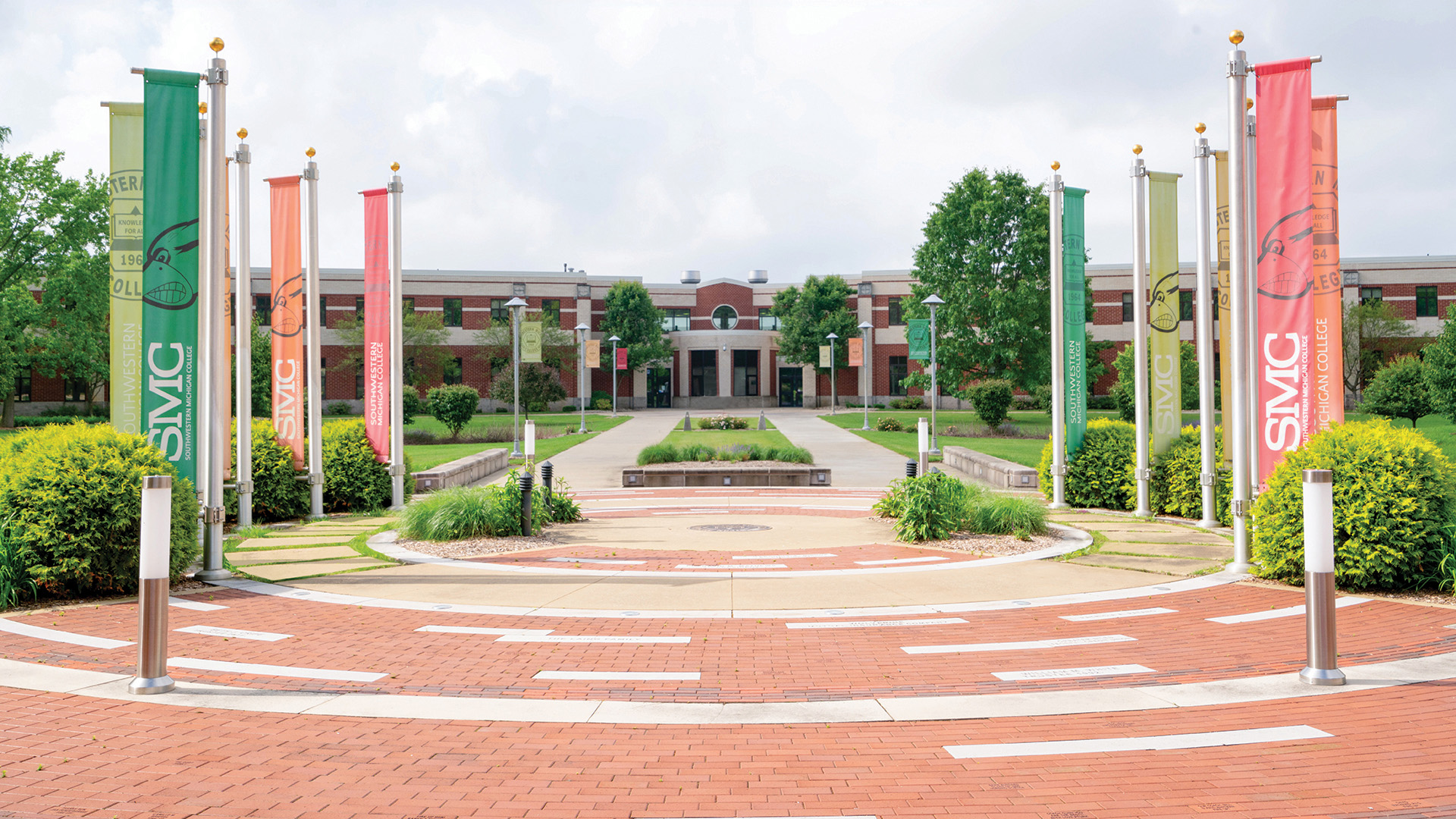 SMC Career Fair offers perspectives on health pathways
Published on March 8, 2023 - 4 p.m.
A doctor, a speech-language pathologist and an MRI technician walk into Mathews Conference Center West during Southwestern Michigan College's March 7 Career Fair.
There's no punch line, just three perspectives on specialized health care.
Dr. Gomer Pound focused on emergency medicine, returning to his native Mississippi after 2005's Hurricane Katrina and, most recently, to Brooklyn in April 2020 to battle COVID-19.
Dr. Pound, of Dewey Lake, was an emergency physician at Dowagiac's Ascension Borgess-Lee Hospital from 1986-2000, including medical director. When he lived in Manhattan for five years, he sang light opera off Broadway with his music degree.
"I decided I'd like to do something to help people, so I went back to school at Columbia University," an Ivy League school. "I did stuff like I was a tourist," taking advantage of museums and concerts. His last year he worked in a neuromuscular biochemistry lab in Columbia's medical school. He also did work-study in Harlem at the Hospital for Joint Diseases.
"My job was morning blood draws, then the rest of the day I went to the ER," Dr. Pound said.
"I was bummed when I went back to Mississippi for medical school because I wanted to go to Harvard or Yale. But I was glad I went because my teacher, Arthur Guyton, wrote the physiology textbook most medical schools use," plus transplant pioneer Dr. James Hardy was at the University of Mississippi Medical Center in Jackson.
"You could do a few months on your own, so I went to San Francisco General Hospital for five weeks of ophthalmology. I got to eat at Fisherman's Wharf, as well as see things like people who injected heroin mixed with talc, which ended up on their retinas. Their eyes sparkled."
He interned in New Haven, Conn., home of Yale. A pilot, though not of helicopters, he was a flight physician with Kalamazoo's West Michigan Air Care, the collaboration between Ascension Borgess Hospital and Bronson Methodist Hospital.
Ella Merrill, still connected to SMC as a professional tutor, was the first graduate in 2022 of the Magnetic Resonance Imaging (MRI) technician program offered partially online with clinicals in local health facilities through a partnership with the Michigan Community College Association (MCCA).
An Associate in Applied Science in MRI Technology qualified her to take the MRI certification exam administered by the American Registry of Radiologic Technology (ARRT).
MRI technician is identified as one of Michigan's "hot 50" high-wage, high-demand jobs of the future.
Merrill, employed in St. Joseph by Corewell Health's Radiology Department, came to SMC from Edwardsburg expecting to become a nurse, which is chemistry-based. Physics-based MRI proved a better fit, although she still studied anatomy, physiology and chemistry.
Working with such images, Merrill said, "Your right is the patient's left. You have to relearn anatomy because you're seeing inside the patient's body backwards and in black-and-white."
Merrill is one of St. Joseph's two techs. Radiologists read the scans. Corewell also has locations in Niles and Watervliet.
MRI scanners use strong magnetic fields and radio waves to generate organ images. MRI does not involve X-rays or dye containing radioactive tracers, distinguishing it from CT (Computed Tomography) and PET (Positron Emission Tomography).
MRI is widely used in hospitals and clinics for medical diagnosis and disease follow-up. Compared to CT, MRI provides better contrasts in soft-tissue images, such as the brain or abdomen. It may be perceived as less comfortable because it takes longer and is louder with the patient confined in a long tube.
Altered mental status (AMS) comprises a group of clinical symptoms rather than a specific diagnosis. "AMS is vague, so we see that a lot," Merrill said. "Also, brain tumors and spinal stenosis."
As a speech-language pathologist, Leila Victorin has worked since July 2021 at LOGAN Community Resources in South Bend through a contract with Indiana's First Steps, serving 23 children ages birth-3 experiencing developmental delays.
She earned a bachelor's degree in fine arts and French studies from Andrews University in 2015, then added a master's degree in speech pathology in 2018.
"It was a good decision," the painter said. "If you're looking for job security, you will always have a job as a speech-language pathologist because you can work from NICUs to nursing homes."
"It allows a good work-life balance. There are days I start at 8 and am done at 2. Others I start at noon and am done at 5. I don't have to bring work home," even when she worked in an elementary school.
She took biology and statistics classes through SMC's Niles campus. "Several of my classmates did bachelor's degrees in speech pathology, then an extra year and a half to get their master's, all at once."
Niles campus' Career Fair takes place March 14 from 2-6 p.m.