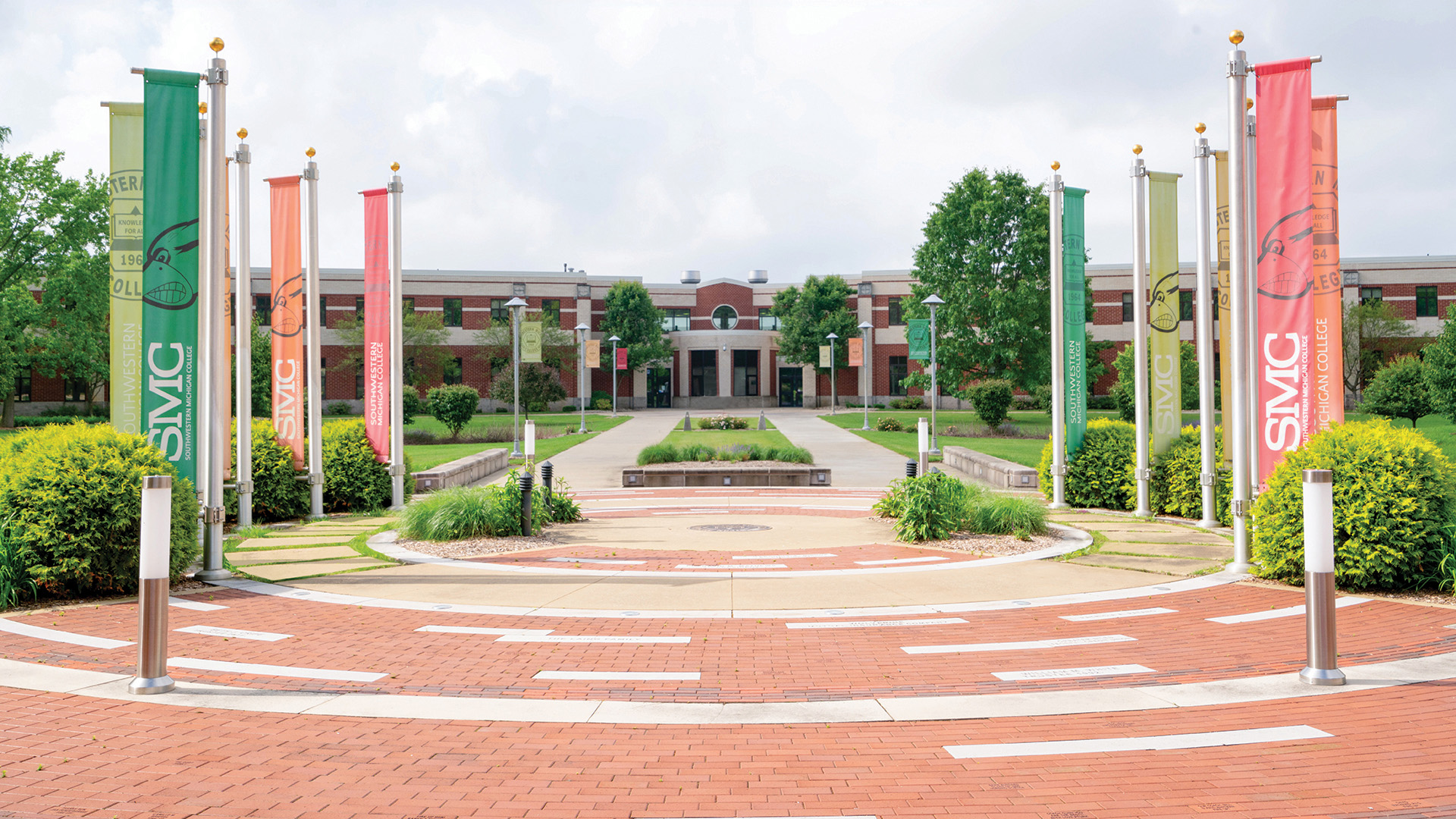 SMC Celebrates Black History Month
Published on March 2, 2020 - 9 a.m.
Black History Month concluded with a crescendo at Southwestern Michigan College, including an appearance by Underground Railroad conductor Harriet Tubman.
Between SMC President Dr. Joe Odenwald's opening remarks on African Americans in higher education and the PBS documentary "The Rise and Fall of Jim Crow," were spoken word presentations (Eddie Davidson), solo vocalists (Kharee Kimber, Le'Onna Wallace, Deanja Woods, Nia Williams and admissions counselor Michelle Tyner), singing by the Black History Month choir, dancing (Mykail Bigby), a saxophonist (Sam Loomis), a "Walk Down Memory Lane" PowerPoint presentation of notable historical figures, performances by SMC's Jazz Band and Select Voices, a free-throw competition in honor of Kobe and Gigi Bryant, dodgeball competition and, of course, the portrayal of Tubman by Mary Minor, a retired South Bend teacher and the mother of organizer Rashad Minor, SMC student success coach and coordinator of diversity and inclusion.
"Black history isn't just for black people," Minor said. "Black history is part of American history. It's for everybody. My ancestors and yours had a hand in this, so let's encourage one another as we celebrate."
The Underground Railroad ran through Cass County, thanks to its Cassopolis-Vandalia Quaker population.
The theme for this year's Black History Month was "African Americans and the Vote." Besides being a presidential election year, 2020 also represents a landmark year for voting rights, marking the 150th anniversary of 1870's 15th Amendment, giving black men the right to vote after the Civil War, and the suffrage centennial of the 19th Amendment allowing women to vote.
Carter G. Woodson, the "father of black history," wrote the book, The Mis-Education of the Negro, and was the second African American to receive his doctorate from Harvard, after W.E.B. Du Bois. February is celebrated to coincide with the birthdays of Frederick Douglass and Abraham Lincoln.
"This is the most extensive black history program we've had that anyone can remember," Odenwald said. "Our motto, Knowledge for All, was not a reality for many people in the United States until the modern era. John Chavis, a Presbyterian minister, was the first African American to attend a college or university in the United States," entering the College of New Jersey (later, Princeton University) in 1799.
"In 1823, Alexander Twilight became the first known African American to graduate from college in the United States. He received a bachelor's degree from Middlebury College in Vermont. In 1839, Samuel Ford McGill graduated from Dartmouth Medical School. In 1856, Martin Henry Freeman became the first black college president at (Pittsburgh's) Avery College. I hope students coming through SMC can be college presidents one day. We do not have enough minorities in college leadership as our colleges and universities become more diverse."
Odenwald called 2009 the "high-water mark for African American participation in higher education with 2.2 million students. We want to get back to that level. The final name I'll mention, Dr. Rodney D. Bennett, is someone I know. He was the first African American president of a PWI — predominantly white institution. He signed my University of Southern Mississippi doctorate."