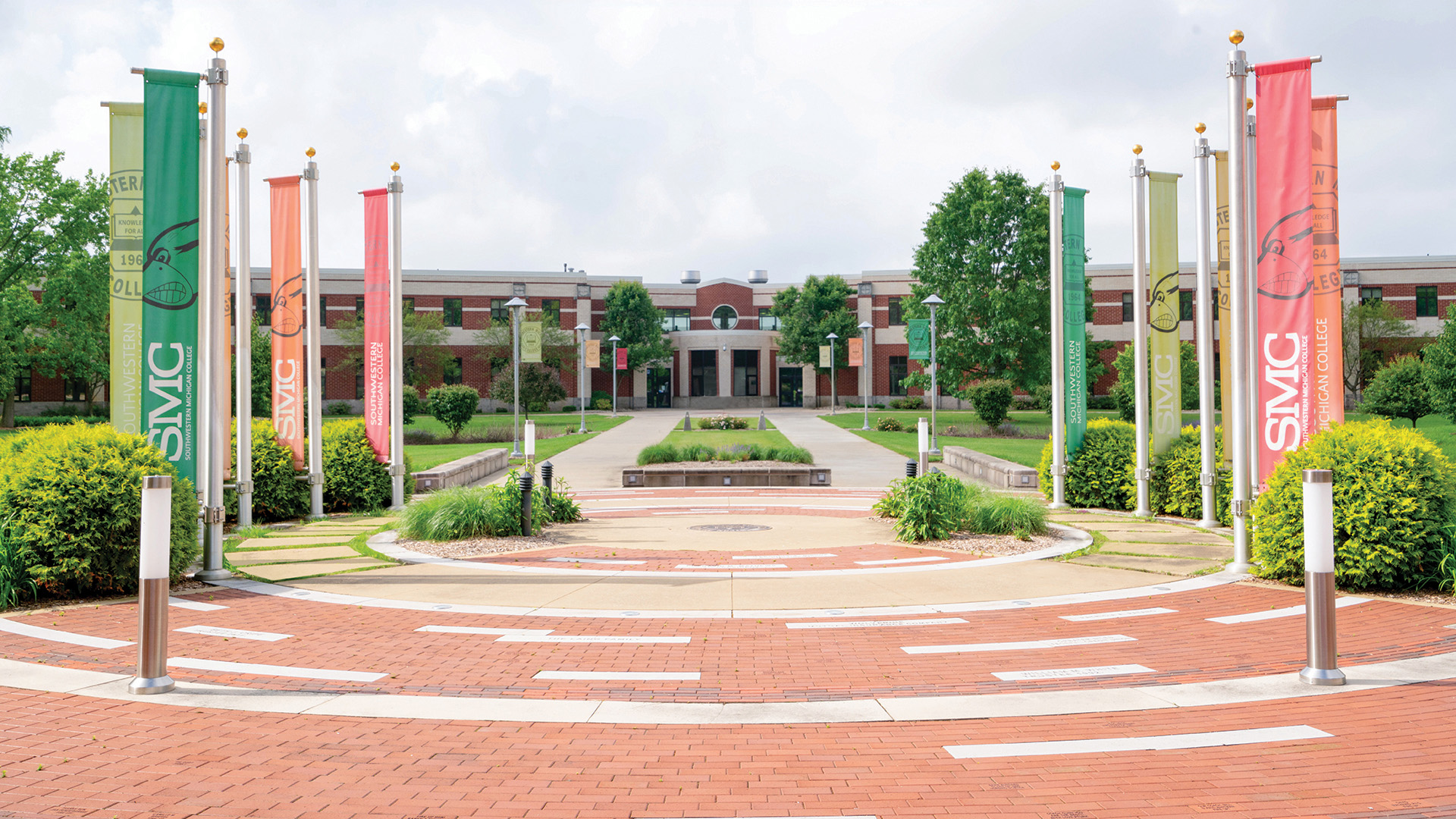 SMC Celebrates Dr. Martin Luther King Jr.
Published on January 18, 2021 - 3 p.m.
As snow swirled, Southwestern Michigan College gathered at noon Monday in Alumni Plaza to celebrate Dr. Martin Luther King Jr. in conjunction with the slain civil rights icon's 92nd birthday.
"This is not the normal way we mark this holiday," President Dr. Joe Odenwald noted. "The last several years we've had a full theatre, films the Diversity Committee and others recommended, with fruitful discussions afterward. Of course, this year our academic calendar is a little bit different. And our circumstances are certainly not such that we can assemble the way we have in the past" due to the ongoing COVID-19 pandemic.
"Nevertheless," Odenwald said, "we wanted to observe today in a solemn and appropriate way."
Vice President of Instruction Dr. David Fleming read excerpts from King's Dec. 10, 1964, Nobel Peace Prize acceptance speech in Oslo.
"So much of what he said seems to be appropriate to what we are experiencing today," Fleming said.
King remarked, "I must ask why this prize is awarded to a movement which is beleaguered and committed to unrelenting struggle; to a movement which has not won the very peace and brotherhood which is the essence of the Nobel Prize.
"After contemplation, I conclude that this award which I receive on behalf of that movement is a profound recognition that nonviolence is the answer to the crucial political and moral question of our time – the need for man to overcome oppression and violence without resorting to violence and oppression.
"Civilization and violence are antithetical concepts. Negroes of the United States, following the people of India, have demonstrated that nonviolence is not sterile passivity, but a powerful moral force which makes for social transformation. Sooner or later all the people of the world will have to discover a way to live together in peace, and thereby transform this pending cosmic elegy into a creative psalm of brotherhood.
"If this is to be achieved, man must evolve for all human conflict a method which rejects revenge, aggression and retaliation. The foundation of such a method is love.
"I accept this award today with an abiding faith in America and an audacious faith in the future of mankind. I refuse to accept despair as the final response to the ambiguities of history. I refuse to accept the idea that the 'isness' of man's present nature makes him morally incapable of reaching up for the eternal 'oughtness' that forever confronts him.
"I refuse to accept the idea that man is mere flotsam and jetsam in the river of life, unable to influence the unfolding events which surround him. I refuse to accept the view that mankind is so tragically bound to the starless midnight of racism and war that the bright daybreak of peace and brotherhood can never become a reality.
"I refuse to accept the cynical notion that nation after nation must spiral down a militaristic stairway into the hell of thermonuclear destruction. I believe that unarmed truth and unconditional love will have the final word in reality. This is why right temporarily defeated is stronger than evil triumphant. I believe that even amid today's mortar bursts and whining bullets, there is still hope for a brighter tomorrow. I believe that wounded justice, lying prostrate on the blood-flowing streets of our nations, can be lifted from this dust of shame to reign supreme among the children of men.
"I have the audacity to believe that peoples everywhere can have three meals a day for their bodies, education and culture for their minds, and dignity, equality and freedom for their spirits. I believe that what self-centered men have torn down men other-centered can build up.
"Today I come to Oslo as a trustee, inspired and with renewed dedication to humanity. I accept this prize on behalf of all men who love peace and brotherhood. I say I come as a trustee, for in the depths of my heart I am aware that this prize is much more than an honor to me personally," King said.