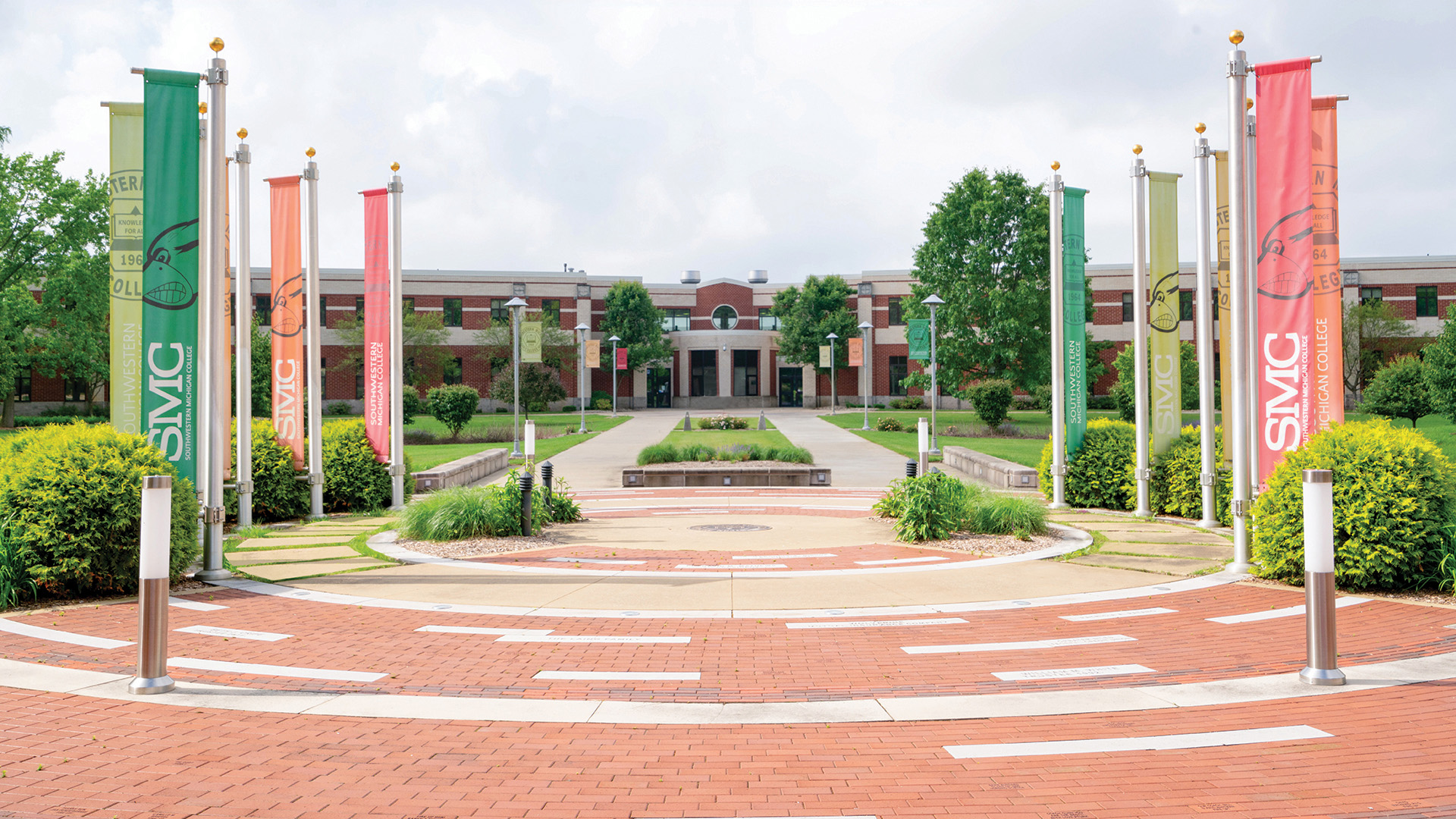 SMC Emphasizing Citizen Engagement
Published on January 25, 2021 - 1 p.m.
Civic engagement means community involvement as well as voting, so Southwestern Michigan College plans to add a service component to clubs. Student development is one of SMC's core values.
"The last couple of weeks have shown us how important involvement and participation are," Dr. Mary Young-Marcks, social science professor, said the morning after Joe Biden's inauguration as the 46th President.
SMC for the last four years participated in National Voter Registration Day, a non-partisan civic holiday celebrating democracy which registered almost 3 million voters on the fourth Tuesday of September since 2012.
"When the law changed in 2018," Young-Marcks said, "voter registration went online in Michigan with no-fault absentee voting, which is basically mail-in voting. That made Michigan one of the states with over 70-percent turnout in November. Indiana was at 61 percent. Lowest in the country was Oklahoma at 54 percent. Minnesota was highest at almost 80 percent."
Young-Marcks and Branden Pompey, assistant director of campus life-clubs and activities, highlighted their 2020 "SMC Votes" initiative for 141 colleagues on a Zoom call Jan. 21 for the college's spring-semester welcome.
"Civic engagement is about getting involved and giving back to the community," Pompey said. "It's not just knowing who the President is, but also the sheriff and council persons because those individuals more directly impact your lives on a daily basis than whoever is in the Oval Office."
Young-Marcks noted that Chokwe Pitchford, 21, a 79th District state representative candidate from Benton Harbor, attended SMC Votes. He made news by being endorsed by 44th President Barack Obama.
A friend of Pitchford's, Ray Bell of St. Joseph, former SMC Council of Clubs vice president, made headlines of his own as a Berrien County Board of Commissioners candidate on a rollercoaster ride underlining that every vote matters.
In November, Bruce Gorenflo was declared victorious after balloting ended tied at 3,934 by drawing the word "winner" from a hat. But a recount swung Bell 10 votes, ultimately awarding the seat to him.
Another SMC Votes event about running for office featured two Dowagiac City Council members, Pat Bakeman and SMC's own Danielle Lucas, whose twin sister, Ronda Sullivan, is the new Dowagiac Board of Education president.
SMC hosted a virtual townhall in October with 78th District state representative contenders Brad Paquette and Dan Vanden Heede.
Young-Marcks defines civic engagement as "working to make a difference in the civic life of our communities and developing the combination of knowledge, skills, values and motivation to make that difference. It means promoting community quality of life through both political and non-political processes. An example of that in Dowagiac is (United Way's) Rake-a-Difference event" or Adopt-a-Highway.
Pompey said the club service requirement was intended for Fall 2020, but delayed until Fall 2021 by the pandemic.
"It's not just what you do here on campus, it's about giving back to Dowagiac, Edwardsburg, Cassopolis or Niles, whether that be cleaning up parks or painting. I challenge everyone from the SMC community to think of ways your department, classroom, club or student organization can connect to SMC Votes and how you can get involved. Strength comes from unity," Pompey said.
SMC utilizes the National Study of Learning, Voting and Engagement (NSLVE) to stay abreast of student voting trends. "We saw an increase in participation" from the mid-term election of 2014 to 2018 (with 2020 data not yet available), Young-Marcks said.
For its efforts, SMC made Washington Monthly's "2020 Best Colleges for Student Voting Honor Roll."
"Community colleges educate 40 to 45 percent of American college students every fall. We do technical and workforce stuff, but we've been comprehensive for a long time," President Dr. Joe Odenwald said. "We need more graduates engaged in public service — especially in political office — to better share our value."
Odenwald related five recent success stories about SMC alumni: Brandywine's Daniel Elrod, who helped develop Pfizer's COVID-19 vaccine; Dowagiac's Christopher Hodshire, who chairs the Asan/Lansing Regional Sister Cities program with South Korea; Tanzania's Susan Mashibe, CEO of VIA Aviation and a World Economic Forum 2011 Young Global Leader; Berrien Springs' Joel Adu-Brimpong, program manager at the Cleveland Clinic Lou Ruvo Center for Brain Health in Las Vegas; and St. Joseph's Tom Ellspermann, an All-American with two of SMC's five national-champion cross country teams before becoming a Whirlpool executive.