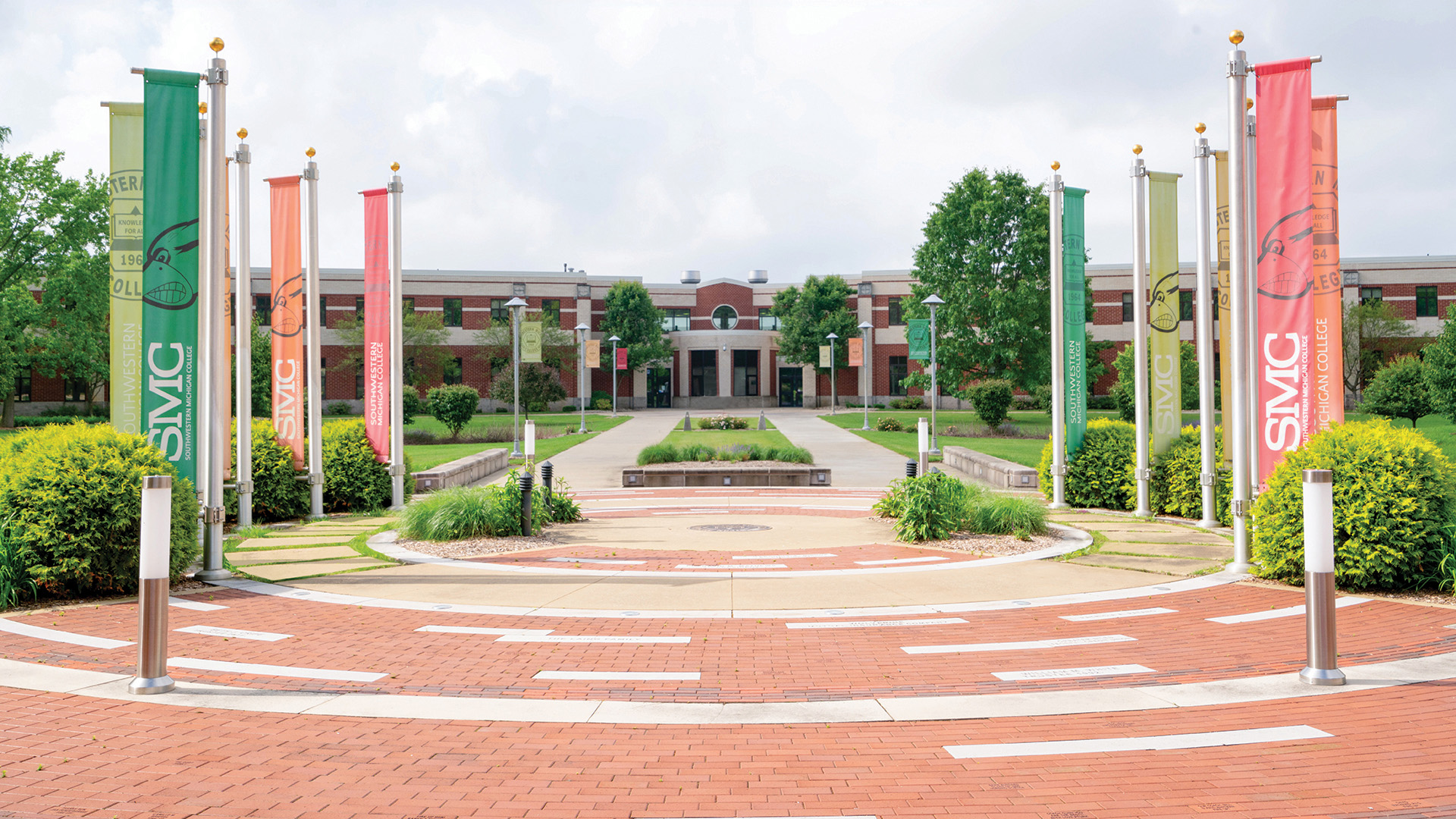 SMC Esports Arena Builds IT and Teamwork Skills
Published on July 19, 2022 - 9 a.m.
Esports, competitive team video gaming, is a billion-dollar industry with live streaming viewership rivaling that of the Super Bowl.
What does that have to do with college life and the academic experience? More than you might think.
Southwestern Michigan College's colorful Esports Arena, which opened in 2021, is a student-centric project that showcases the information technology (IT) program and provides an outlet for students who love computers, gaming and competing.
It also grows hard and soft skills so important in today's workplace. Students develop their communications and leadership abilities while learning project management and programming skills.
According to Assistant Professor Eric Clayborn, the glassed-in lab in the Barbara Wood Building on the Dowagiac campus was a great space to set up the Esports Arena. The important thing to remember, however, is that SMC students who went through the program, in partnership with the college's IT department, built all the computers in the arena from scratch.
"The students wanted to get an esports program going," said Clayborn. "So they built it." The student-led gaming club maintains the arena and is in charge of scheduling space and team competitions.
One of the students who worked on the arena's machines is Adam Frye from Jimtown High School in Elkhart. Frye is the club's president. Under his leadership, the gaming Roadrunners developed a presence in the National Esports Collegiate Conference (NECC), which began sponsoring esports in 2020.
During its first year of play, the NECC streamed more than 400 hours of live action. Since then, game play was seen by more than 8 million people across NECC platforms, including its more than 100 college and university partners.
The conference sponsors both regular season competition and championships across a wide variety of popular titles, including Valorant, Rocket League, League of Legends, Rainbow Six and Overwatch. Frye shared that it's up to the teams and colleges to play against one another and then report the scores.
"Originally," Frye said, "we started with one team. We were able to expand on that this semester and now have a second team of four players for Rocket League. We also have a team of six players for our newest game, Valorant. Hopefully, by next fall, we'll have expanded to have all five games covered by the NECC."
As club president, Frye sets the SMC esports competition schedule and manages scrimmages and communications between the club advisor, athletic director and players. He's also the captain of one of the Rocket League teams, making sure practices are occurring and that the team is playing in tournaments.
"This is my second year at SMC," Frye said. "When I started, I had a friend already attending, Nate Reverman. He had said there was an esports club, which was a big factor in my choosing the college. We knew each other from Elkhart Area Career Center, and because I was studying computer networking there, he asked me to help the club put the esports arena computers together. From there, I became the SMC freshman connection, a special club officer who advertised esports to incoming students. Nate also suggested I would be a great fit as president, so I put myself up for election."
Reverman, who completed his associate degree at SMC, still attends the college as a Ferris State University computer information technology networking major — a path Frye intends to follow this fall.
When Frye came to SMC, Reverman was serving as the esports club president. He had succeeded charter resident John Monnin, who graduated SMC and transferred to Purdue University.
"The great thing about SMC esports is that you develop skills beyond video games," said Reverman. "Between talking about the club, working with NECC and other colleges, and managing the games, I think I've done more public speaking than I've done in my entire life."
While Reverman, who was a Keith H. McKenzie Hall resident assistant and dean's list student, loved participating as an esports team member, he acknowledges that coursework should always be a student's main focus.
"Sometimes, as much as we love playing games and competing," he said, "we have to stop and remember that school comes first. We want all of our members to do well in their classes."
As far as membership goes, the esports club is open to any SMC student maintaining a 2.0 or higher grade-point average. Both Frye and Reverman explained that if all a student wanted to do was come into the arena and play, they could. The club is a balance between competitors and casual members, and it's all part of charting one's own course at SMC in preparation for a career.
"The hands-on experience with information technology is especially important," said Clayborn, "because IT touches so many areas — health care, business, education. At SMC we offer help desk, networking and system administration degree tracks, and students can go anywhere based on their skill set within IT."