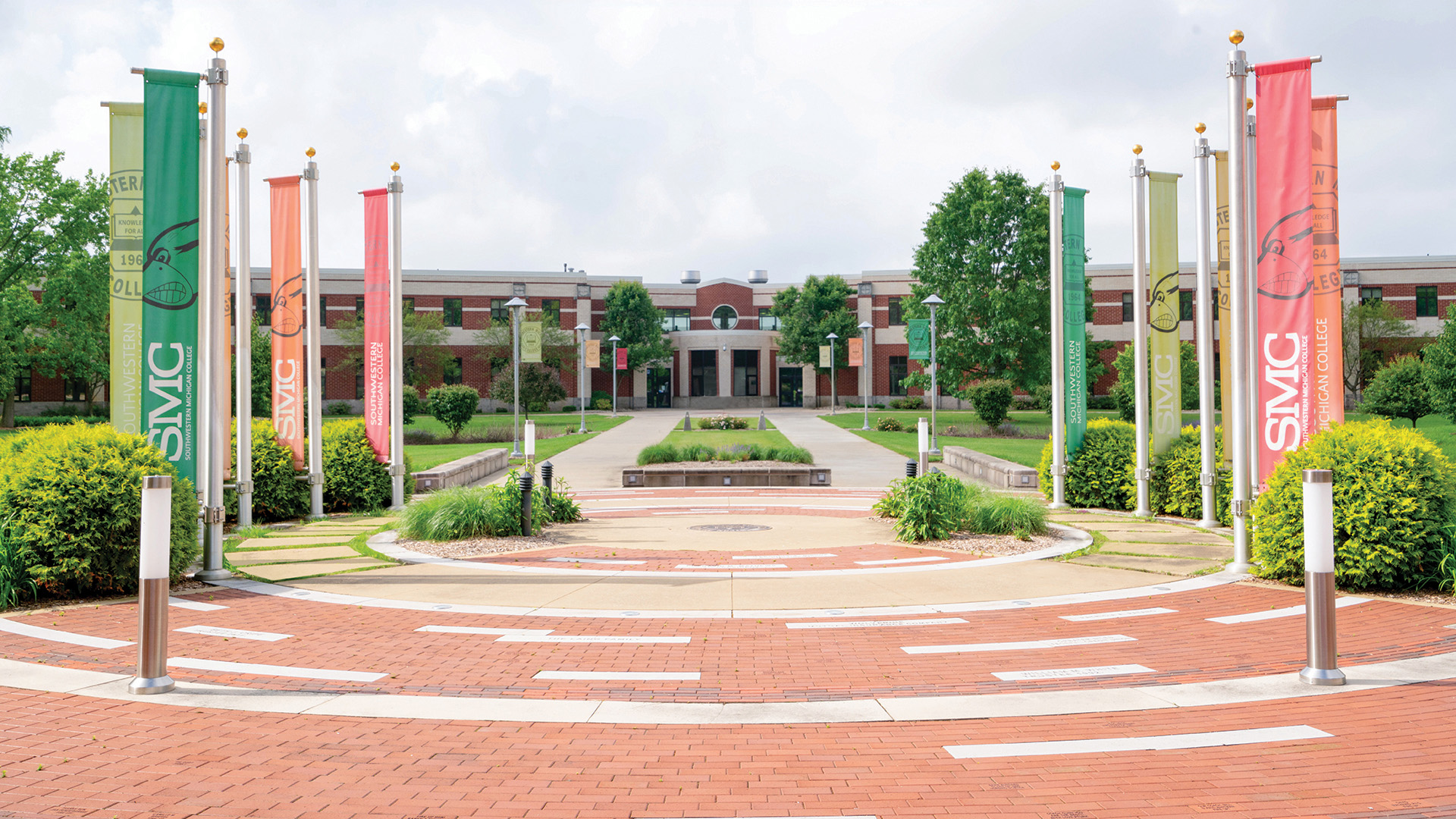 SMC Hosts Master Class with Orchestra's Principal Flutist
Published on September 9, 2020 - 3 p.m.
A flute master class is a music lesson with an audience.
Kathryne Salo of Lansing, Southwest Michigan Symphony Orchestra principal flutist, was in her familiar teaching role March 13 in Southwestern Michigan College's band room.
With her gold flute close at hand, the Louisiana native worked with Emily Chase of Buchanan on Felix Mendelssohn's "Song Without Words," Eva Perez-Gonzalez of Brandywine on Philippe Gaubert's "Fantasie" and Christina Gibson's SMC flute choir on "Simple Gifts" arranged by Ricky Lombardo.
Gibson's quintet consisted of three C flutes (Perez-Gonzalez, Taylor Masse of Stevensville and Kaitlyn Williams of Berrien Springs), an alto flute in the key of G (Skylar Hicks of Eau Claire) and a bass flute (Jasmine Kadlec of Cassopolis), which plays one octave lower.
"The musical community is often tight-knit, as most musicians of all levels are eager to share their experiences, talents and expertise with one another. The setting of a master class is a perfect demonstration of such a collaboration," SMC Director of Bands Mark Hollandsworth said. "These educational/instructional settings allow for an enriching dialogue, critique and demonstration to occur in a relaxed and mutually beneficial environment."
"At SMC," Hollandsworth added, "we are constantly seeking out opportunities to expose our students to top-level talent through campus and community outreach events, such as this master class."
Salo wrapped up with a performance of her own on excerpts from the three-movement Ibert Flute Concerto, first performed in Paris in 1934.
Salo has been with the SMSO and the Lansing Symphony Orchestra on piccolo since 2017. Her Doctor of Musical Arts (DMA) is from Michigan State University.
She also earned degrees from Louisiana State University (bachelor's), London's Royal Academy of Music (master's in music performance) and the University of Tennessee (master's in flute performance).
Salo taught at MSU, is Instructor of Flute at Kellogg Community College in Battle Creek and teaches privately at the Ada Conservatory of Music.