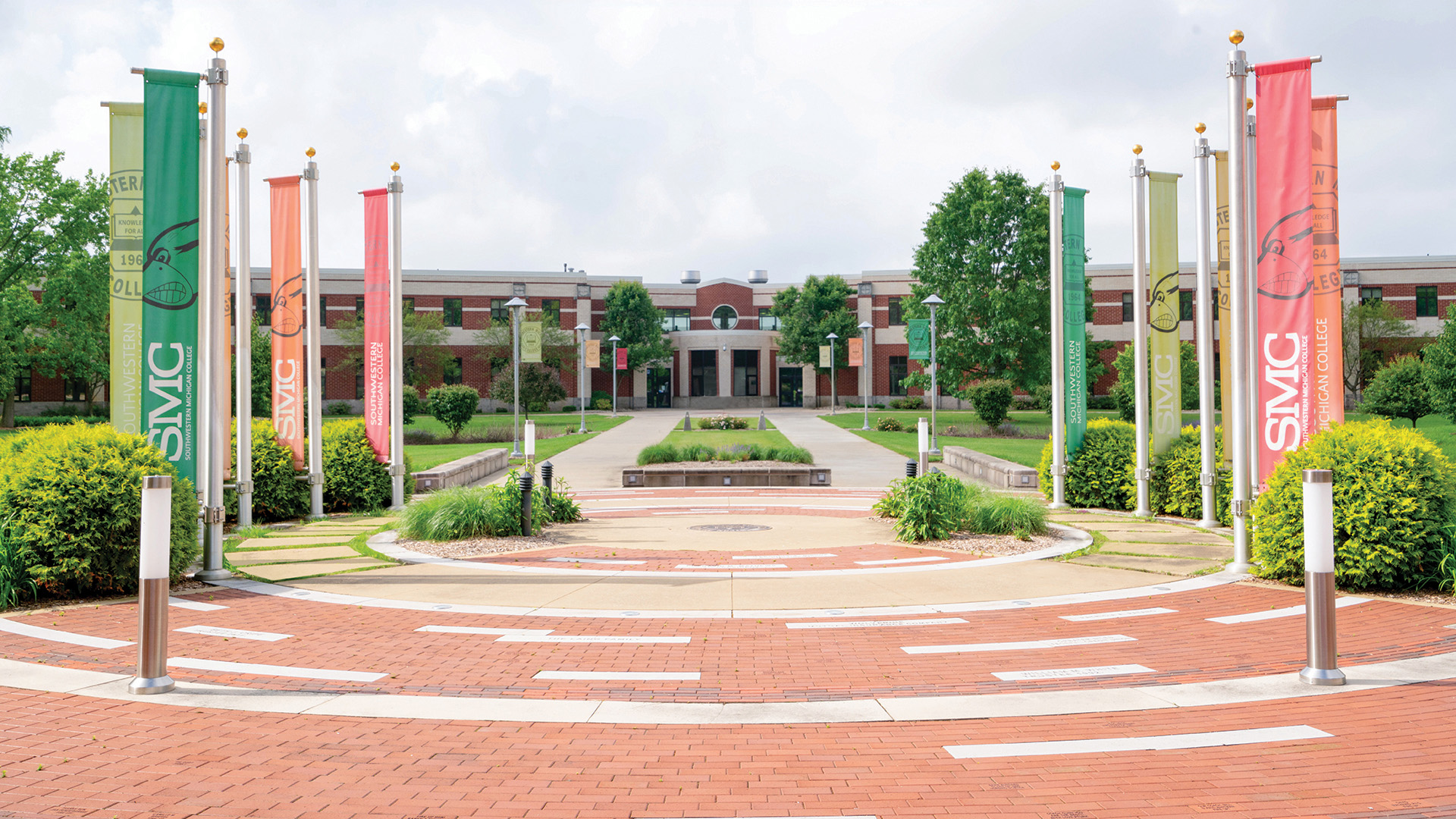 SMC Jazz Ensemble Pops Up Ahead of Virtual Fall Concert
Published on October 27, 2020 - 4 p.m.
Plans for an open-air pop-up concert popped like a soap bubble Oct. 27 thanks to rainy, 39-degree weather, but live music won the day anyway.
Mark Hollandsworth's Southwestern Michigan College Jazz Ensemble set up indoors on the theatre stage in the Dale A. Lyons Building and rehearsed a four-song set that started out to feature a Halloween theme.
Hollandsworth realized, however, "There aren't a lot of Halloween jazz standards," so he improvised — probably to Barbra Streisand's dismay — by including Stephen Sondheim's "Send in the Clowns."
"Some people are afraid of clowns," he figured.
On Friday, Oct. 30, the Jazz Ensemble, Symphonic Band and Flute Choir, as well as David Carew's vocal groups, will be recording a virtual fall concert that will be posted the following Friday, Nov. 6.
A highlight will be the debut of Hollandsworth's instrumental arrangement of SMC's alma mater, "Here's to Thee, Our SMC," which former choir director Dr. Robert Briggs wrote in 2005.
Select Voices performed the alma mater for the Jan. 16 reception welcoming Dr. Joe Odenwald as the college's eighth president. It was sung again by a sextet of students and faculty during the virtual 53rd commencement June 13.
"We're going to record that in layers," the band director said, with the instrumental part laid down first, then the choir singing over it.
Jazz Ensemble opened with "Stolen Moments," followed by "Clifford" and "Send in the Clowns" featuring Penn High School product Nick Falace out front on flugelhorn and Sarah Wold of Cassopolis on piano.
"The sax line and rhythm section are completely new from last year," Hollandsworth said. "The trumpets are all returning except for Nick (although Chase Ehlert from River Valley played valve trombone)."