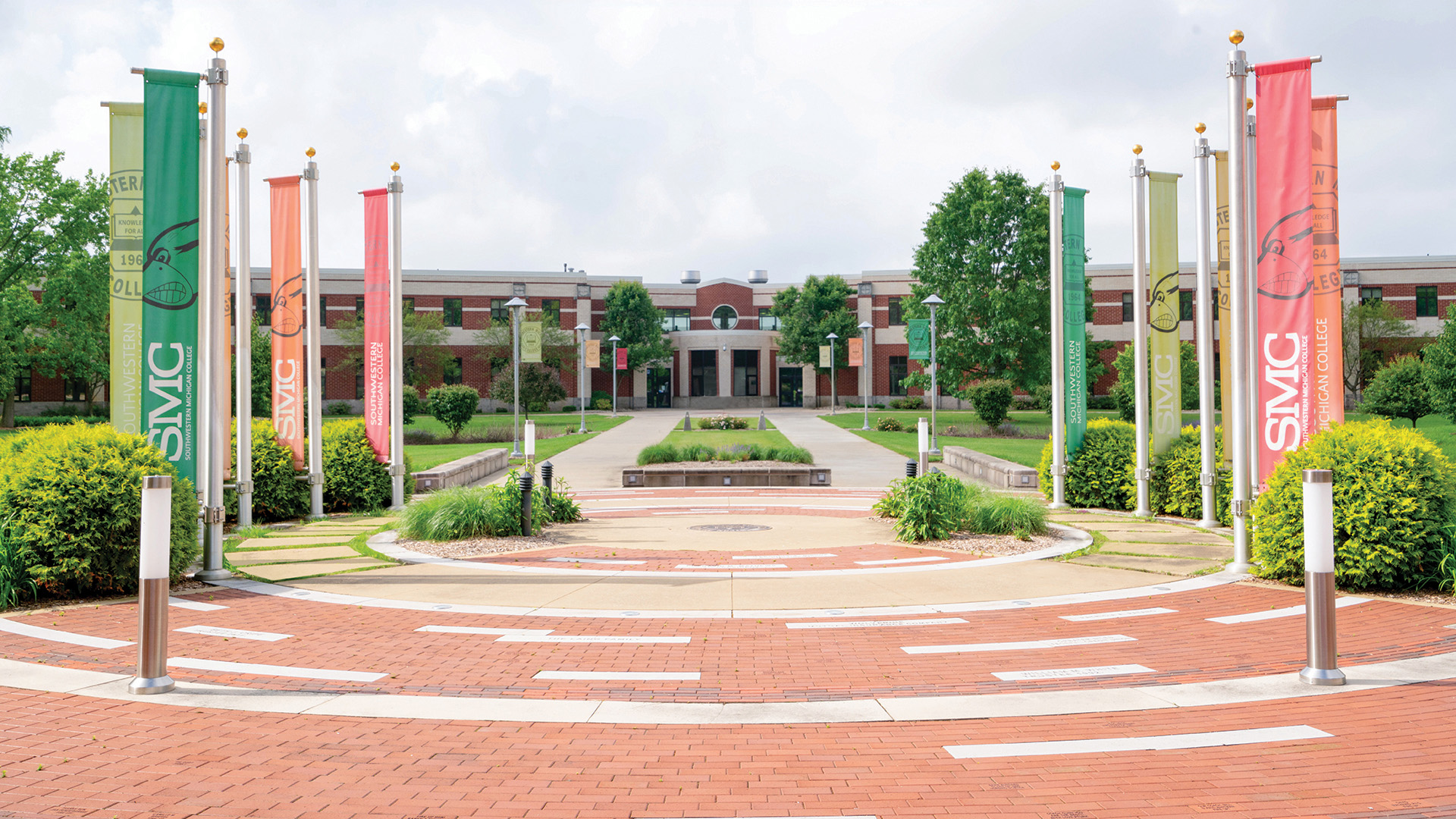 SMC Launches Its New 'Virtual Storefront'
Published on October 16, 2020 - 9 a.m.
A new virtual era for Southwestern Michigan College launched with October's debut of its redesigned web site.
A team of 10 employees, with input across all departments, began work more than a year ago, relying on the latest technology with enhanced security features to provide a better overall experience for all users, including prospective students, current students, staff, parents, alumni and community taxpayers. Modernizing the college's face — the first major overhaul since 2014 — should better position SMC for enrollment challenges ahead.
"I'm very proud of our web team," Vice President of Enrollment and Student Development Mike O'Brien said. "Everyone understood the importance of building a site that is attractive and easy to navigate, but also flexible and adaptable for future needs. They worked steadily through a challenging time, and met our projected launch date. Debuting a new 'virtual storefront' is an important milestone for the college."
The project, led by the Marketing Department working closely with the Office of Information Technology (OIT), would be a tremendous accomplishment even without challenges posed by the coronavirus pandemic closing campuses in March, forcing employees to work remotely all summer.
Even while social media grows in use, web sites retain their status as the first place prospective students go to explore a college, where community members find out about services and events and where alumni check in on what's happening at their alma mater.
Emphasis was placed on brand focus for consistent messaging; more visuals, including photographic slideshows; and creating easy-to-navigate paths.
"Nothing should be more than two to three clicks deep, and we've accomplished that. We've kept ours clean and simple. The old site wasn't super intuitive or designed for a specific audience. We took the opportunity to really optimize it as our primary recruiting tool, so prospective students can get information they need about the college quickly and easily," said Rachel Breden, who served as Marketing's point person, working in tandem with her OIT counterpart, web developer Diana Litaker.
Arrayed across the bottom of the home page are portals tailored to various audiences, including current students, parents, community, alumni, the SMC Foundation and the Niles Campus.
The community section, for example, encompasses Board of Trustees agendas and minutes for taxpayers to peruse, as well as how to go about joining the fitness center, enrichment courses and employment opportunities.
The previous web site was constructed with Drupal 7, an open-source option that will no longer be supported by the developer community after 2020. Migrating to Drupal 8 would have required a total rebuild without relieving OIT of time-consuming security patch updates. The new system will free up time from maintenance and allow OIT to tackle other modernization projects.
The previous site had been physically hosted on the Dowagiac campus, making it subject to internet service outages and limiting scalability and speed to the hardware available at the college. With the update, the web pages are hosted off-site, which allows for better security, fire suppression and backup capability.
For a web site to remain current and easily adaptable, it needs a framework known as a Content Management System, or CMS. The CMS is the software that powers this skeletal structure, allowing users to interact with digital content.
SMC sent requests for proposals to 13 CMS providers. Three declined, including both providers in Michigan, leaving 10 to consider. After a lengthy review process, the college selected TerminalFour as its partner. TerminalFour, founded in 1996, has offices in Boston and San Diego and specializes in providing content management to more than 220 educational institutions around the world.