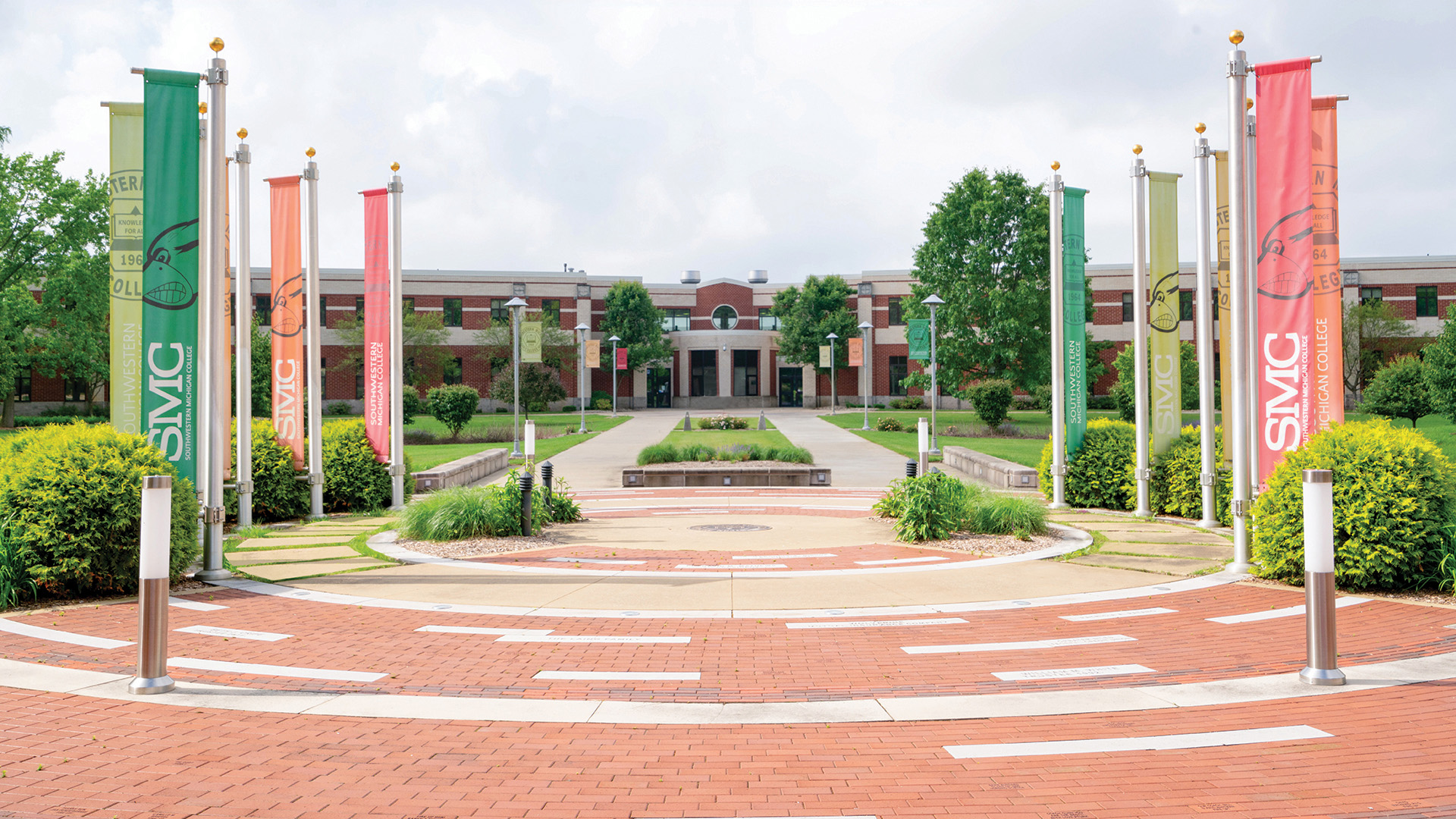 SMC Mascot Ronnie Roadrunner Going Green
Published on November 12, 2020 - 10 a.m.
With Southwestern Michigan College rejoining the National Junior College Athletic Association so its five-time national champion cross country team can run again in Fall 2021, SMC's mascot, Ronnie Roadrunner, is going green.
Brian Bekins of DDM Marketing and Communications, Grand Rapids, helped design Ronnie's new look after meeting with Vice President Mike O'Brien and Marketing Manager Michelle Orlaske.
"There are two versions of the new mascot," Orlaske said, "the official version for athletics and a more animated version that will be used for student activities and club sports. The Ronnie Roadrunner mascot suit will be based on the more animated version."
"We requested a few things for the new design," she said. "We wanted to move away from orange in the previous version to green and gold. The intention was to represent the college's school colors, rejuvenating school spirit. The logos also had to include the same characteristics as an actual roadrunner," Orlaske continued. "This was achieved through the more streamlined body, turned-down beak, elongated tail, plume on top of the head and slimmer legs with claw-like feet. We also wanted the bird to show some determination and fierceness, but not be overly mean or angry-looking."
A variety of sketches and depictions of the character have been used by the college since adoption of the roadrunner as mascot in March 1968 after 250 students voted, with Chargers second. Some paid homage to the fast-running ground bird who always got the better of Wile E. Coyote in Warner Bros. cartoons.
A Feb. 1, 1995, Southwester headline proclaimed, "Roadrunner spotted, but no coyote." Future president Dr. Marshall Bishop, then vice president of instruction, said people dubbed him "Big Bird" the first time he tooled around campus in the costume.
The brown outfit with yellow tights, now enshrined in the History Gallery adjacent to the bookstore, was not the 1969 Sesame Street canary. The SMC Foundation purchased the suit, which arrived in late December 1994. Gloria Cooper, director of public information, reported SMC's first-ever mascot costume was acquired from Burros Productions Inc. in Minnesota.
The eight-foot character was visible at home basketball games, county fairs and parades such as Blossomtime and Niles' Four Flags Area Apple Festival. "The mascot will also be seen at various functions where SMC is asked to be represented," said Bishop, the chemist who served as SMC's sixth president from 1998-2001.
The first student to inhabit Ronnie, Kim Kidman Robison, 45, was a journalism student after graduating from Dowagiac Union High School in 1994. The Family Fare employee recently returned to SMC to study Health Information Technology (HIT) at night after qualifying for a Futures for Frontliners scholarship.
Five years with Great Lakes Eye Care in St. Joseph processing health claims inspired her return. She wears a Hamilton bracelet inscribed with "I am not throwin' away my shot" to remind her to keep her eye on the graduation prize.
The Southwester described Robison, who signed autographs, passed out pencils and ran the bases with South Bend mascot Covey, as the "well-known Roadrunner" while reporting on SMC Night at Stanley Coveleski Regional Stadium on July 10, 1995. SMC exhausted its 1,000-ticket allotment for that night and requested 50 more.
Coach Ron Gunn threw out the first pitch. The SMC Men's Quartet sang the national anthem as the Class-A Midwest League team beat the Quad City River Bandits.
Robison, a 6-footer, remembers sliding across the Zollar gym floor on her belly during basketball games while the pep band played "Wipe Out."
"I had fun because no one knew who I was," Robison said. "That was the best part. I had been quiet and shy. This was a whole new world for me."
Her husband, Randy, ran cross country for Gunn. They married in January 1998. He joined the Army, sending them to Georgia. Robison worked security at the University of Notre Dame for 10 years, 2004-2014.
She comes from an SMC family. Her parents attended SMC, as did daughter, Jessica, 20. Her grandma, Jewell Kelso, became an LPN at 50 and worked at Silverbrook in Niles when Kim visited as Ronnie.
Ronnie's name persists because it's not gender-specific. It could be short for either Ronald or Veronica, since many women have worn the costume.
Staff accountant Breanna Rees not only dressed as the "fierce" bright orange second version of Ronnie, but worked for the South Bend Cubs, portraying both Swoop and Stu D. Baker.
Robison is not the only Ronnie who met her spouse at SMC. Zack Creager met Kayla Ellard in math class and proposed in Alumni Plaza. When she graduated in 2015, the towering bird escorted her across the stage to accept her diploma from President Dr. David Mathews because she had worn the suit.
Merchandise emblazoned with the new Ronnie will be available starting Nov. 12 at the on-campus bookstore and at shopsouthwestern.com.