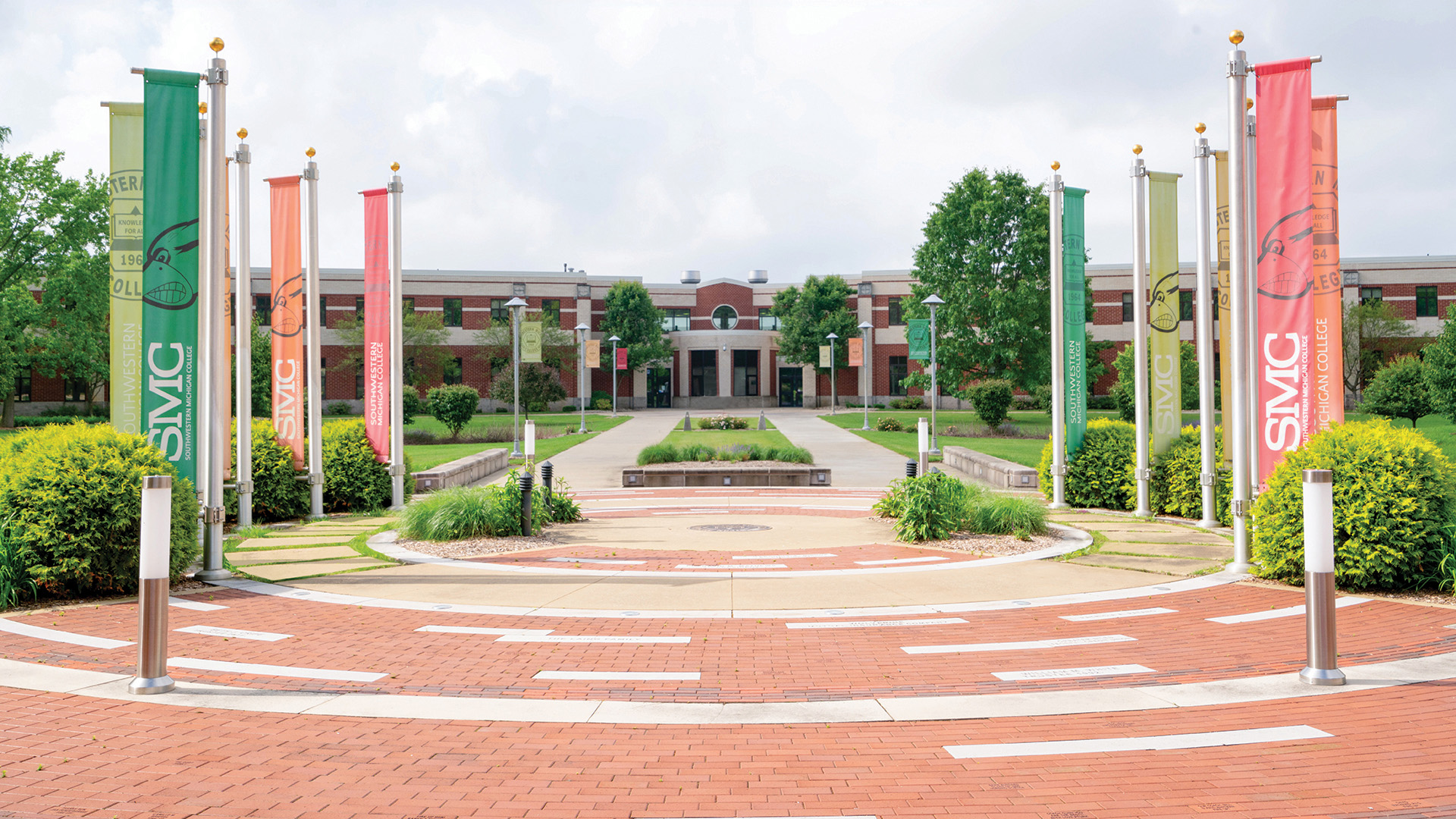 SMC Pins 21-Member Nursing Class
Published on May 3, 2022 - 3 p.m.
Southwestern Michigan College April 30 welcomed 21 new nurses to America's largest health-care profession with almost 4.2 million registered nurses (RNs) nationwide. There are four times as many U.S. nurses as there are physicians.
The Class of 2022 received associate degrees in nursing (ADN) in a pinning ceremony following SMC's 55th Commencement in the theatre of the Dale A. Lyons Building on the Dowagiac campus.
The class joins the ranks of 3,155 SMC nursing graduates.
"I'm so proud of each and every one of you, and so excited to officially welcome you to the nursing profession," School of Nursing and Health Services Dean Dr. Melissa Kennedy said. "One picture in the slide show of a hurricane didn't look like it belonged, but there's a reason it's there. I started at SMC 11 years ago as an adjunct instructor. That's 21 graduating classes I've seen come through. You guys make my 22nd.
"Let me tell you, with love, you will never be forgotten. Do you know what happens when a tropical wave meets warm water? A hurricane. Seated before you now are 21 tropical waves. While some of these tropical waves began their swell one or two semesters before the others, when they all came together and entered the warm water of nursing school, a hurricane formed, the Hurricane Class of 2022, which has been raging for two years.
"I think I speak for all the faculty when I say this class does nothing without passion, candor, ferocity and, just like a hurricane, everyone can see their path."
Turning to their families in the audience, Kennedy added, "But I'm not telling you anything you don't know, right? They were your tropical waves before they became our tropical waves. We didn't create them. Graduates, it's time for the storm to calm. In a few short weeks you will all be sitting for the NCLEX, the most high-stakes exam you will ever take. Be calm, because once that exam is over, you will be the ones called to calm the storm. The tropical waves of birth, the tropical waves of loss, the tropical waves of cancer, trauma, mental illness, anger, grief and joy."
Graduates include: Madeline Beauchamp of Benton Harbor, Melanie Becker of Niles, Skyelar Burlingham of Niles, Tamisha Carroll of Niles, Amanda Deming of Marcellus, Jennifer Eckerley of Osceola, Jenifer Gomez-Giraldo of Hudsonville, Julian Gordon of Vandalia, Erin Hanlin of Niles, Cheryl Hoffman of Middlebury, Madison Holzapfel of Benton Harbor, Dillon Hursh of Edwardsburg, Ashley King of Niles, Zachary Kruse of Goshen, Courtney Latsch of Watervliet, Ashlee Low of Niles, Elisa Rahasimanana of Berrien Springs, Amy Steinkraus of Marcellus, Sydney Stephenson of Niles, Andrew Waite of Kalamazoo and Rebecca Woods of Niles.
Sydney Stephenson was presented a Lamp of Knowledge by Associate Professor Rona Goodrich in recognition of the peer-selected Florence Nightingale Award, which embodies selflessness, compassion, thoughtfulness, team play, dependability, generosity and humility.