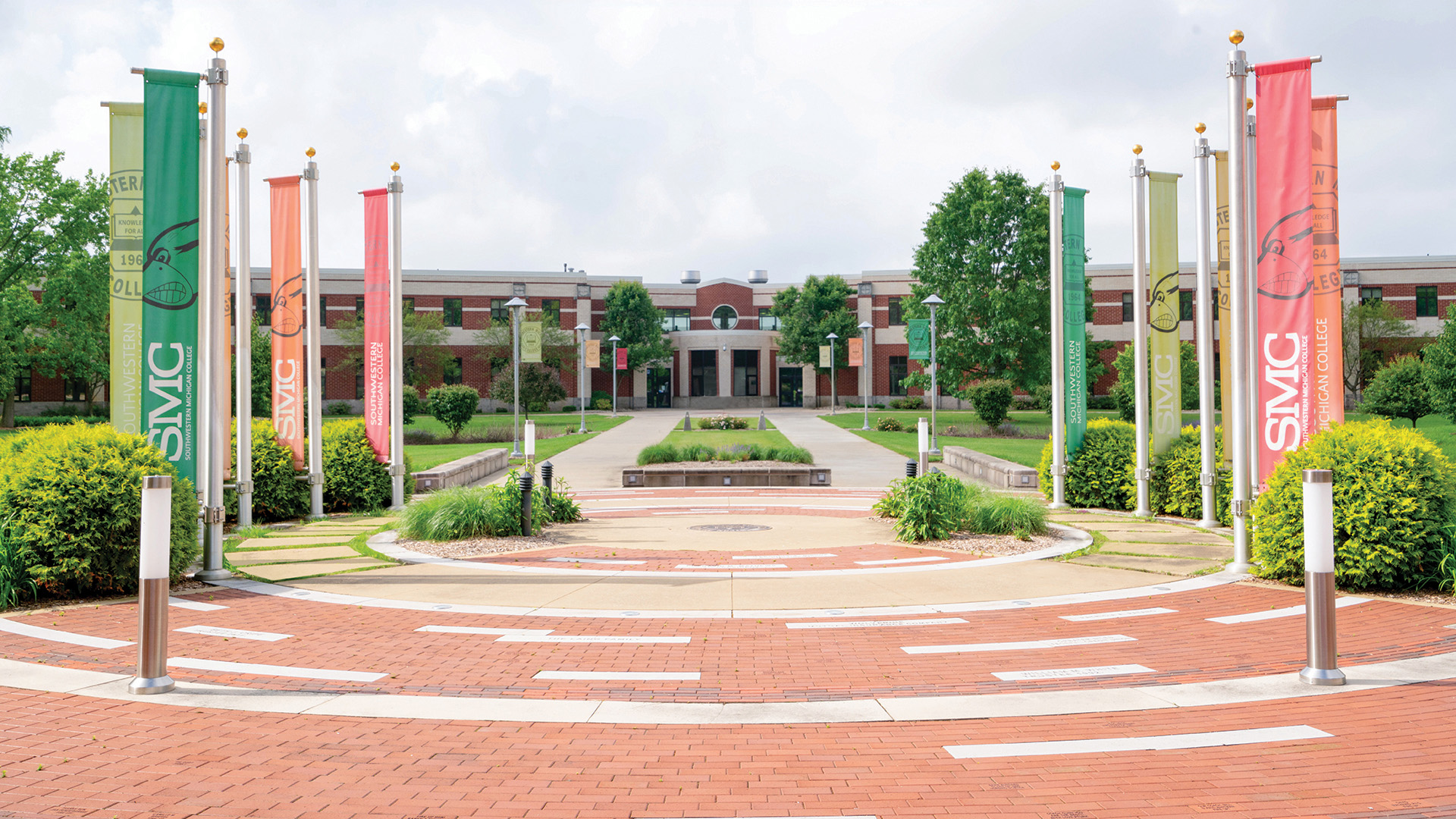 SMC Veteran Taking His Next Shot in Ivy League
Published on July 27, 2022 - 3 p.m.
When Thomas Bentley graduates from Southwestern Michigan College in the spring, his next stop will be New York City. Columbia University has accepted him for Fall 2023.
The 33-year-old Army veteran came into his own in the classroom at SMC despite the global COVID-19 pandemic.
"It came about because of Phi Theta Kappa," the two-year college honor society which inducted him in April. "I had no clue the doors it would open," Bentley said.
The entrepreneurship major saw himself transferring to Western Michigan University for his bachelor's degree in creative writing or strategic communication.
"When I saw an Ivy League school recruiting me, I was surprised," Bentley said. Especially since Columbia in 2021 ranked as the most difficult school to get into with a 3.9-percent acceptance rate. Stanford, Harvard, MIT, Princeton, Yale, Brown, Duke, the University of Pennsylvania and Dartmouth College complete the toughest top 10.
America's fifth-oldest university ranks second for most Nobel Prize laureates. Columbia's notable alumni range from Barack Obama, Amelia Earhart, Lou Gehrig, Warren Buffett, Art Garfunkel and Isaac Asimov to Hunter Thompson, Gene Roddenberry, Alicia Keys, Jake Gyllenhaal, Amanda Peete, Chelsea Clinton, Casey Affleck and Julia Stiles.
Columbia also "has a program that caters to non-traditional students," he said. "I served five years in the military in Germany, did a tour in Afghanistan and worked in corrections in the Ann Arbor area once I moved home. My boot-camp facility closed, so it was the time to do it. I used GI Bill benefits to attend here.
"The pandemic started when I came to Southwestern, so I had nothing better to do than study, I stayed focused on what I was doing and started performing well," achieving President's List for Fall 2020, Spring 2021 and Fall 2021.
Feeling confident with his straight-A grade-point average, Bentley decided to "give it a shot" and recruited recommendation letters, including SMC President Dr. Joe Odenwald.
"I knew whatever I sent, I needed quality, so I tried the president. I reached out to his office, set up an appointment and sat down with him. He was very generous to allow me time to talk to him. I don't know where I got that boldness from, but I figured why not try?"
Bentley penned an essay for his admission to study creative writing, "which is what I'm strongest at. I love writing everything from poetry and stories to music lyrics. That was part of my pitch in my essay. I wrote most of it in rhyme to separate myself, which was an unconventional gamble, but I gave it a shot."
Bentley credits discipline instilled by his military service for his burgeoning academic success.
"I was not an exceptional student in my younger years," he admitted. "I flunked out of college twice, so I'm grateful for SMC, which is serene and calm, not overwhelming. It's what I needed to stay focused. When I went before I paid attention to all of the wrong things. I wasn't open to learning topics that didn't interest me. The military taught me structure to delay that gratification of doing what you want to do to do what you have to do. That's the difference maker. I was an infantry mortarman, which taught me how to push through challenges."
"I wouldn't have been able to do this without SMC," Bentley said. "I liked the way SMC handled the pandemic. Some schools, I probably would have dropped out. Me ending up here is what needed to happen for all this to be possible."
Bentley lives in Mattawan with his sister's family, but he is originally from Vermontville, a mid-Michigan Eaton County village. He graduated from high school in 2007.
"I've loved SMC. Every teacher I've had here has been wonderful. I've had a really good experience," said Bentley, who has yet to visit New York City. "When I came here my goal was simply to pass. I did not expect to excel, but I've been a drill instructor, constantly harping on people to do tasks, so I've got my own drill instructor in my head telling me not to miss deadlines. I'm not highly intellectual, I just work really hard and I'm punctual. My uncle told me the older you get, the smaller your window of opportunity gets, so you have to take your shot. I thought Columbia was the wildest shot I could take."