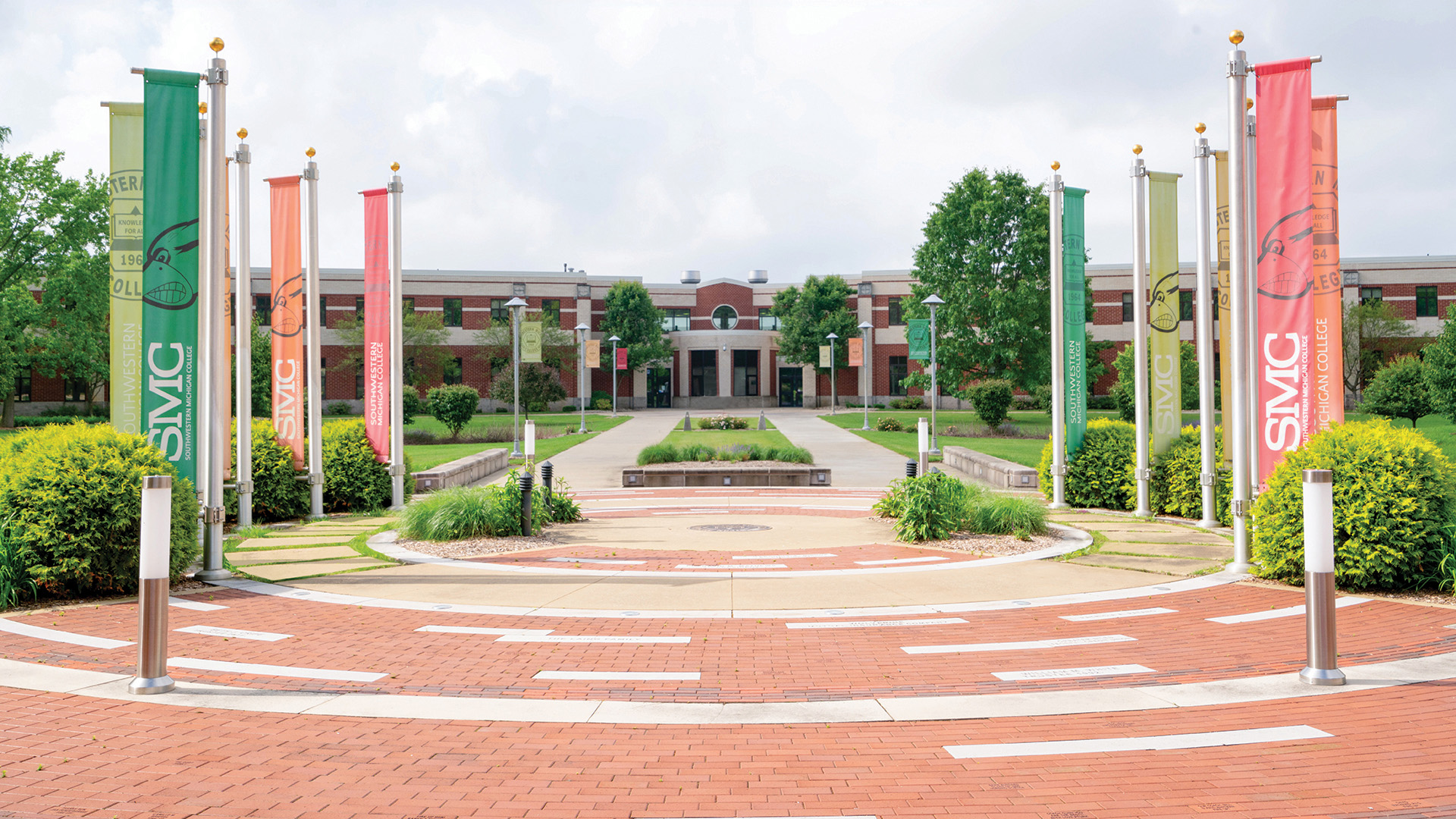 SMC Welcomes Jenny Nate as Volleyball Head Coach
Published on December 21, 2021 - 3 p.m.
Southwestern Michigan College announced today that alumna Jenny Nate has joined the athletic department as Head Coach, Women's Volleyball.
The NJCAA approved SMC's return to intercollegiate athletics in late 2020. In May 2021, the SMC Board of Trustees authorized the revival of Men's Basketball, Women's Basketball, Volleyball and Wrestling for Fall 2022. SMC, which will compete as a member of the Michigan Community College Athletic Association (MCCAA), also just completed a successful return season of Men's and Women's Cross Country, with both nationally-ranked teams finishing fourth in NJCAA Region XII.
Nate will be working with Athletic Director Rodell Davis, Senior, and the other head coaches to rebuild SMC's athletic department, establishing policies and procedures to ensure compliance with all NJCAA and MCCAA regulations, consulting on the construction of 1st Source Bank Fieldhouse - home of the Roadrunners - and recruiting players to compete for championships.
A native and current resident of Niles, SMC's new head coach was a "triple threat" while a student at Niles High School, earning SMAC All-Conference honors in volleyball, basketball and softball. Nate continued playing basketball and was captain of the volleyball team at Lake Michigan College, where she completed an associate degree. In 1997, she earned a certificate in medical transcription from Southwestern Michigan College and followed that in 2001 with a BA in Secondary English from Western Michigan University.
Nate teaches English at Niles High School and has served as Varsity Volleyball Coach for the last ten years. During that time, her teams have been some of the best in school history, winning three conference championships, two district championships and two regional championships, with two visits to the state quarterfinals. She was named Class B Coach of the Year for the State of Michigan by Volleyball Insider in 2017 and was the Region 10 Coach of the Year in both 2012 and 2017. This past season, Nate's Vikings finished with a record of 48-9, and she won 2021 Wolverine Conference Coach of the Year.
In the offseason, Nate coaches the 17 Teal Elite team for the Dunes Volleyball Club of LaPorte, Indiana. She has also coached with Krush VBC and Southwest VBC, and has served as a YMCA basketball coach, Niles Nitro travel softball coach and MHSAA volleyball referee.
"We could not be more pleased to have Coach Nate on board," said SMC President Dr. Joe Odenwald. "It was evident from the minute we met that she has tremendous energy and enthusiasm for the sport. She will build a program based on a culture of positivity, teamwork, work ethic, determination and grit. I can't think of a better role model for future Roadrunners and the young women who play for her will benefit their whole lives from the experience."
"I am excited to have Coach Nate joining the SMC family as our new Head Women's Volleyball Coach," said Davis. "Jenny brings a wealth of experience as both a student-athlete and a coach. As we looked to fill this position it was clear from the beginning that she possessed all the qualities we were seeking. Having a chance to watch her coach in person was a huge factor in our pursuit of her to lead our program. She really connected with her young ladies and provided sound leadership. As an educator she understands the importance of academics and will push her team to be high achievers in the classroom."
"I am honored and excited to be the Southwestern Michigan College Volleyball Coach," Nate said. "When I heard the news that SMC was bringing back sports after 25 years, I was thrilled. This is an amazing opportunity for our athletes and our surrounding communities. I have loved my 10 years coaching at Niles and have always said that our area has some of the best volleyball talent in the state; now, I can continue to help my former Niles players, as well as all of the area athletes, compete at the collegiate level, and most importantly, get started on their college academics."
Students interested in playing volleyball at SMC should contact Coach Nate through the recruiting form at swmich.edu/athletics.