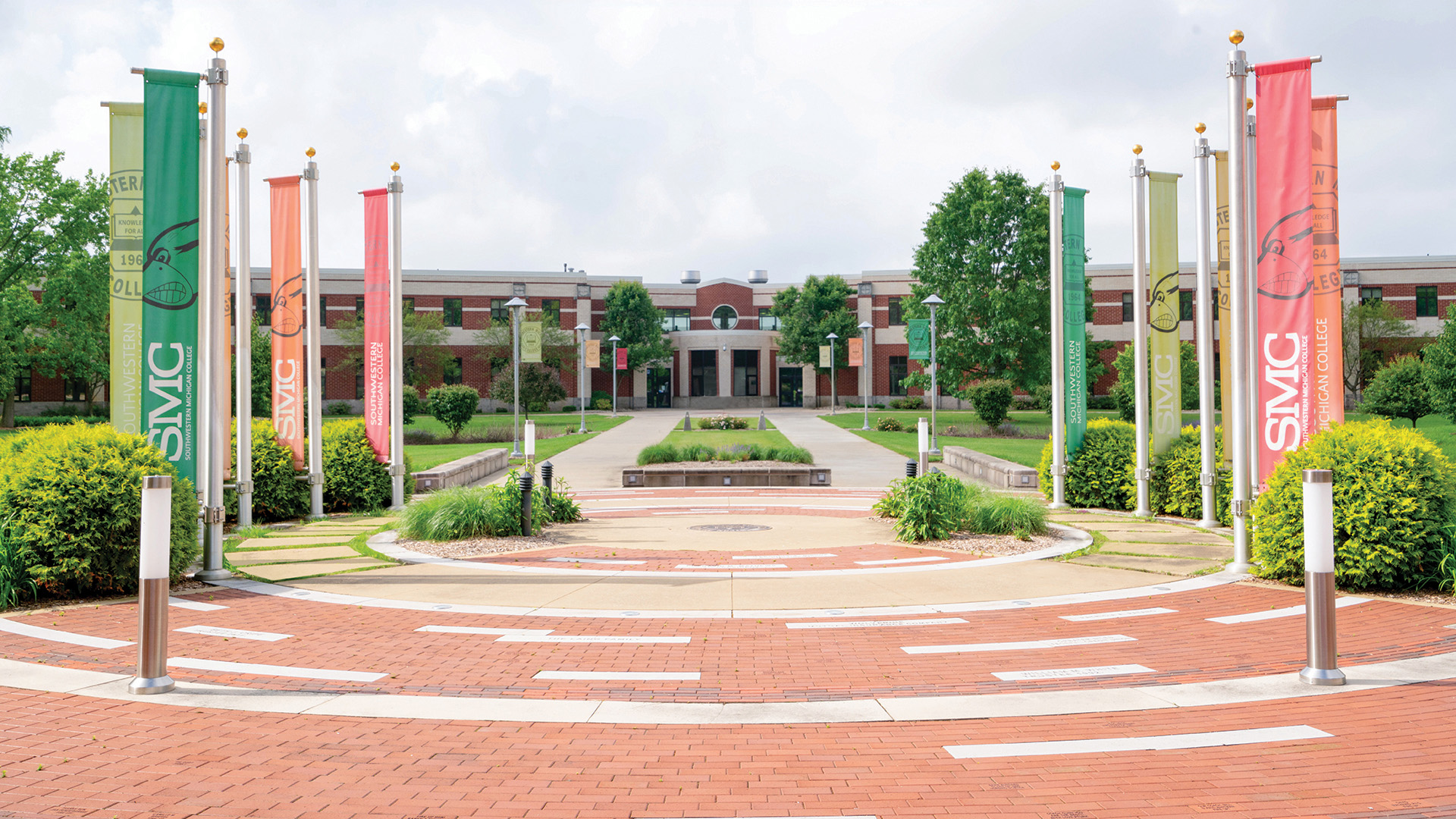 SMC's Art Gallery Temporarily Transformed into a Movie Theatre
Published on September 11, 2020 - 11:30 a.m.
Overstuffed chairs in the darkened back gallery and popcorn smells wafting through the front gallery and into the Dale A. Lyons Building hallway signaled Southwestern Michigan College Art Gallery's temporary transformation into a movie theatre.
"Film, to be determined," featured 37 culled from the Fred L. Mathews Library collection and posters and storyboards created by ART 210 Drawing II students.
"Run Lola Run," a 1998 German thriller directed by Tom Tykwer, was dissected at the reception on the last day March 12 by Associate Professor Dr. Maria DeRose, who teaches Introduction to Films and Great American Films. Her doctorate is in popular culture/gender and women's studies.
DeRose's "cultural context" included how Lola fit March as Women's History Month. Female characters were once "secondary, just there to be looked at and pretty. They inspired the lead actor to action and fit stereotypes like fragile, passive and submissive. There were some great exceptions early on, like femme fatales using their feminine wiles to trick our hero, and tough girls or action chicks — not my terms — especially in certain genres. Think of Ripley (Sigourney Weaver) in the Alien movies or horror movies," like the Halloween 11-title franchise starring Jamie Lee Curtis as Laurie Strode.
"The watershed year was 1991," DeRose said. "We had Terminator 2: Judgment Day, Thelma and Louise, Silence of the Lambs and La Femme Nikita." Stereotypical female roles "went out the window" in favor of "very tough, very active women characters who took things into their own hands. All she does is run throughout this movie" as Franke Potente must obtain 100,000 Deutsche Marks in 20 minutes to save her boyfriend's life.
"The timing of these movies is so important because we have issues around this time of women's bodily autonomy, harassment and violence. Women become more active participants in creating their destinies. It's won 28 awards at different festivals around the world. She's clearly in distress throughout the movie, but she's not a damsel in distress, waiting for a white knight to ride in and save her. She's going to save the day with problem-solving. She's being smart and doesn't need a machine gun to save the day."
DeRose added, "This film inspired the video game The Legend of Zelda. The whole setup is very videoesque. Go down a path, some things work, some things don't. It resets, so depending on your age, think Groundhog Day's time loop or video game resets. There's questions of do we always get a second chance, how much is our choice versus fate or destiny? Can we learn from these previous journeys as we figure out our place in the universe? It's one of my favorites."
"Despite the increase in streaming the past couple of years," Director of Library Services Colleen Welsch said, "we are still circulating as many DVDs as we did years ago. When I first started almost 11 years ago, our DVD collection was like 100. Now we have about 1,200. We can't get rid of them because they're still being used."