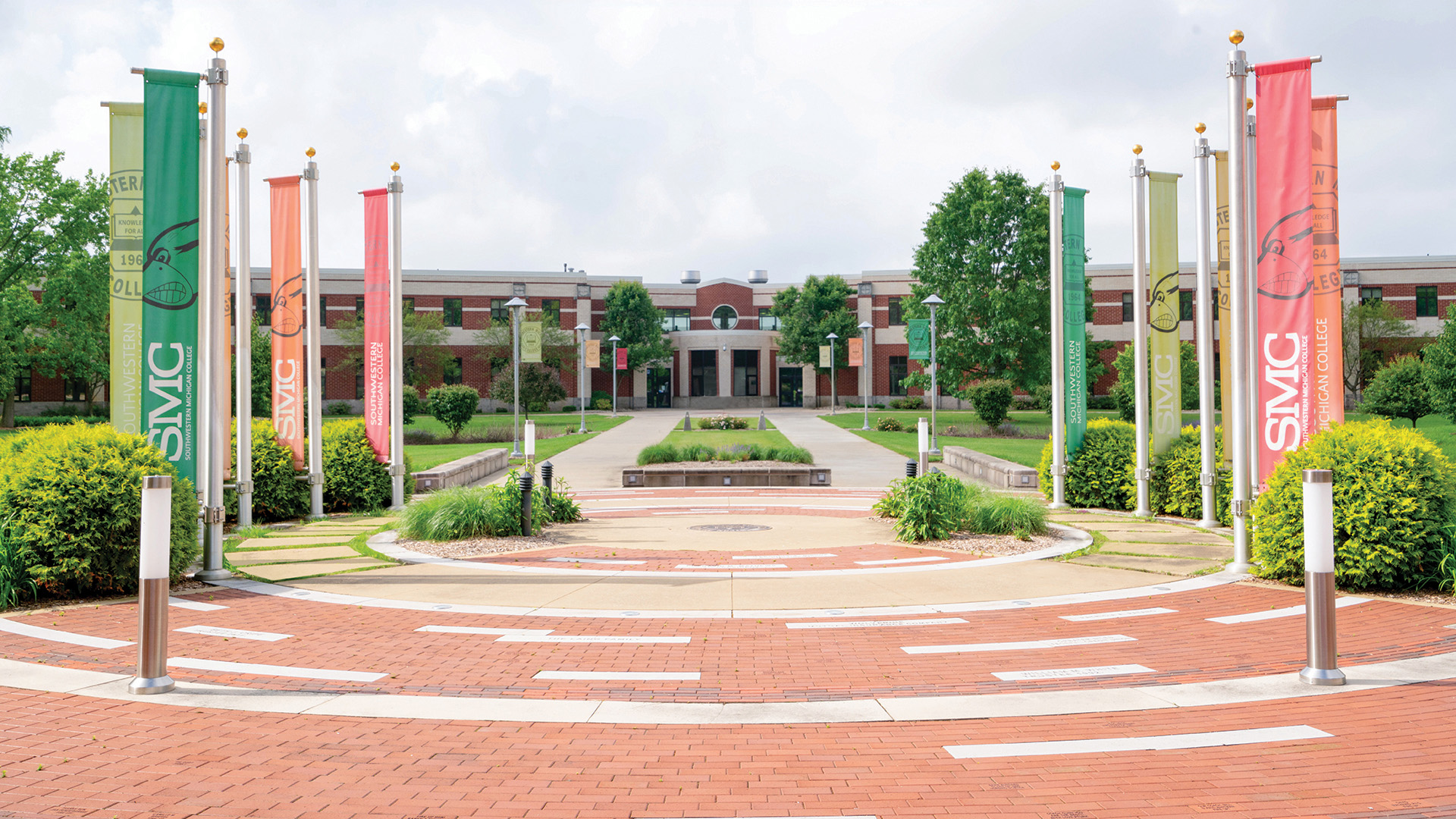 SMC's Magical History Tour Takes in Ohio, West Virginia and Virginia
Published on May 5, 2023 - 10 a.m.
This year's Southwestern Michigan College extended learning experience exposed history students to Ohio, West Virginia and Virginia.
Eve Astacio, Ashaun Buckner, Kaleigh Conroy, Allison Delaney, Shane Edwards, Sydney Franks, Juan Garcia, Mikaylah Gardner, Nik Mccllen, Eli O'Keefe, Gavin Smith and Nick Weston participated.
The group, led by Professors Dr. Jeff Dennis and Joe Coti left at 6:30 a.m. Thursday, March 23, with a send-off by President Dr. Joe Odenwald.
The first destination, Columbus, Ohio, is home to COSI, the Center of Science and Industry. Renowned for interactive exhibits and modernist architecture, galleries investigate paleontology, geography, space exploration, medicine and technology. SMC enjoyed a planetarium film and a special exhibit on the tomb and personal effects of Egypt's King Tut.
From Columbus, they drove south and east into West Virginia. After supper in Beckley, they arrived in Charlottesville, Va., for two nights.
SMC's first stop Friday, March 24, was Monticello, Thomas Jefferson's mansion, for a guided tour. Entertaining 49 Nobel laureates in 1962, President Kennedy said, "I think this is the most extraordinary collection of talent, of human knowledge, that has ever been gathered together at the White House — with the possible exception of when Thomas Jefferson dined alone."
"I was surprised how much I ended up learning about Thomas Jefferson," O'Keefe said.
"I really enjoyed Monticello," Mccllen said. "There was a lot to see and do there. The West Virginia State Museum was also unexpectedly very cool."
"I fell in love with the mountains at Monticello," Conroy said. "That experience was probably my favorite out of everything. To see how an actual U.S. president lived and ran his home was absolutely fascinating."
"It was an outstanding experience," Franks agreed. "Getting to visit Jefferson's and Madison's dwellings was an experience that I utterly cannot explain with words. The whole drive home, I played the finger piano I purchased at the West Virginia State Museum."
For lunch, they dined at Michie Tavern, a venue dating from 1784, on a Southern repast of fried chicken and peach cobbler.
North and east of Monticello was Montpelier, home of James Madison, the "Father of the Constitution."
The third, fourth and fifth presidents (Jefferson, James Madison and James Monroe) were neighbors as well as close friends. For 24 years, 1801-25, America's chief executive hailed from a 25-mile radius in Virginia's Piedmont.
Jefferson and John Adams died on the same day, July 4, 1826, on the 50th anniversary of the signing of the Declaration of Independence. Monroe died July 4, 1831. During the summer of 1836, Madison fell deathly ill, expiring June 28.
The Dupont family operated Montpelier most of the 20th century as a private residence and equestrian center. Donated as a national trust in 1983, and opened to the public in 1987, the home underwent major restorations between 2003 and 2008. Today, it looks much the same as in the 1820s. James' wife, Dolley, moved to Washington after his death and lived there until her 1849 death. The couple rest reunited upon the grounds.
Returning to Charlottesville, SMC toured the University of Virginia's "Academical Village," its rotunda and original housing designed by Jefferson to facilitate collegiality between faculty and students in fulltime residency.
"From the Roman architecture to the interesting combination of faculty/student living quarters, was not like any I've ever visited. The rotunda was a work of art. The amazing West Virginia historical museum was especially interesting," Coti said.
Guided by a UVA student from Australia, they learned it presents a case study of American social change. Initially built with slave labor, the university refused Black student enrollment until the 1950s. Women, too, struggled to gain acceptance until UVA ended gender restrictions upon enrollment in 1972.
As evening fell, they hiked into downtown Charlottesville for shopping and dinner at a steakhouse.
Saturday, March 25, took them back to Beckley for lunch at the Tamarack Gallery for the Fine Arts, replete with paintings, sculpture and crafts. Next stop was the first two floors of the West Virginia State Capitol in downtown Charleston.
A trek across the plaza brought them to the West Virginia State Museum, an omnibus collection of history, culture, archaeology and geology.
After traveling 1,500 miles in three days, they returned to Ohio at Point Pleasant, ate pizza in Xenia and arrived at campus early Sunday morning.
Gavin Smith, who last year toured Iowa, South Dakota and Wyoming, called the experience "another fascinating trip for SMC students. I made great connections with great people during those three days in which we saw so much in so little time. I highly recommend Dr. Dennis's trips to future students. It's a once-in-a-lifetime opportunity."
SMC funds a variety of travel opportunities to broaden students' experiences. Some examples include SkillsUSA for criminal justice; the American Chemical Society, from San Francisco to Orlando; and Chicago, from the Auto Show and Lyric Opera to psychology conferences.