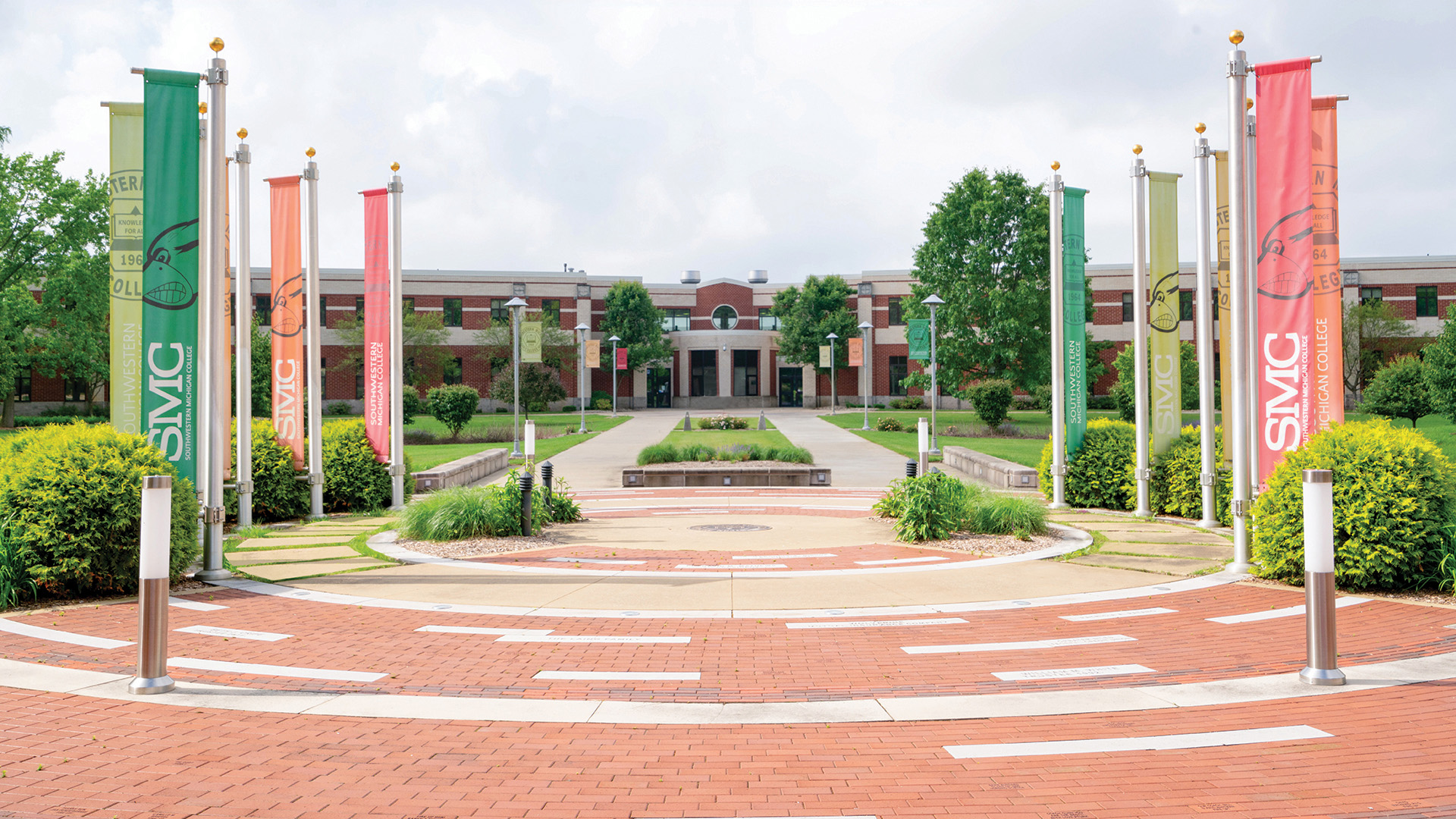 SMC's STEM Camp Cultivates Growth Mindset
Published on July 24, 2023 - 3 p.m.
Southwestern Michigan College Educational Talent Search's (ETS) STEM Camp July 10-14 was frustrating by design.
Whether it's building "brush bots" from a motorized toothbrush for racing or assembling a footlocker from a pile of panels to store their credit card-sized Raspberry Pi computers, there were no directions, forcing campers to "practice your growth mindset."
"Growth mindset," as opposed to "fixed mindset," was Monday's watchword to set a never-give-up tone.
"You're going to do things this week that are going to be challenging," ETS Director Bethani Eichel said. "Not everything's going to be easy because you haven't done this before, but try to stay confident and keep a growth mindset as you struggle because we're all trying to grow. I don't want to hear 'I'm not good at this' or 'I can't.' It's inevitable to feel a little discouraged, but you can do it. Don't give up. Try again."
Twenty-one participants included: D'artagnan Colburn, Isaiah Howard, Jaeden Rusher, Annon Billingsley and Ayden Billingsley, Niles; Jaymir Brown, Cassopolis; Balois Franco, Savannah Kurzhal, Khamari Mack, Kirsten Smith, Madelynn Sovine and Zander Wallace, Dowagiac; Camden Foreman, David Rhodes, Nolan Dressler and Jeselia Reyna, Edwardsburg; and Marvin Jones, Harmony Jones, Cole Miller, Andrew Ellison and Gabriel Ellison, Marcellus.
Growth mindset is the single most important predictor of how far a student will go in Science, Technology, Engineering and Mathematics (STEM) career fields. Seventy-five percent of today's fastest-growing careers require STEM skills, which can unlock potential to earn higher salaries by becoming more employable.
STEM demand has grown 79 percent since 1990, but enrollments for STEM degrees are at an all-time low despite considerable opportunities. STEM also lays a foundation for future jobs.
Feeling frustration is when learning occurs. A growth mindset creates a passion for learning rather than a hunger for approval. Human qualities such as intelligence and creativity, even love and friendship, can be cultivated through deliberate practice.
Not only are people with growth mindsets not discouraged by failure, they learn by experimenting with new approaches that challenge themselves to improve.
Studies show praising intelligence puts students into a fixed mindset compared to praising their process and turned them off to learning in favor of tasks they were sure to do well. Some schools replace failing grades with "nyet" (not yet) to better reflect potential.
On Tuesday students worked with sensors, coding them for their Raspberry Pi computers.
They practiced Node-RED, a programming tool for wiring together hardware devices, APIs (Application Programming Interfaces) and online services. They also experimented with a camera attachment.
Technology need not be electronic. It's the sum of techniques, skills, methods and processes used in production of goods or services or in the accomplishment of objectives, from basic tools to communication developments such as the printing press, telephones and the Internet.
Tools, machines and systems expand human ability to control and modify the environment. We tweak things in our own homes all the time to make our lives better.
On Wednesday, they made custom name badges on 3D printers ETS acquired through the STEM Camp supplemental grant.
In 3D printing, layered hot plastic constructs three-dimensional objects from computer-aided design (CAD) models. Students could pick from a variety of filament colors.
They assembled robot kits they got to keep using the same sensors they experimented with earlier.
The mBot Rangers kits provide components for three robots — Land Raider, Nervous Bird and Dashing Raptor — which were soon criss-crossing Mathews Conference Center West's carpet, lights flashing, and operated with their smartphones via a downloaded app.
Thursday afternoon they were challenged to build a pyramid with four red cups and three popsicle sticks.
Camp concluded in Chicago on Friday at the Museum of Science and Industry. The largest science center in the Western Hemisphere has hosted more than 180 million guests since opening 90 years ago in 1933.