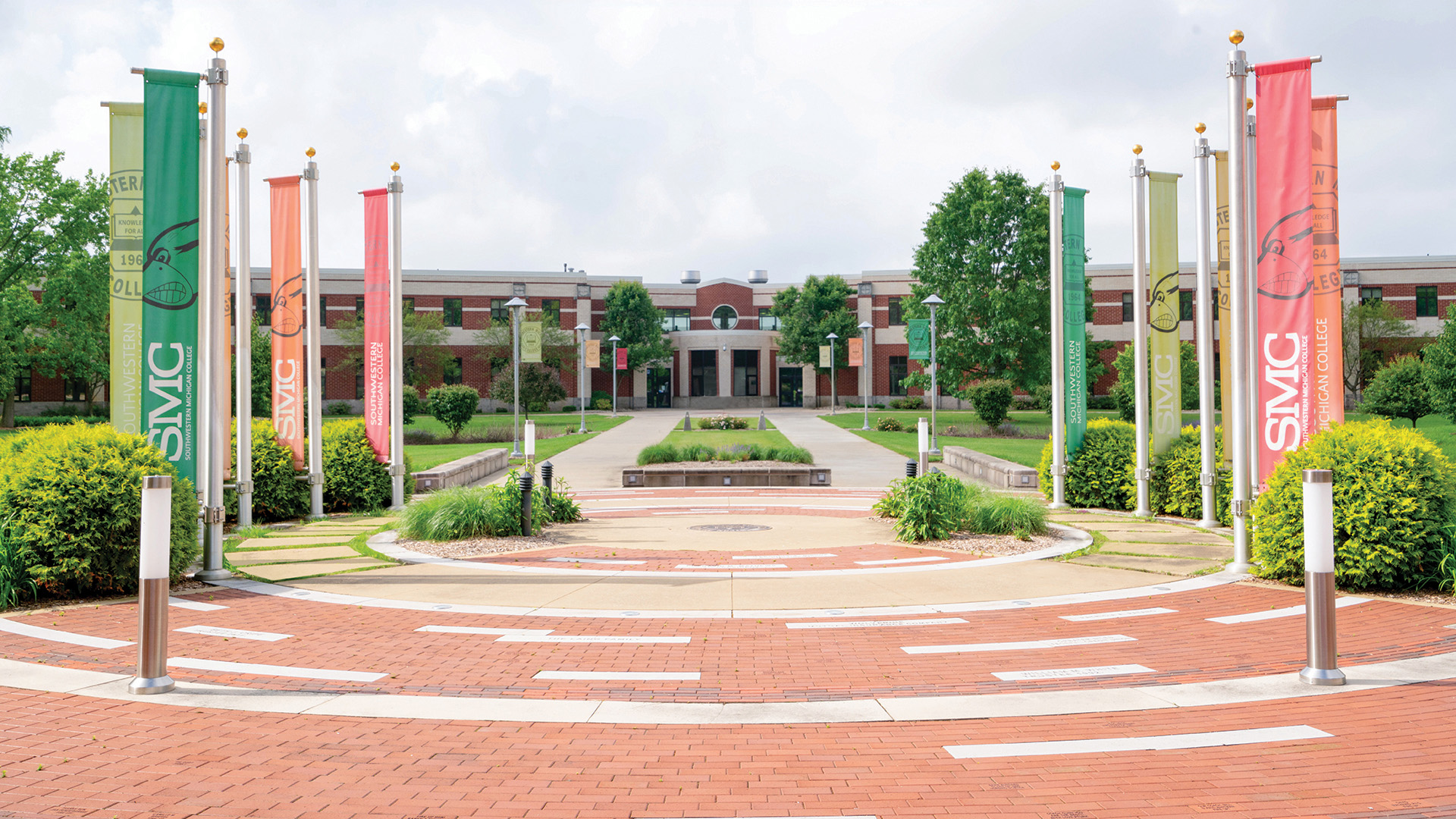 SMC's Terror on Dewey Lake Available Oct. 30
Published on October 16, 2020 - 9 a.m.
Southwestern Michigan College's first foray into radio theatre, "Terror on Dewey Lake," will be available beginning Oct. 30.
Produced and directed by Marcus Roll, SMC's manager of theatre operations and applied performing arts, "Terror on Dewey Lake" is an original 47-page script by Branden Pompey, SMC assistant director of campus life.
The satirical horror show, complete with five songs and Sixties-style commercials, explores the local legend of a Bigfoot-like creature spotted at Sister Lakes in 1964 — the same year the college and Director of Campus Security and Student Conduct Lyndon Parrish, named for President Johnson, were born.
Parrish, portraying Sheriff Leonard, is the son of real Cass County Sheriff Paul Parrish. In fact, Paul Parrish was a sergeant with the department investigating monster sightings which garnered national attention.
When a beloved town hero (Josh Bennett of Berrien Center as Chet Wilburn) goes missing, it's up to a group of college students in a van — think Scooby-Doo seasoned with "The Twilight Zone" and Mel Brooks — to unravel the mysterious disappearance.
One early casualty of COVID-19 closing campus last March was cancellation of SMC's spring musical, "Grease." Kiana Blake of Berrien Springs, who plays Becky Leonard the sheriff's daughter, and Danny Cerda of Decatur, Becky's boyfriend Tommy Mortimer, were cast as Rizzo and Kenickie.
Blake, who got into theatre at 11, appeared in "Chicago" in 2017, "The Secret Garden" in 2018 and "Sweeney Todd" in 2019.
The soprano, singing Morticia's "Just Around the Corner" from The Addams Family musical and "Little Shop of Horrors," seeks a musical-theatre career.
Besides work at Nappanee's Round Barn Theatre, she runs Fairytale Friends, making princess visits for kids' parties and bringing children's book characters to life. "I started four months ago and broke even three weeks ago," Blake said.
Cerda, originally from Hayward, Calif., majors in music education. He sings "If I Can't Love Her" from Beauty and the Beast.
Roll created an orchestra-loft studio where actors recorded safely distanced. Foley artists Jacob Good and Anne-Marie Latourette assist Roll with sound engineering.
SMC's creative solution to coronavirus-appropriate fall performing provides new opportunity for those interested in voice acting and audio production, given the reliance on sound effects.
Tommy's brother, Ronald, is played by Chase Ehlert of Three Oaks, a River Valley High School alumnus studying music. Ehlert was in grade school when he made his SMC debut in "Joseph and the Amazing Technicolor Dreamcoat" in 2013.
Kyle McGrew is the Mortimer brothers' friend, Ox. McGrew, a former Mr. Cassopolis who spent last year with the Young Americans in California, is working toward a performing arts degree. "Our main thing was traveling and working with kids, which got shut down because of COVID," McGrew said.
Completing the sleuths is Edwardsburg's Ellie Stankiewicz as Ashley Belmont. She appeared in "Catch Me If You Can," SMC's 2019 Summer Institute Musical Theatre Camp, as did Kat Paloyan, one of the townsfolk along with news reporter Wyatt Noack and vocalist Brittany Schesnuk.
Paloyan, a St. Joseph High School junior, at this rehearsal read the part of Zelda Wilburn, the missing man's wife.
"I'm the child of the cast," said Paloyan, in her 24th show since fourth grade. "I eventually want to major in playwrighting and minor in music composition so I can make musicals. I want to be the person who creates 'Hamilton,' not the person who plays 'Hamilton.'"
Voice acting attracted Bennett, who earned an SMC music degree and works part-time in the Office of Information Technology. He voices the gruff Wilburn, the monster and, between takes, "Family Guy," Beetlejuice and Disney characters.
"I enjoy cartoons for the different voices," Bennett said. "Cartoons made me happy growing up. I want to be that person bringing joy to a new generation, especially after a grim 2020. (Family Guy's) Seth MacFarlane is one of my idols. I did a master class with Steve Blum (Cartoon Network's Adult Swim and Wolverine in multiple animated Marvel productions). I'm getting my bachelor's and master's in IT because I have my own IT business, and I podcast."
Jamison Goetsch from Hastings plays Wilburn's business partner Peter McCoy, who also vanishes. After completing a general studies degree, Goetsch hopes to transfer into film production, "where my heart is."
Jacob Walker, a music graduate from Paw Paw who lives in Kalamazoo County to study anthropology at Western Michigan University, pulls double duty as Philip Oldman and Sergei the Russian, plus vocals on "Monster Mash."
Executive Director of Campus Life Jeff Hooks hosts the broadcast.
The performance will be posted at www.swmich.edu/life-at-smc/student-life/visual-and-performing-arts/visual-and-performing-arts-events