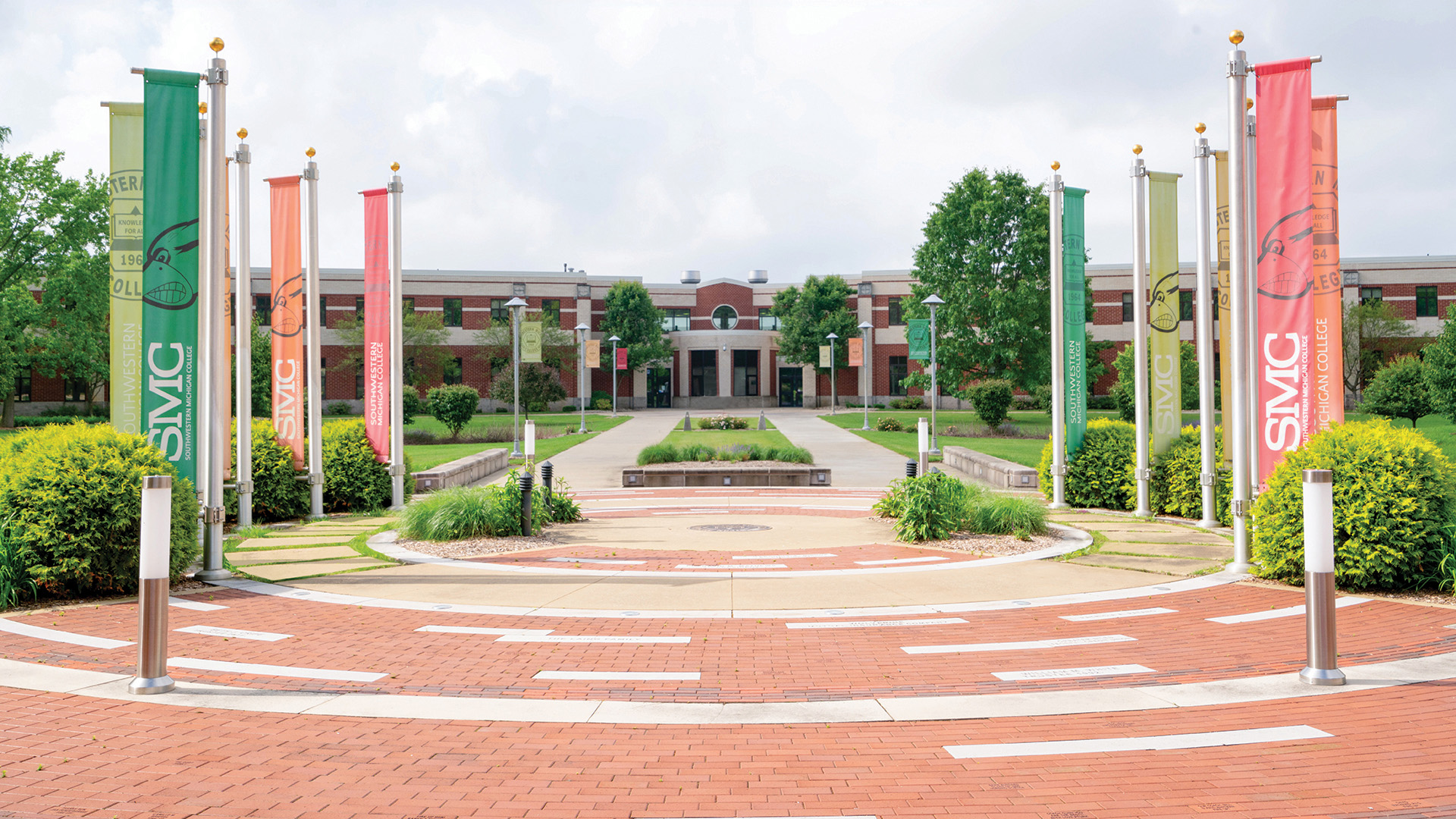 Southwestern Michigan College Inducts Three into Psi Beta
Published on March 8, 2021 - 3 p.m.
Southwestern Michigan College inducted three members into Psi Beta, the national community college psychology honor society, on March 3 in a socially-distanced ceremony in the Foster W. Daugherty Building on SMC's Dowagiac campus.
The three new members include Virginia Martynowicz from Cassopolis, who will serve as chapter president; Tristan Caldwell from Lakeshore High School, Stevensville; and Alyssa Wiseman from New Carlisle.
Caldwell, who has sung in SMC's Concert Choir and Select Voices, plans to transfer to Michigan State University for psychology and global and international studies.
"I plan on returning to SMC in the fall to finish my degree," Wiseman said. "After that, I plan on attending Purdue Northwest to continue my psychology degree. I want to be a school counselor."
Martynowicz intends to transfer to Central Michigan University. She has always been interested in psychology and is trying to decide how to combine her major with her other passions, children and family.
"As an older learner," Martynowicz said, "I want to get all of the college experience, though COVID made that harder." She is considering a master's degree to unlock counseling possibilities after her bachelor's degree with a journalism minor.
Psi Beta usually conducts a candlelit ceremony around a central flame, but in deference to the pandemic the masked students, spaced six feet apart on red X's taped to the carpet, activated LED candles and collected their certificates and pins from a table.
"Nelson Mandela said education is the most powerful weapon which you can use to change the world," Assistant Psychology Professor Christy Tidd, Psi Beta's faculty advisor, said. "At SMC we truly believe in the mission Knowledge for All, providing everyone the opportunity to change the world in their own way. Last year was much different than in the past, so in a lot of ways tonight's celebration carries a power previous celebrations did not, for all of you have faced challenges previous members did not. You not only faced these challenges during unprecedented times, you prevailed."
SMC President Dr. Joe Odenwald thanked inductees for their engagement.
"The more engaged students are — caring about your classes, thinking about what you're studying, reflecting, struggling, wrestling with and grasping concepts — and things extra-curricular or co-curricular, the more likely you are to persist, develop, graduate and go on to more higher education," Odenwald said. "We also know that engagement transcends in students' lives post-college and you are more engaged in our communities. You vote, you serve on committees, you volunteer your time and you contribute. We must never underestimate the power of student organizations and what they mean, not only while you're a student, but beyond."
Vice President of Instruction Dr. David Fleming said, "People like Dr. Karwacinski and Professor Tidd help you find your passion. My son found his for psychology while he was here. He's now at Central Michigan University continuing his study of psychology. I am so jealous that I don't get to see those a-ha moments. I see you at orientation and at commencement. I'm so proud of what you've done to be part of this select group. We are here for student success, so it makes our day to be able to stand by you."
Dean of the School of Arts and Sciences Dr. Keith Howell is known for teaching math, but "once upon a time I was a psychology major. I didn't stay in the field, but to this day I remember the value I got out of my psychology classes.
"Inductees have worked hard and taken the first steps to be successful in college and your future endeavors. I want to thank the parents and families for supporting your students. Their success reflects on you and becomes your success. Stay involved. You're off to a good start," Howell said.
"We are celebrating your excellence in scholarship, leadership and community service," Dr. Barbara Karwacinski, sociology professor and SMC's Social Science Department chair, said. "You are the best of the best."
Psi Beta, founded in 1982, is nearing 45,000 members, across 160 active chapters. Members must possess at least a 3.25 GPA and 12 hours of psychology credits.
"Knowledge gained from the study of psychology is applicable to any career," Tidd said. "Members are eligible to win national awards in research and community service. Psi Beta membership is a well-respected credential for achievement and acknowledges interest in psychology early in one's educational career. The three of you represent the top 25 percent of all psychology majors at Southwestern Michigan College."
Tidd said Psi Beta and SMC's Psychology Club plan an April virtual panel on the pandemic's effects on well-being. A cognitive psychologist, a childhood education expert and a licensed therapist are being secured.
Psi Beta is one of five SMC honor societies, along with the American Criminal Justice Association's Lambda Alpha Epsilon; Gamma Nu Chapter of Alpha Beta Gamma, the international community college business honor society; Sigma Psi Chapter of Phi Theta Kappa, the international honor society for community colleges; and SMC's own Honors Program as avenues for the college's brightest students to shine academically.