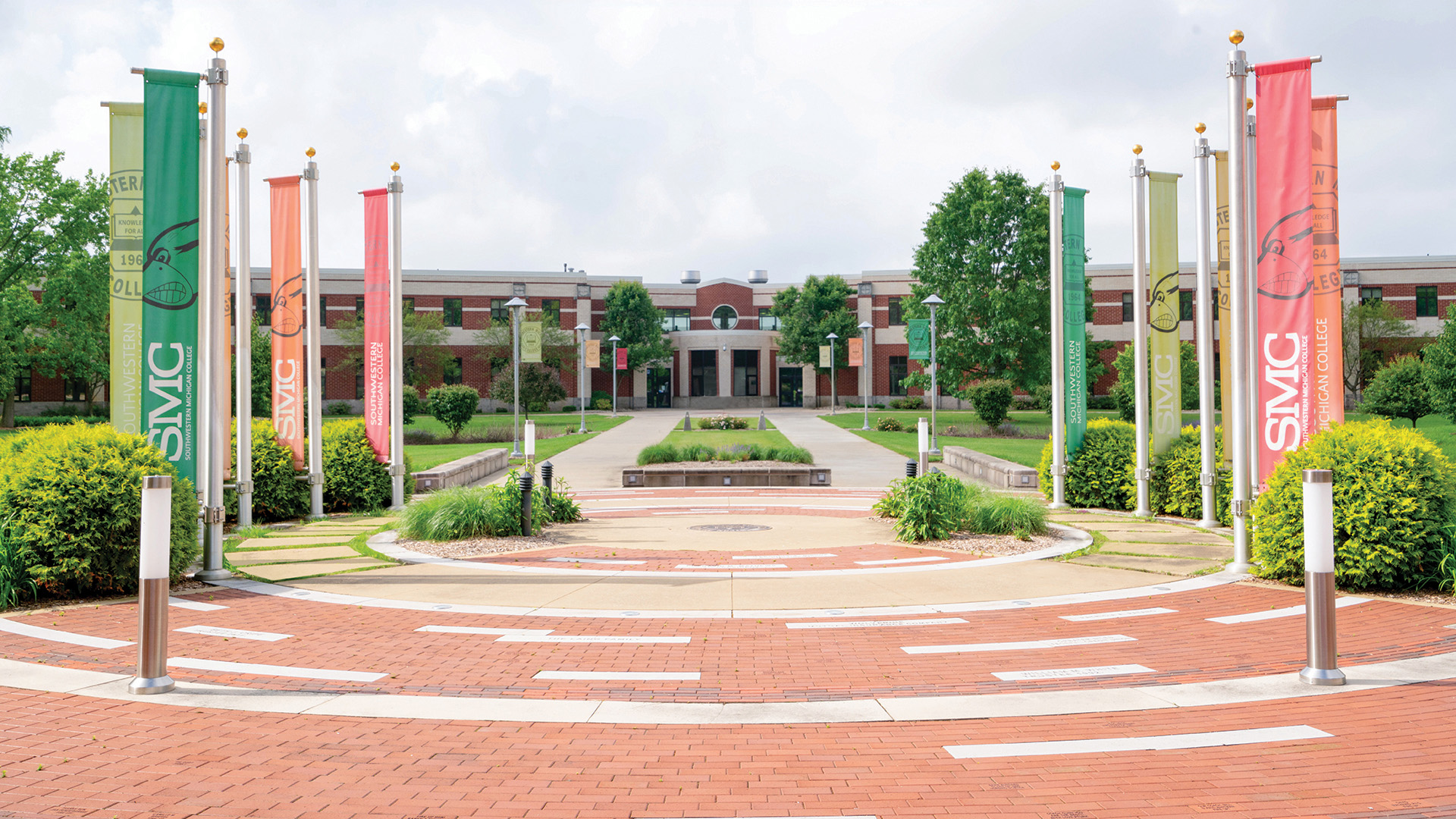 Student Speaker Sings the Praises of Science
Published on September 10, 2020 - 10 a.m.
Anaya Roschyk, Southwestern Michigan College's student speaker for the first virtual ceremony in its 53-year commencement history, was doubly impacted by COVID-19.
The Granger home-schooler, 18, is graduating from high school at the same time as SMC's Honors Program with a 4.0 grade-point average and her Associate in Science in General Studies degree.
In the indomitable way she and others of the Class of 2020 have rolled with punches landed by a global pandemic, she's planning another double at Ohio's Oberlin College and Conservatory by becoming a doctor twice. She wants to become a pediatric neurologist, which requires a medical degree. She also wants to pursue neurological research, which takes a doctorate.
Oberlin, the oldest coeducational liberal arts college in the United States, "is a very uplifting environment, like SMC," she said. "There's an intimate feel, with one-on-one access to professors, which helps students grow and evolve as people as well as students. They want to make sure you acquire a love for knowledge as well as a degree for a job."
Roschyk, who expects to continue online learning until October, will major in neuroscience at the college and minor in music cognition through the conservatory.
"I'll be able to be part of choir and jazz band and guitar lessons to pursue my passion for music. They just developed the music cognition minor. I'm extremely excited because I'm going to be one of the first people to have this minor, which pairs music, psychology, biology and neuroscience. I expect a lot of years in school, but I adore school. It's where I thrive."
SMC developed her passion for science, overtaking the longer love of her life, music, including performing, recording and songwriting. At 12, the Susan G. Komen Foundation commissioned her to write a song for women fighting breast cancer. She sang her single "Warrior" at the Grand Rapids Race for the Cure.
"That was one of the most phenomenal experiences I've had the honor to be part of," she said. "Seeing their faces and the raw emotion as I performed it is something I'm always going to remember."
Her song about pursuing dreams, "Daylight's Burning," inspired by the tutelage of Nashville songwriters Rivers Rutherford and Annie and Sam Tate, is featured in the movie The Girls of Summer, which Oscar-nominated director John Hancock filmed from LaPorte to St. Joseph in 2018. Anaya has a cameo thanks to her involvement since age 7 in Three Oaks' Acorn Theater.
"I occasionally still write songs," said Roschyk, who recorded two albums, "but my passion now is marrying music and science. I'm more geared to how music affects the brain."
She worked with opera soprano Deborah Voigt and baritone Nathan Gunn; Walter Egan, who had a hit with "Magnet and Steel"; and Jim Peterik who wrote "Eye of the Tiger," the Rocky III theme, for Survivor and "Vehicle" for the Ides of March. She performed for Supreme Court Justice Ruth Bader Ginsburg at the University of Notre Dame.
Her chemistry course taught by Dr. Douglas Schauer convinced her "there's more to life than music. I was just focused on music when I came here. Then there was no looking back. SMC helped me find my passion and the path to continue on to my goals in life. I wouldn't be the person I am today if not for SMC."
She presented research evaluating maple leaves for removing toxic heavy metals from water to the American Chemical Society in Orlando over spring break 2019. For last December's Honors Showcase, she expanded that research with, "Evaluation of Coriandrum sativum (cilantro) as a Phytoremediation Plant."
"Hands down the best student I have had in my lab with respect to knowledge, ability, determination and personal skills," Schauer said last spring when Roschyk received the Math/Science Department Appreciation Award.
That night Roschyk brought down the house with an electric guitar solo on Alice Cooper's "School's Out" to close the Collage Concert.
"I'd like to research how music affects your brain. Music therapy is a fascinating subject" she tackled in a NoTED Talk.
Last summer she spent two weeks in New Haven, Conn., at the Yale Young Global Scholars program with participants from more than 100 countries.
"This is an incredible event and I think it's wonderful SMC is doing this to honor the graduates," said Roschyk, who also sings in a sextet of faculty and students during the 11 a.m. June 13 ceremony. "Yes, it's non-traditional, but it's still a wonderful way to celebrate this exciting transition."
"I've been exposed to so many opportunities at SMC," said Roschyk, who debuted in 2017's summer music camp's "Children of Eden."
"I cannot begin to express my gratitude for all the support I've been shown."