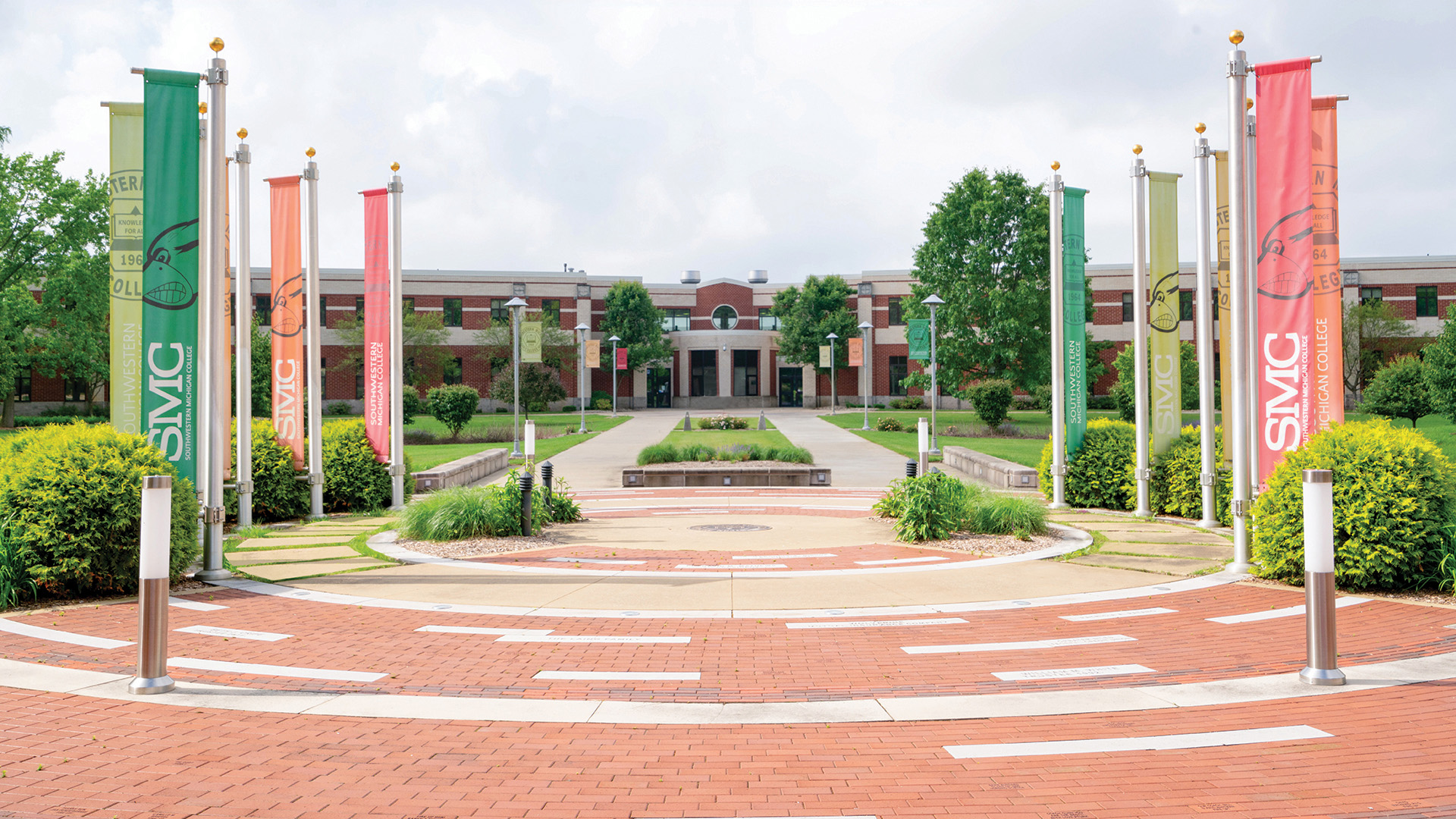 Tamia Brooks Coaching College Completion
Published on January 11, 2021 - 3 p.m.
Even as a 2017 outstanding graduate, Tamia Brooks imagined returning to Southwestern Michigan College.
"SMC was always my first choice," Brooks said. "Coming out of high school, community college is definitely the place to start. You get a lot of help because people care about your well-being. That's why I wanted to come back. I thrived in this environment because no one let me slack off — especially when I worked for those ladies downstairs. They were like moms checking to see if my homework was done. I liked that because it made you stay on track. Coming back here to work was always a goal even before I knew what kind of job I could do. I had such an amazing time here, it was one of the happiest times of my life."
As an SMC psychology major the Dowagiac resident was inducted into Phi Theta Kappa, the international honor society of two-year colleges.
As an SMC student she worked for Kathie Gries in the Career Planning Center (renamed AARC, for Academic Advising and Resource Center, in 2019) and for Char McGowan in the Student Service Center (now FYE, for Office of First Year Experience). Brooks also worked in the bookstore.
Now she has an office in FYE on the first floor of the David C. Briegel Building on the Dowagiac campus as SMC's new college completion coach when Spring Semester 2021 starts Jan. 25. Brooks was one of 20 college completion coaches hired in Michigan through AmeriCorps for 2020-2021.
"We are so excited she will be joining us through MCAN grant funding we received," said Dean of Student Development Katie Hannah. "Her main objectives will include retaining students through direct programming, with an emphasis on FAFSA completion, student success planning and student outreach. She has a defined cohort of students who meet specific criteria, including first generation, Pell-eligible and underrepresented students."
MCAN, founded in 2010, stands for Michigan College Access Network. It aims to help state students attain postsecondary certificates and degrees which are the foundation for success in a knowledge-based economy.
Michigan ranks sixth in the nation for highest family share of college expenses and 32nd in the amount of need-based state aid. MCAN in 2019 aligned its primary goal to support Gov. Gretchen Whitmer's statewide postsecondary education goal that 60 percent of Michigan residents complete a postsecondary certificate or degree by 2030, since 70 percent of Michigan jobs require postsecondary education. Forty of Michigan's 50 hottest jobs require learning beyond high school. College graduates earn $1.35 million more on average over the course of their lifetimes compared to individuals with just high-school diplomas.
Brooks, 23, transferred to Western Michigan University to earn her bachelor's degree after completing her SMC associate degree.
She started as a dual-enrolled SMC student while still in high school, graduating Dowagiac Union High School in 2015. In fact, retired DUHS teacher Dan VandenHeede, who taught in Michigan public schools for 25 years and served on Niles City Council for 20 years before seeking the Michigan House District 78 seat last fall, influenced her career path.
"His passion and how he taught it got me so interested," she said.
Brooks considered following her SMC-educated mother into nursing until an anatomy course prompted her to rethink her plan.
As college completion coach, "I provide students with tools, such as success plans and study guides — anything that can help them be their best selves in college. We want them to achieve, not drop," said Brooks. "College is an investment."
"I love it," Brooks said of the new role she assumed Dec. 7. "I thought about being a substance-abuse counselor because I've always wanted to work with people and to help people in some way, I just didn't know how. After three years in Kalamazoo, I was missing my family and thinking about moving home, then this opportunity came available."
"I've been doing a lot of Zoom virtual meetings and texting and emailing" about 100 students, Brooks said. "I would like to meet with students face-to-face, but right now we've got to do what we've got to do. Community colleges set you up for life a lot better than universities because of one-on-one interaction with fewer students."